The Toronto Maple Leafs might have waited too long. For what, you might ask. Well, the time to trade Joffrey Lupul and get a good return may have passed.
Lupul, who had played in every game this season prior to Monday's game against the Edmonton Oilers. If he was just out for one game, this might not be such a problem. However, he has now placed on injured reserve retroactive to November 28. That means he will miss at least the next three games, which are against the Winnipeg Jets, Minnesota Wild and St. Louis Blues.
Lupul had been performing pretty well before the injury. He has eight goals on the season, good for second on the Leafs roster. He is also sixth on the Leafs in points with 11. Not the best production in the world, but you also have to consider his line mates. If he's the only one that can put the puck in the net on a semi-reliable basis, the assist totals won't be very high. The fact is, even if he didn't score in a particular game, he was still playing well enough on the other side of the game.
All this could have meant that his trade value could have gone up. Since he still has term left on his contract, if he was performing well enough that a team wanted to acquire him around the trade deadline, the Leafs would probably get a better return then some of their UFAs-to-be. Alas, that dream could have taken a hit.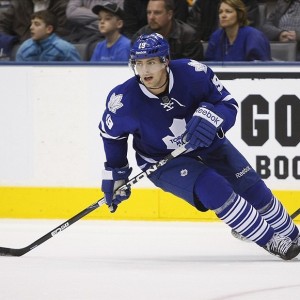 He's Just Plain Injury-Prone
We all know Lupul's penchant for getting injured. After all, he has never played a full 82-game season in the NHL. He came within one game of the feat twice early in his career, but the closest he has come to it with the Leafs is 69 games in 2013-14. If anything, hopefully he comes back as soon as possible and avoid the injury bug for the rest of the season.
If the plan for the Leafs at the deadline is to sell off as many assets as possible. If not for Lupul's injury troubles, he would surely be a more attractive trade target. After all, he has consistently been one of the Leafs' better players when he has been in the lineup. The problem is that his injury troubles scare teams away from his cap hit.
Will Lupul's injury eventually hurt his trade value? Or will it just be a short-term injury that only keeps him out a week and not mentioned again? One thing is certain, the Leafs will be shopping Lupul at the deadline. He's a good player and leader but he doesn't fit the timeframe of the Leafs rebuild.