The Buffalo Sabres and the Arizona Coyotes will re-new acquaintances Friday night in Buffalo.  Any other season this would just be another game on the 82 game schedule.  Not this season, however.  If you recall, last season the Sabres and Coyotes were locked in a battle to secure last place to guarantee the ability to draft either Jack Eichel or Connor McDavid.  We all now how the story ended with the Sabres winning Tank Wars 2015 and drafting Jack Eichel.  Meanwhile, the Coyotes worst fear came true and they fell to the 3rd spot in the 2015 draft and ended up with Dylan Strome, who is still a very promising prospect.  This season the two clubs are off to unexpectedly decent starts.  The two teams have a lot in common and this season's matchups will have a much different feel.
One March Night in Buffalo
As the Joker would say, "let's whined the clocks back a year". On March 26th, 2015 Arizona and Buffalo met for what was referred to as 'Tank Wars Round One'.  Entering play the Sabres had a 5 point lead on the Coyotes and were looking to potentially end the race for all intents and purposes by extending the lead to 7 points.
Buffalo was the home team, but you couldn't tell from walking around the First Niagara Center that March evening.  Most Sabres fans at this point were fully invested in the "tank" and knew what a loss in this game meant to the Sabres chances of securing last place.  This game was the most anticipated game of the season for what the ultimate goal of last season was.  The visiting team was supported in Buffalo's home building like the Toronto Maple Leafs were in town, but it was the Coyotes, a team that has trouble attracting fans in their own building.
The game itself was a back and forth matchup that included a late tying goal from Brian Gionta off a very bad turnover from Shane Doan.  Prior to Gionta scoring you could hear a collective groan as the Sabres captain wound up to shoot.  The game would head to overtime and that's when Sam Gagner became a Tank Wars hero in Buffalo.  Arizona would have a power play to start overtime as Mike Weber received a late tripping penalty in the 3rd period.  Let's listen to how it ended and remember the Coyotes were the road team…
After the game some of the Sabres players were a little upset over the fan reaction to the game.  Perhaps most notably Mike Weber who dropped this comment after the game:
"I don't even know what to say. This is extremely frustrating for us. We don't want to be here. We understand where we are. We understand what this team's doing, what the organization's doing, the place we've put ourselves in. I've never been a part of something like that, where the away team comes into a home building and they're cheering for them. Again, I respect our fans. I love our fans. I show up to work everyday to whatever I can for them, and to play hard for them and my teammates…"
You can respect Weber's point of view of course, but fans pay the money and are entitled to cheer however they want.
The Sabres and Coyotes would meet again a few days later in round two in Arizona.  The Sabres treated that game like it was their Stanley Cup Final and went on to win that contest 4-1.  Buffalo obviously went on to win the battle and ended up finishing in last place, but this type of approach to games is in the rearview mirror now for both organizations.
The Difference a Season Makes
The first meeting of this season has a far different feel and storyline compared to back in March.  As I mentioned previously, both clubs are off to decent starts and the rosters have gone through a lot of changeover.  The two teams are led by young future stars like Jack Eichel, Sam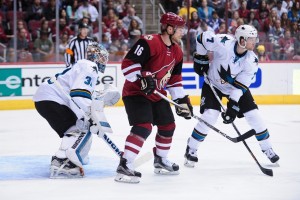 Reinhart, Rasmus Ristolainen, Max Domi, Anthony Duclair and Tobias Rieder.  Arizona currently sits 7th in the Western Conference while the Sabres sit 13th in the Eastern Conference.
The future on the ice is bright for both of the teams moving forward.  Friday night's game should be a very entertaining matchup with a lot of skill on display.  In only 7 months it's pretty amazing to see how much the product on the ice has improved over what we saw at the end of last season.  Both organizations are surely happy that last season is behind them now.  However, the history that got us to this point should not be forgotten.  After this, the biannual meetings will just go back to being another game between a Western Conference and Eastern Conference foe.  Perhaps on Friday night Sabres fans can have one more 'group howl' for old times sake.
Also read: Bouncing Back: Josh Gorges
Chad DeDominicis was born and raised in Buffalo, NY. Chad is currently a Buffalo Sabres contributor for The Hockey Writers. He is an avid sports fan and is passionate about the game of hockey. Chad works hard to share creative and quality content with his readers.