The Nashville Predators ended the 2013-14 regular season in a positive manner, finishing 9-1-2 in the final 12 games. Although Nashville fell short of qualifying for the playoffs for the second consecutive season, the optimistic locker room looked at the past 12 as a trend entering the 2014-15 campaign. With new coach Peter Laviolette initiating a culture and system change, there appears to be hesitation from general manger David Poile to make any aggressive moves this summer. Instead, Poile and Laviolette will look at what is already in the fold and give underachievers an opportunity to fulfill their potential in a fast, up-tempo style of play.
"[Laviolette] is pretty comfortable with where we are and what we have," Poile said. "I think he is very interested in working  with players who have had off years.
"In my mind we have 2 or 3 forwards for sure who have not played to their potential that I believe can play a lot better, whether it is 1 more year of experence, confidence, maturity. Whatever I do or don't do, is going to be in relationship to the coaching change."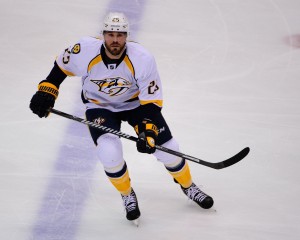 Those in-particular who had off-years were forwards Viktor Stalberg and Colin Wilson and defenseman Michael Del Zotto. Stalberg scored just 18 points (8 goals, 10 assists) in 70 games. Before the season began, Poile was raving about giving Stalberg the opportunity to play big-time minutes and make a name for himself in Nashville, unlike in Chicago where he was a bottom 6 forward behind the likes of Jonathan Toews, Patrick Kane, Patrick Sharp and Marian Hossa. Instead, Trotz put Stalberg in odd lines that did not necessarily compliment his play well. Stalberg would be on the fourth line alongside Paul Gaustad and Rich Clune. At the end of the season, Stalberg's average time on ice dropped 1:42 from last season.
"If we were looking for offense this year and Viktor Stalberg was available, we would probably be very interested in him," Poile said. "He didn't play very well for us last year, whether that was his fault, our fault, a lot of different reasons. To me, Viktor Stalberg will be given a real good chance to play a much higher, more significant role than he was given last year. And hopefully he'll be one of the reason we do more offensively."
Wilson has been one of the more questionable players the organization. The 24 year old has shown tremendous skill, but has continued to underachieve throughout his time in the Music City.
"In our meetings, I say 'what do we need?' Our scouts say, 'We need a 6'2, 220lbs center.' 'Well we have one. We just need Colin Wilson to play up to his potential.'"
Wilson has been made to feel comfortable in many ways, switching him from center to wing, wing to center, but nothing has worked well enough. There were rumors of Trotz and Wilson not getting along in the locker room. If that is the case, Wilson no longer has an excuse to under-perform under Laviolette.
Nashville and the New York Rangers made a defenseman swap between Del Zotto and Kevin Klein on January 21. The move was made in an effort to give Del Zotto a fresh start. The 23 year old is in his 5th NHL season and had his worst year yet in 2013-14 with just 3 goals in 67 games and just 1 goal in 25 games in Nashville. It was apparent Del Zotto was losing favor from Trotz as his ice time decreased.
"Obviously I'm not too happy with how this year has gone for me," Del Zotto told Joshua Cooper of The Tennessean on April 19. "I have high expectations for myself, and being traded here I wanted to prove I could play to the best of my ability and how I had in the past."
"It wasn't a fit," Poile said. "We'll see under Peter if that was the case."
Looking Ahead
This new approach is completely different than last summer when Poile attempted to reestablish the Predators' identity for former coach Barry Trotz. Poile signed 5 UFA's on the opening day of the free agency — Matt Cullen, Carter Hutton, Matt Hendricks, Eric Nystrom and Stalberg.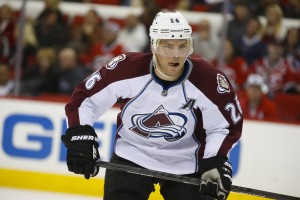 "Last year, we had a lot of holes in our hockey club. I wasn't happy with our previous year and we needed to make a lot of changes."
Whether Poile is taking this approach due to the likelihood of over-payment on a player in such a shallow market this year is yet to be confirmed, but it makes sense.
"This year, it is more quality than quantity. There is not as many free agents this year as there were last year.
"I go into free agency with a plan and have identified not a lot of players, but a handful of players we would like to approach on July 1. If it's a fit for us, a fit for him, that would be great. But I'm not going to be over-promising something is going to happen because 2 things — I think a lot of players can play better at the forward position and I think we have a lot of prospects coming along. So it has to be the right fit. I have some patience. Our first shot will be at the draft and our second shot will be at free agency."