It's hard to argue with Jim Rutherford's recent track record as Pittsburgh Penguins general manager. He transformed the Penguins on the fly last season into Stanley Cup champions. For his efforts, Rutherford won the General Manager of the Year Award in 2016.
That team is mostly back, but Pittsburgh needed defensive depth this spring. Once again, Rutherford delivered, trading for Ron Hainsey, Mark Streit and Frank Corrado. Hainsey is playing well, and Streit made an impact in just his first game, scoring a goal and an assist in Friday's 5-2 victory.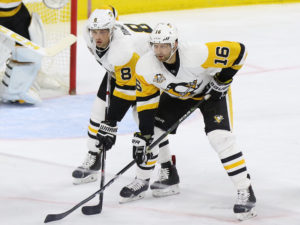 But a day prior to the NHL trade deadline, Rutherford and the Penguins placed forward Eric Fehr on waivers. After clearing it, Pittsburgh shipped him in a package to Toronto for Corrado.
When everyone is healthy, Fehr might not even be in the Penguins starting lineup, so losing him is minimal in the minds of most fans. But there are still plenty of good things he did that others will now have to step up and do in his absence.
Emergence of Jake Guentzel
Fehr became expendable in the eyes of coach Mike Sullivan for one name — Jake Guentzel. The young forward has seven goals and 15 points in his first 26 NHL games. He struck for two goals in his debut back in November while playing on a line with Evgeni Malkin and Phil Kessel. When Conor Sheary was sidelined, Guentzel received an opportunity to play with Sidney Crosby, and he immediately played well with him too.
But Sheary is now back, making his return Friday versus Tampa Bay. Although fellow wing Bryan Rust is still sidelined, he's at least skating.
https://twitter.com/MolinariPG/status/837669867788595202
Assuming Rust is back for the postseason and everyone else remains healthy, two forwards who have been playing regularly over the last month will have to sit to make room for Sheary and Rust. Friday, that was Carter Rowney; given that he's a career minor leaguer, that wasn't a difficult choice, but choosing a second player will be.
Many have argued Fehr fell out of favor in Pittsburgh. He still works really hard, but he posted just a 42.4 Corsi for percentage, which is second-worst to only Tom Sestito among all players for Pittsburgh this season.
Simply put, he doesn't quite fit the fast-paced style the Penguins want to play. Guentzel fits that mold, so it made sense to start the younger option with more upside and use Fehr as a way to gain another quality depth defensemen.
Kunitz on Penalty Kill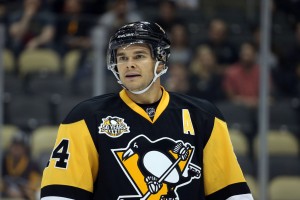 The other area where Fehr has been replaced this season is the penalty kill. In his eight previous seasons in Pittsburgh, Chris Kunitz had never played a substantial amount of shorthanded minutes, but he started to midway through January.
Despite his inexperience, Kunitz's physicality was a good fit for the Pittsburgh's penalty kill unit. Kunitz had 100 more hits than any other Pittsburgh skater last season, and he's second with 177 hits in 2016-17.
Since joining the PK, the Penguins have killed 51-of-60 penalties, which is good enough for 85 percent. Prior to that, Pittsburgh posted a 78.2 penalty-kill percentage.
The last thing keeping Fehr in the Penguins lineup was gone when Kunitz began killing penalties. Fehr is a bigger guy and can win faceoffs, but Pittsburgh has excelled while shorthanded with Kunitz.
Fourth-Line Stud
As true as the above points may be, Fehr still offered quite a bit and is a loss to the team. Guentzel might be a better fit, but to say Fehr didn't work in Sullivan's scheme is a silly argument. On last season's Stanley Cup run, he was part of a fourth line that tallied nine goals and 15 points in 24 games. Fehr himself scored three goals and four points while averaging 11:39 per game.
During the regular season last year, he provided depth at center when Evgeni Malkin and Nick Bonino were both injured. This season, Fehr slid over to center on the fourth line when Matt Cullen went down. If any of those centers sustain an injury in the postseason, the Penguins wi deeply miss Fehr.
It's hard to find a player as versatile as Fehr with his ability to effectively play center and wing while scoring and playing strong defensively. Although his Corsi for percentage is certainly down this season, he's still a more reliable defender than Guentzel, who has a lot to learn in his own zone. It's not like Guentzel's Corsi for percentage of 48.1 is all that much better than Fehr's either.
2/2 That's what Pens are doing again w/ Rowney over Fehr, perhaps Scott Wilson too. 4th line hasn't been as good this season. Won't be now

— Dan Kingerski (@TheDanKingerski) March 3, 2017
Sure, Fehr doesn't offer the same offensive upside, but does Pittsburgh really need more offense? The Penguins lead the NHL in goals per game. They have been ranked inside the top 11 in scoring each of the last four months.
Rutherford addressed the blue line at the trade deadline to help the team's defense, but then prioritized offense at forward. He traded for two defensemen, both of whom are at least 35 and aren't exactly speed demons, yet seemingly didn't see the value in holding onto a bigger yet little slower 31-year-old forward who helped the team win last season.
It's up to Guentzel, Kunitz and other fourth-line skaters to make sure Rutherford doesn't regret that decision.
Dave Holcomb is excited to join The Hockey Writers team, covering the Pittsburgh Penguins. Holcomb began his NHL work as a fantasy columnist at The Sports Network. In 2015, Holcomb joined the fantasy NHL team at FanRag Sports, where he eventually worked into a beat writer position, covering both the New York Islanders and Pittsburgh Penguins. He continues to cover the Metropolitan division, along with the NFL and Syracuse basketball, for FanRag Sports. To find more of his work, follow Holcomb on Twitter at @dmholcomb.