Carolina Hurricanes stars Eric Staal and Jeff Skinner need to return to form this season if the 'Canes hope to sniff the playoffs. The question that looms large is whether or not either or both will.
They both have shown in the past the ability to score and assume leadership roles on the team. It is time for them to do so once again. There are three areas that will be important if they are to return to form.
https://twitter.com/NHLTradeRumors_/status/632391427801026561
Distractions
Both Staal and Skinner have contract issues that they will have to keep from distracting them as they play. Staal is in the midst of contract negotiations as the final year begins on his current contract. He has said often that he wants to stay in Raleigh. I wrote in June that Staal is staying put.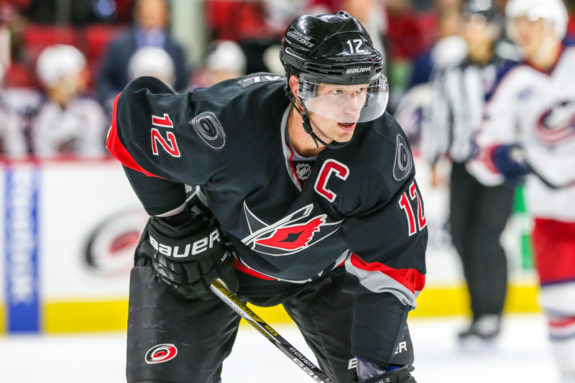 Of course nothing is in stone when it comes to trades and contracts in the NHL. But, Staal does have a no-trade clause and likes being in Raleigh. The question is whether or not he will be able to stay focused of the rumors start to fly and GM Ron Francis starts entertaining serious options on Staal.
Skinner was said to be on the market this summer. Remember also in June the Pittsburgh Penguins were said to be looking at Skinner? Francis had let teams know that Skinner was available, and Jim Rutherford was said to be fishing in Raleigh.
That deal did not pan out and Skinner is still a Hurricane. Will the fact that he was put on the market by management get in his head? That is a potential distraction that as a professional he will just have to ignore and not allow to affect his play.
Injuries
It seems like the last several seasons the 'Canes have been bitten by the injury bug earlier than a lot of teams. 'Canes Coach Bill Peters announced at the season-ending press conference that Staal had been playing with a broken foot.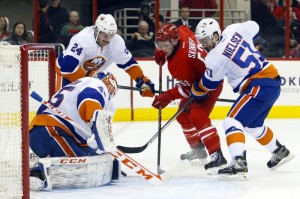 There have been core injuries and other things over the past several years that have kept Staal from playing at 100 percent. If Staal can stay healthy for the entire season, will he be able to score 30 goals or more? He's capable. Hurricanes fans would certainly love to see their team captain blow up the net.
Skinner is another story. Many have written – myself included – that Skinner has not seemed himself since the concussion early last season. He has not seemed to be as aggressive and willing to mix it up in front of the net like he did before the injuries.
If Skinner is tentative, who could blame him? To have had as many concussions as he has had at his age is distressing, and certainly something that has to be in the back of his mind. However, for Skinner to return to form he is going to have to put it out of his mind and play NHL hockey. If he can his season can be superlative. If not he may be in another sweater before season's end.
Lines
I think that for Staal and Skinner to both return to form that they both need to be on the top line on a consistent basis. Of course this is why I'm writing and Peters is coaching, but from where I sit consistency is crucial. Put Jordan Staal in the center and Staal and Skinner on the wings and let them develop a rhythm together.
https://twitter.com/GNPHockey/status/632582473399029760
Victor Rask can center the second line as he has earned that spot. Consistency will give Staal and Skinner a chance to really bring out the best in each other and I think will help them both return to form. If it doesn't work at least giving them both the chance to be their best together was tried.
Distractions, injuries, and line consistency are key. Staying focused, healthy, and playing together, in my opinion, will help them return to top goal-scoring form.
Mark lives in the Raleigh, NC area and covers the Carolina Hurricanes.