Hard to believe there have been so many changes on the New Jersey Devils roster since June of 2012 when they lost the Stanley Cup to the Los Angeles Kings in six games. The saying is true — to an extent: no one remembers who finishes in second place, unless of course it's the team you are a fan of, that is. In the 24 games the Devils played in that postseason they dressed 24 different players at least once — and now on the eve of the 2015-16 season there are only seven players remaining on the roster.
Of the remaining seven skaters, five of them — Patrik Elias, Adam Henrique, Travis Zajac, Stephen Gionta and Andy Greene played in every playoff game that year (the last time New Jersey was in the postseason) while Adam Larsson (five games) and Jacob Josefson (six) were minimal contributors, at best. Of the remaining 17 players, shockingly, only two of them were traded away by the franchise for basically nothing: Tallinder, July 2013 for Riley Boychuk and Zidlicky at the 2015 trade deadline for a draft pick. They all left in a variety of ways; some left and signed with other teams, some even left to play in other leagues, one retired and a few are still active but without a team/contract.
Coach Peter DeBoer is also gone, fired in December (and hired by the San Jose Sharks this summer), as well as the GM who hired/fired him, Lou Lamoriello; and DeBoer's assistants Larry Robinson (San Jose) and Adam Oates (left for Washington to be head coach, came back as co-coach last year) are also gone. In fact Elias is the only active player left from the Devils' last Stanley Cup championship in 2003 and he is entering what could be his final NHL season now.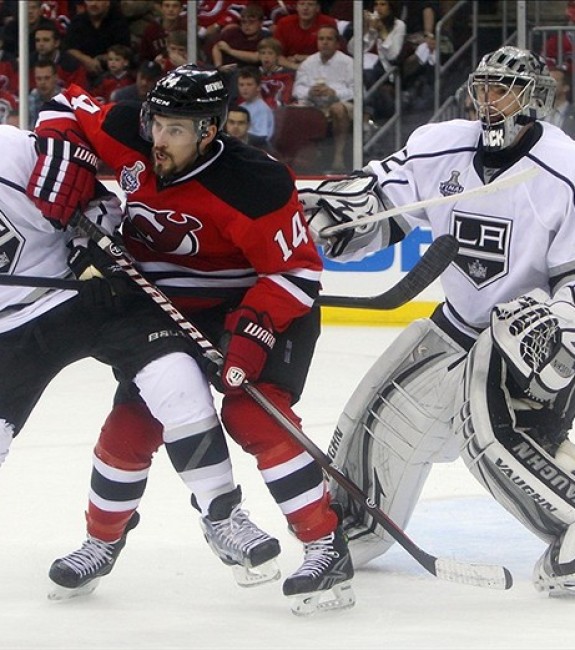 Not many franchises would be able to lose so much talent from their roster, without the assistance of a trade (i.e. player coming back the team thinks is of value) and be able to still ice a competitive, playoff-caliber team. Lamoriello is a Hall of Fame general manager, but not even he could figure his way out of that mess that transpired following his squad falling two games short of their fourth Stanley Cup championship.



Here are the 17 players that are no longer members of the New Jersey Devils and what they are doing now:
Goalies:
Martin Brodeur — currently assistant to the GM with the St. Louis Blues
Johan Hedberg — currently assistant coach/goaltending coach with the San Jose Sharks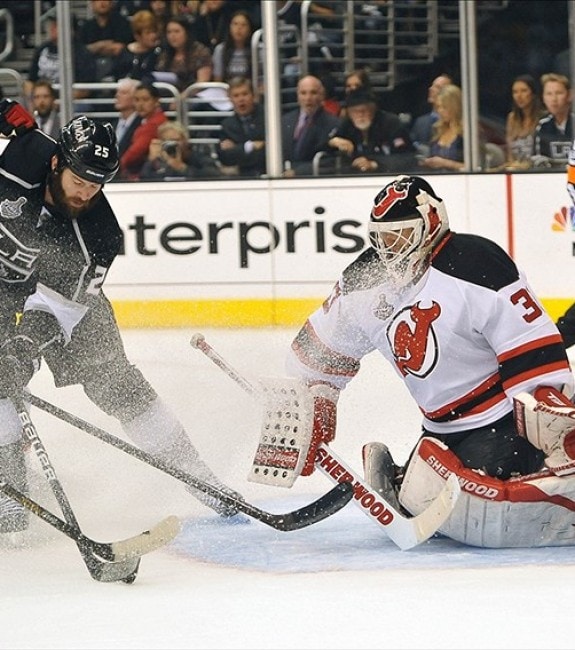 Defensemen:
Mark Fayne — entering second year of four-year contract with the Edmonton Oilers
Peter Harrold — recently signed one-year, two-way contract with the St. Louis Blues
Bryce Salvador — took over as captain when Parise bolted; missed 67 games last season with New Jersey, unrestricted free agent
Without question Bryce Salvador was New Jersey's best defenseman during the 2012 postseason:
Henrik Tallinder — hasn't played in NHL since 2014 with the Buffalo Sabres
Anton Volchenkov — played with the Nashville Predators last season, unrestricted free agent
Marek Zidlicky — played with the Devils/Detroit Red Wings last season, unrestricted free agent
Forwards:
Steve Bernier — played with the Devils last season, unrestricted free agent
Ryan Carter — entering second one-year contract with the Minnesota Wild
David Clarkson — entering second season (first full) with the Columbus Blue Jackets following midseason trade from the Toronto Maple Leafs
Ilya Kovalchuk — entering third year of four-year contract with SKA Saint Petersburg of the KHL after 'retiring' from the NHL voiding his contract with the Devils
Zach Parise — entering fourth year of a 13-year contract with the Minnesota Wild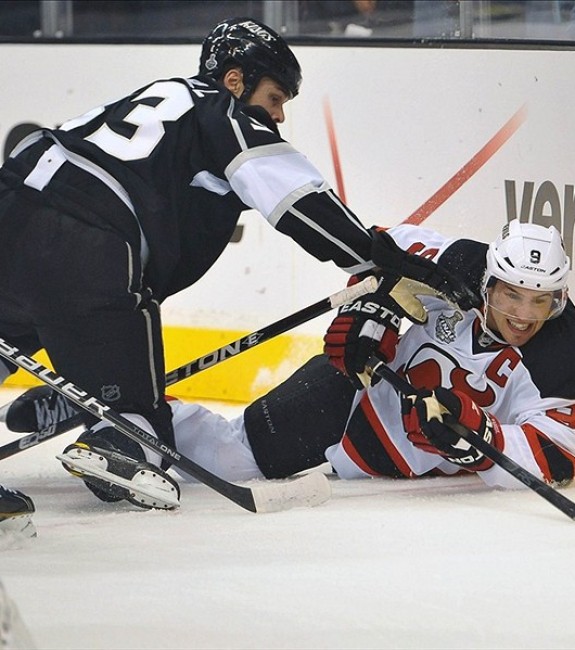 Alexei Ponikarovsky — teammates with Kovalchuk on defending champion SKA Saint Petersburg of the KHL
Tim Sestito — recently signed with Dinamo Riga of the KHL
Petr Sykora — retired in 2014; his last NHL game was Game 6 against the Kings in 2012
Dainius Zubrus — played with the Devils last season, unrestricted free agent In his second tour of duty with the Devils
Petr Sykora was a key contributor in his final season as an NHLer:
A plethora of players have passed through, and left New Jersey from the beginning of the lockout shortened 2013 season to the final game of the 2014-15 season. Here are some of the notable names: Steve Sullivan, Andrei Loktionov, Jaromir Jagr, Michael Ryder, Damien Brunner, Rostislav Olesz, Martin Havlat and Scott Gomez. Aside from Jagr (and to an extent Gomez), none of them came close at all to producing like they were expected to or in replacing the talent that has left the Devils over the past three seasons.
Just because the Devils lost in the Final doesn't mean that it isn't impossible to maintain a playoff-caliber team though, it just worked out badly for them in the manner that players departed (namely Parise and Kovalchuk without any compensation) that prevented them from being any type of successful team.
The New York Rangers team that lost to the Devils in the 2012 Eastern Conference Finals have only retained six players and have appeared in three of the last four East Finals.
@DRdiabloTHW Pretty sure that's more than what's left on NYR from that year lol (Only 6 – Hank, Girardi, Staal, Stepan, McDonagh & Kreider)

— Melissa (@BlkNBlueShirts) July 30, 2015
Dan Rice can be reached via Twitter: @DRdiabloTHW or via Email: drdiablo321@yahoo.com