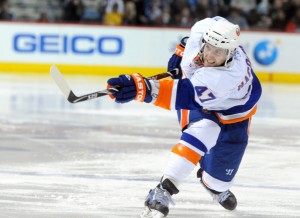 Now that we are more than half way through the season, Islanders fans are in an unusual predicament.  The Islanders are  in a 3-way tie for dead last in the Eastern Conference, however they are just 10 points out of the final playoff spot.  In the past, we fans would have already given up on this season and turned our attention to this year's draft pool.  I'd be lying if I told you I haven't researched the impressive class of draft-eligible defensemen for this year's draft, but part of me still sees a glimmer of hope.  On one hand, you look at all of the holes the Islanders have with guys like Brian Rolston and Marty Reasoner sucking up valuable ice time that could go to a younger, more talented forward.  Then you have a defensive corps that is pieced together with slow veterans like Steve Staios and Mark Eaton.  But at times we see them dominate teams like the Capitals and Red Wings like they have recently, and watch the Tavares-Moulson-Okposo line continue to put up big numbers, and you can't help but to think, "what if?"
Conventional wisdom tells us the Islanders will not make the playoffs this season.  First and foremost, they are the Islanders.  Fans here on Long Island have suffered for over two decades now waiting for the Isles to put a consistently competitive team on the ice.  So of course the majority of the hockey world would say "no" when asked this question.
Then there is the statistical breakdown of how difficult it would be for them to make the playoffs.  Since the NHL's return from the lockout, 88 points is the least amount of points a team has had and still made the playoffs.  This scenario happened in 2009-10 when both the Flyers and Canadiens made it in with 88.  For argument's sake, let's say 88 points will get the Islanders into the 8th playoff spot this year.  That would mean they would need 48 points with just 38 games remaining.  To put it in perspective, a record of 20-10-8 would give the Islanders those 48 points in just 38 games.  And there are many other scenarios that would net them 48 points, so you can have fun playing with the numbers.  The question remains, is this team good enough to go 20-10-8 in their final 38 games?  To do so, I think we can all agree on the following:
– John Tavares needs to continue to be a point per game player.  Tavares and Moulson have carried this team offensively this season and their production will need to continue.  With Tavares at 82+ points and Moulson flirting with 40 goals, this pairing could give fits to any team down the stretch.
– Secondary scoring.  Something they have not had this season.  Guys like Josh Bailey (11pts) and Michael Grabner (13 goals) need to increase their production.  Rookie Nino Niedereiter needs to get moved to one of the top 3 lines to get him going offensively and allow him to show off his skill that made him the 5th overall pick in the 2010 Draft.
– They need health in net.  If they can keep Evgeni Nabokov healthy (and if he is not traded) and get Al Montoya back playing in the form we saw last season, these two are capable of keeping the Islanders in every game on a nightly basis.
– They need help from other teams.  Who would drop out of the current top 8?  The Capitals are currently 8th, can Ovechkin & Co. really miss the playoffs?  The Penguins are 7th.  Once they start getting guys healthy (ahem, Sid) it would be hard to imagine this team being anything but a Cup contender.  The Senators are red-hot and seem to be clicking on all cylinders.  The Devils are 14 points ahead of the Islanders right now which is a huge gap to close.  The Panthers might be the best bet.  With 51 points the Panthers are currently in the 3rd spot leading the Southeast.  But if the Capitals take that spot over, maybe we will see the Panthers come back to Earth?  These are all questions that once answered, will decide the Islanders fate.
The bottom line is 10 points is not THAT much.  With a win tomorrow, the Islanders could be 8 points out which just seems much more manageable than a 10 point deficit.  Regardless, as an Islanders fan it is fun to imagine what "could be".  They have been wildly inconsistent this year showing flashes of both brilliance and signs that they will end up with yet another top 5 pick.  By this time next week we can either be having serious playoff discussions or we can start listing our draft needs.  Let's hope it's the former and we can keep this season alive for just a little while longer.
Joe is a graduate of Hofstra University and die-hard Islanders fan covering the New York Islanders for The Hockey Writers. Playing hockey for many years and watching the sport all his life, Joe is devoted to the game of hockey.