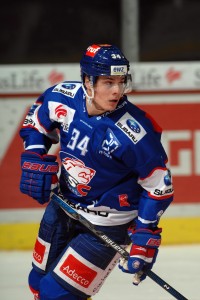 On April 30th, 2016, the NHL Draft Lottery was completed, with the Toronto Maple Leafs securing the first overall selection. Surprisingly, the Winnipeg Jets soared up to second overall from sixth, while the Columbus Blue Jackets also stepped up to third overall from fourth.
In following with the new NHL Lottery Draft process, because two teams surpassed Edmonton in the overall order, the Oilers slipped down to fourth overall from second. While most would immediately consider this to be a negative, this new, lesser location in the Draft order truly has little to no impact on the Oilers' plans moving forward.
Realistically, the Oilers had no business, or need, to be selecting within the first three selections. Sure, they would have gladly taken Matthews at first overall, but the potential additions of Laine or Puljujarvi would have simply exacerbated a long-existing issue of too many young forwards and a lack of defensive depth.
As most are well aware, the Oilers' major issue lies on defense, and none of the above-mentioned prospects would have had any impact in improving a persistently porous Edmonton blue-line.
With that being said, now that the Oilers are poised to select fourth overall at the coming Draft, and the top defensive prospects in the class are projected to be chosen in the seventh to tenth overall range, do the Oilers really need to draft yet another top-5 talent simply because they hold the pick?
Toronto, Wpg, CBJ very unlikely to consider trading their top 3 draft picks. Edmonton's pick, 4th overall is definitely in play.

— Darren Dreger (@DarrenDreger) May 1, 2016
Although it doesn't happen very often, it appears now is the time for the Oilers to trade the fourth overall pick. In doing so, Edmonton could significantly upgrade their existing roster in a variety of ways. Heck, they could even place outside of the five worst NHL teams in 2016-17!
In trading the pick, there are two routes which the Oilers could take:
1: Trade the Pick in a Blockbuster Deal
Of course, any trade involving the fourth overall pick would involve a substantial return for the Oilers, but if Edmonton was to include current roster player(s) in the deal, a potential trade could be of massive benefit.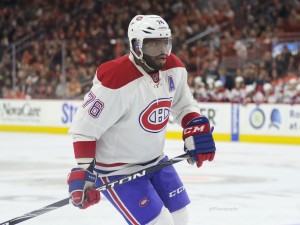 However, if Edmonton chooses to target one player of significant value, as well as others of lesser from an opposing team in a deal, chances are the Oilers would be able to attain a top-pairing defender, possibly a defender of lower ranking, as well as a depth forward.
In doing so, the Oilers could immediately improve their blue-line ahead of the upcoming 2016-17 season, a tact which Edmonton has failed to in-act over previous years through an emphasis on signing over-rated, overpaid free agents and icing young, under-developed prospects.
One potential deal which has been floated about is the Oilers acquiring P.K Subban from the Montreal Canadiens.
Whether or not the Canadiens would be willing to part with Subban is an entirely different question, yet throw in Nail Yakupov or another young forward alongside the fourth overall pick and the situation becomes immediately more interesting.
Jordan Eberle, Ryan Nugent-Hopkins and Yakupov have long been rumored to be available in trade, and the inclusion of one or more of these youngsters in a potential deal could allow the Oilers to make incredible improvements to their lineup, most notably on defense.
2: Trade Down in the Draft
The second, equally interesting option for the Oilers to consider when it comes to potentially trading the fourth overall pick would be to trade down in the Draft.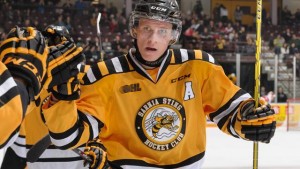 Trading down in the Draft would provide the Oilers with two manners in which to improve their roster.
In making the trade itself, Edmonton would surely be in the position to acquire a tangible asset. For example, if the Oilers traded their fourth overall pick to the Montreal Canadiens in exchange for their ninth, they would likely receive at least one NHL roster player – Alexei Emelin could be a defensive upgrade/ option.
Further, in trading down to ninth overall, Edmonton would of course also acquire Montreal's first round pick. At ninth overall, the Oilers would be in a perfect position to select one of the top defenders available in the Draft, whether it be Jakob Chycrhun, Olli Juolevi or Mikhail Sergachev.
If one, or all of these defensive prospects were still available, or if one of said youngsters had caught the eye of Oilers' scouts, it would provide Edmonton with an incredible opportunity to upgrade their defense core. Adding an NHL ready d-man would improve the Oilers' roster for 2016-17, while also adding a top defensive prospect would ensure Edmonton will boast yet another elite young talent in the near future.
Predicting the Future
The 2016 NHL Draft is quickly approaching, and each and every NHL franchise are surely doing their best to sort through piles of information in hopes of selecting the player who will be of greatest benefit to their respective franchise.
For the Oilers, while they really can't go wrong selecting any player at fourth overall in such a deep prospect class, making a trade on Draft day, as we have seen, simply put makes much more sense.
None of the players projected to be selected within the top-5 overall will likely be defenders, and therefore would serve little to no purpose on an offensively gifted team such as the Oilers. Trading their selection, whether it be in a monumental trade or for a slightly lower first round pick would therefore be of greatest benefit to Edmonton.
General Manager Peter Chiarelli is equally aware of his team's situation, and the overall importance of the Draft, as how he and Edmonton management approach the event will impact the Oilers for years to come.
"There's a real legitimate chance to look to move this pick, to improve our team – to get bigger or to get a D and get something else. We're going to look at a lot of different things." – Peter Chiarelli
Brett Slawson is a four-year veteran of The Hockey Writers who covers the Toronto Maple Leafs, NHL prospects, and the OHL's Mississauga Steelheads.
Contact Brett on Twitter @brettslawson92, or by email at brett_slawson@hotmail.com.