There was never really a question of who Thomas Vanek would sign with as a free agent. The Minnesota Wild signed him on July 1st for 3 years at a cap hit of $6.5 million, to no one's surprise. Vanek has always been known for his unbelievable hand eye coordination in front of the net, establishing himself as possibly the best deflector in the NHL. Check out this between the legs deflection as proof. At 6'2, 205lbs, he can power through his opponents and has a quick release on a fantastic shot. The real question of Vanek, is whether he will perform as the 30-goal scorer we became accustomed to in Buffalo, or as the lacklustre and uninspired looking Vanek we saw in the 2014 Playoffs with Montreal. One thing is certain. The Minnesota Wild will need the 30-goal Vanek this season if they hope for a deep playoff run.
Buffalo Sabres Years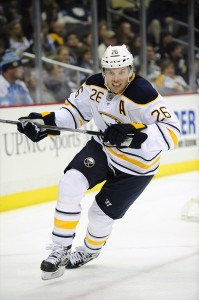 Thomas Vanek was drafted 5th overall by the Buffalo Sabres in the 2003 Entry Draft, 2 picks ahead of Wild d-man Ryan Suter, and 12 picks ahead of Wild winger Zach Parise. In his rookie year, Vanek scored an impressive 25 goals and 23 assists. There was no slump in his sophomore season, as he scored 43 goals and 41 assists, also capturing the Bud Light Plus-Minus Award with a Plus 47 rating in his breakout year. Vanek also took his team to back-to-back Eastern Conference Finals in 2005-06 and 2006-07. He played in the NHL YoungStars Game in the '06-07 season as well. In 2008-09 he also appeared in his first and only All Star Game. Thomas became known as a consistent 30-goal, and near 70-point player year after year. In the lockout shortened 2012-13 season, Vanek showed he was still great, finishing in the Top-30 in points, despite playing 10 less games than 28 of the guys above him on that list. These were his glory days. Until the Sabres went downhill fast and changes were made. First, a trade to the New York Islanders, then to the Montreal Canadiens, in a very unique season.
Islanders and Canadiens Days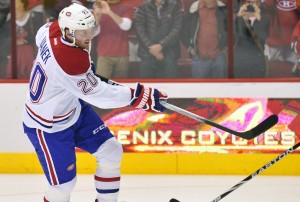 In 2012-13, Thomas Vanek was traded twice and played for three teams. With the Islanders, he racked up 44 points in 47 games and was able to quickly grasp their game style and adapt promptly. This allowed him to play successfully with the likes of Okposo, Nielson, and even Tavares for a short period of time before his injury. Note that no one really talked about his play during this stay. Then, with the Montreal Canadiens, he put up 15 points in 18 games, a pretty great total all things considered, while changing his style and line mates for the second time in one season. Again, no one really mentioned his play. Then, in the playoffs, he managed just 5 goals and 5 assists in 17 games. Here's when people began to put down his level of play, and even his drive to win. But, is it really fair to expect someone who, in one season, has played for three teams, changed line mates over 10 times, and had to move homes twice, to still perform at his best level while playing over 90 games in that season? I do not think so. During all this, Thomas never really played bad at all, perhaps mediocre at times, he was great at others, but never bad. For me, that seems like a pretty successful season for Vanek personally as he persevered through nothing but complications all year.
Thomas Vanek in Minnesota
Thomas Vanek played for three different teams last season alone, the Sabres, Islanders, and Canadiens. A hard task for anyone to possibly perform. This gave him virtually no time to adjust to his new team and get a grasp for their style and his new line mates. Realistically, you could not expect Vanek to perform at his top level under these circumstances. As he calls the State of Hockey, home, for the first time since he played with the University of Minnesota, you can expect a bounce back season. Thomas has proven himself as a consistent player throughout his career with the Sabres, excluding last season for obvious reasons. Playing with former best friend and Sabre, Jason Pominville, he will have comfort with not only the state, but also the team quickly. Also, possibly playing 2nd line LW behind Parise will offer him a matchup against the opponents 2nd defence pairing instead of the 1st pairing he's seen the last 8 years. All this put together, my expectation for  Thomas Vanek is 34 goals and 38 assists for 72 points in 79 games played.