As we stand right now, the Canadiens have decided against dipping into their pockets and trying to upgrade their top 9 forwards. Whether this is indeed the right decision, time will tell. The Canadiens still need to sign restricted free agent Alex Galchenyuk to a contract, which will likely be in the 2.75 to 3.5 million dollar range for two seasons. Well there is undoubtedly a need to upgrade their scoring, the Canadiens may look inside their system in order to do this.
Now lets take a glance at five individuals that may be in consideration to make the jump to the Canadiens next season.
1. Charles Hudon
A team that is already thin on scorers could get a boost this season if Hudon forces Bergevins hand and makes the big club. Hudon made his pro hockey debut last season for the Hamilton Bulldogs, and led the team in scoring with 57 points. Hudon tallied those 57 points as a 20 year old, which adds to his high stock in the Canadiens organization. Hudon is most known for his offensive flare, superb vision and hockey IQ and ability to create scoring chances. Scouts questioned if Hudon would ever be able to play a two-way game, but this season he finished with a +5 and was much more attentive towards that facet of his game. Montreal's management team loves young leaders, and Hudon is exactly that, so it wouldn't shock me if he has some stints with the big club next season, especially if he has a good camp or there are injuries.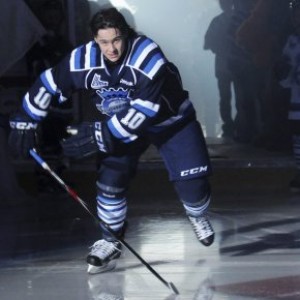 2. Sven Andrighetto
A third round pick in the 2013 entry draft, Andrighetto offers the Canadiens something they desperately need, which is scoring from the right side. The 5 foot 9, 185 lbs winger has the potential to add a dimension to the Canadiens up front that they currently lack, and are in the market for. Sven's creativity and vision are what separates him from his competition, and could ultimately be the deciding factor if he is to steal a roster spot come training camp. With the injury to Max Pacioretty, Sven could be a nice option to help replace some offense if Pacioretty isn't completely healthy come opening night. If Andrighetto cannot crack the Canadiens top 9, he will be a vital part of the farm team in St Johns.
3. Nikita Scherbak
Everything is directly pointing towards the Canadiens glaring need up front, which is to add a goal scorer. Whether one of the Habs prospects is given that opportunity, time will tell, but if they are, Scherbak could be the guy. The Canadiens first round pick in 2014, Scherbak led the Everett Silvertips of the WHL in scoring with 82 points in 65 games and added 8 points in 11 playoff games. The 6 foot 2, 204 lbs right winger brings size and skill to the table for a Montreal team that is lacking a bit of both. His offensive shiftiness, quick release and speed are what scouts note are the top assets of his game. He also doesn't shy away from physical play and has been getting bigger and increasing his already solid frame. If Scherbak has any hope of making the Canadiens, he will need to have an excellent training camp and prove to the Habs brass that he is indeed NHL ready. Look for him to challenge for a spot, but likely fall short because of the amount of veterans the Canadiens have signed up front.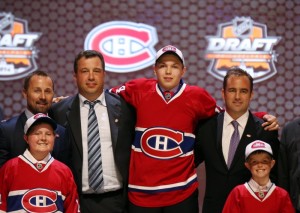 4. Daniel Carr
Carr is one of the most interesting prospects that the Canadiens have the property to. In his rookie year in the AHL, Carr led the Bulldogs in goals with 24. Carr was signed by the Habs as a college free agent out of Union college. Carr brings speed and a 200 foot game to a roster that values two way play and defensive presence. His shot and ability to create scoring chances out of nothing are what makes Carr an interesting prospect for the Canadiens. Carr's 6 foot frame could fit nicely on the Habs third line with Kassian and Eller, but it will all depend on the training camp that he has and if the Habs management team is impressed by his game. Carr should likely play another season in the AHL before making the jump to the NHL, but we will soon see if he forces Bergevins hand to make a move and clear a roster spot for him.
5. Jarred Tinordi
Tinordi has had an up and down start to his pro hockey career. Jarred joined the Bulldogs in the 2012-2013 season and also made his NHL debut in March 2013. Tinordi's stature and long reach allow him to break up plays consistently and play a strong role on the penalty kill. His strength and skillset allow him to overpower opponents and quickly gain possession of the play. For a man of his size, Tinordi actually skates quite well and has drastically improved that facet of his game since turning pro. His leadership and toughness feature two assets that both Michel Therrien and Marc Bergevin look for in players. Even with a strong camp, it will be difficult for Tinordi to unseat one of the veterans. The 227 lbs, 6 foot 6 defenseman will likely be the first defenseman on call if an injury on the Canadiens blue line occurs.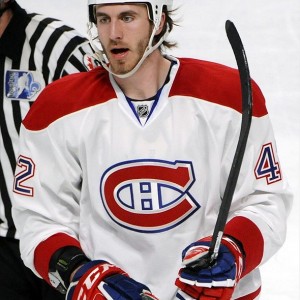 The Stats
| | | | | | |
| --- | --- | --- | --- | --- | --- |
| Statistic | Charles Hudon (AHL) | Sven Andrighetto (AHL) | Nikita Scherbak (WHL) | Daniel Carr (AHL) | Jarred Tinordi (AHL) |
| Games | 75 | 60 | 65 | 76 | 44 |
| Goals | 19 | 14 | 27 | 24 | 1 |
| Assists | 39 | 29 | 55 | 15 | 6 |
| Points | 57 | 42 | 82 | 39 | 7 |
| Plus/Minus | +5 | -6 | +33 | +8 | +9 |
The Canadiens are fortunate enough to have  a system with many players that are close to making the jump to the NHL. Not only are these five youngsters on the rise, the Canadiens also boast Michael McCarron and recently draft Noah Juulsen who both have great potential to go along with Europeans Artturi Lehkonen and Martin Reway. With the NHL slowly getting younger and younger, we begin to wonder when these young players will be able to make the jump to the next level and what impact they will have. With that being said, Bergevin will happily have one of these young players prove him wrong and force his hand to make a move and open up a spot for them.