I remember the moment specifically.
It was the morning of April 15, 1997. It was probably about 10:30 a.m. Central Standard Time.
I vividly remember it because I was looking at the beautiful card we had produced for the 50th anniversary of Jackie Robinson breaking the Major League Baseball color barrier with the Brooklyn Dodgers.
That was the first time I had ever wondered if anyone had ever made a Willie O'Ree hockey card.
I was sitting at my desk in Dallas in the ivory tower that was the head office of Pinnacle Brands. Inc. The layers of executives with their expensive suits and squeaky shoes left their glassed-in offices and occasionally wandered through the cube farm to check up on us.
It was somewhat intimidating. But, really, they were all great people. I loved everyone I worked with at Pinnacle. As stressful and pressure-filled every day was at that time, going to work every day was like a dream come true.
On my desk, I had a copy of the Charlton Hockey Card Catalogue. This book was like the bible for hockey collectors. It listed every hockey card ever made. Before I was at Pinnacle, I was the editor at Canadian Sportscard Collector magazine, and we were contracted to put the entire thing together. It was tedious, as even though Excel may have been invented by that time, we sure didn't know anything about it.
I looked up O'Ree and was shocked that he did not have an official rookie card. He had a card from his days with the Quebec Aces senior hockey team in 1956-57, and he also had a card made from when he played with the Los Angeles Blades of the Western Hockey League in the early 1960s. That one was a black and white card with a sketched card front.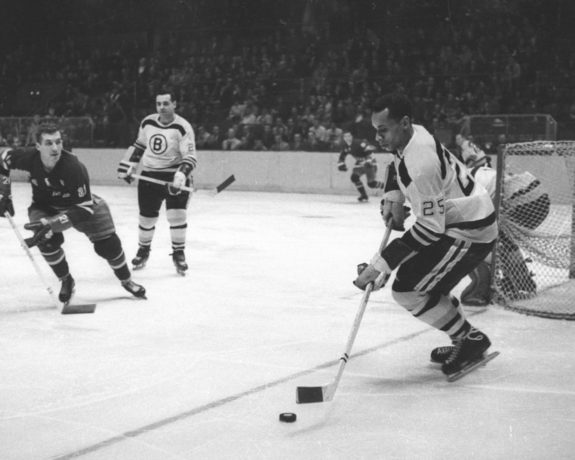 The only collectible that was close to a card that O'Ree had at that time was a Bee Hive photo.
That triggered the light-bulb-over-my-head moment.
What if Pinnacle resurrected Bee Hive photos as a hockey card brand? What if we made O'Ree's rookie card?
I literally started having an internal freak out and was ready to jump through my skin.
Bee Hive Photos Popular in Canada
Bee Hive photos were the primary hockey collectible for hockey fans from the 1930s into the 1960s. Although they are almost remedial in quality compared to even vintage hockey cards, they were treasures. Bee Hive Golden Corn Syrup, a staple in any Canadian household for generations, was the product tied to the photos. If you sent in the label from your container of corn syrup, you could choose from a checklist of hockey photos that would be mailed to you.
At the peak of the promotion, the St. Lawrence Starch Co. of Port Credit, Ontario sent out 2,500 photos per day. They were simple black and white 4.25" by 6.75" pictures on magazine-stock paper, glued onto a piece of cardboard. Beginning in 1964, the photos were produced as one piece on a woodgrain border.
O'Ree of the Boston Bruins was one of the 604 NHL players from 1934-67 who had a Bee Hive photo.
All I had to do was convince that layer of executives in their expensive suits that this was a no-brainer. I also had to explain to them what Bee Hive photos were and then tell them who O'Ree was. I didn't realize it at the time, but the mighty Pinnacle ship was already springing leaks and taking on water. They badly needed something different – a brand that would stand apart in the clutter. Game-worn jersey cards did not exist yet, and autographs were a hot commodity.
Michael Cleary, our CEO, wanted us to increase the number of autographs so that they hit one per box. Michael was an amazing guy to work for, and as a Boston native and former Harvard hockey player, he had a next-level passion for our hockey products.
I sat in a few meetings with Tom Farrell and Greg Bochicchio and brought in a stack of photos from my own collection. The vision we came up with was to produce something that we thought a Bee Hive photo would be if St. Lawrence Starch Co. had continued the promotion.
Pinnacle Bee Hive would hit the market as 5" by 7" cards. There would be autographs from retired players of each of the Original Six era teams. There would be autographed rookie cards, tying the past to the present and future. Brendan Morrison had just won the Hobey Baker Trophy for the Michigan Wolverines and was a big name prospect at the time. He was the first big client in the stable of one of today's top hockey agents, Kurt Overhardt. We worked out a deal where Brendan would appear on the box and packaging with Maurice Richard.
Willie O'Ree's First NHL Hockey Card
Then there was O'Ree. He had just started doing some work for the NHL, and in 1998, was hired as the NHL Diversity Ambassador. We were told before that he had been working as a parking lot attendant in San Diego, where he finished his minor league career in 1979 at the age of 43.
I got O'Ree's number from our licensing contacts at the NHL, and the butterflies were roaring in my stomach as I dialed his number.
He picked up the phone, and I introduced myself. I told him Pinnacle wanted to include him in a hockey card set, which would be a resurrection of Bee Hive photos.
He was thrilled. He also didn't realize he had never had an NHL hockey card.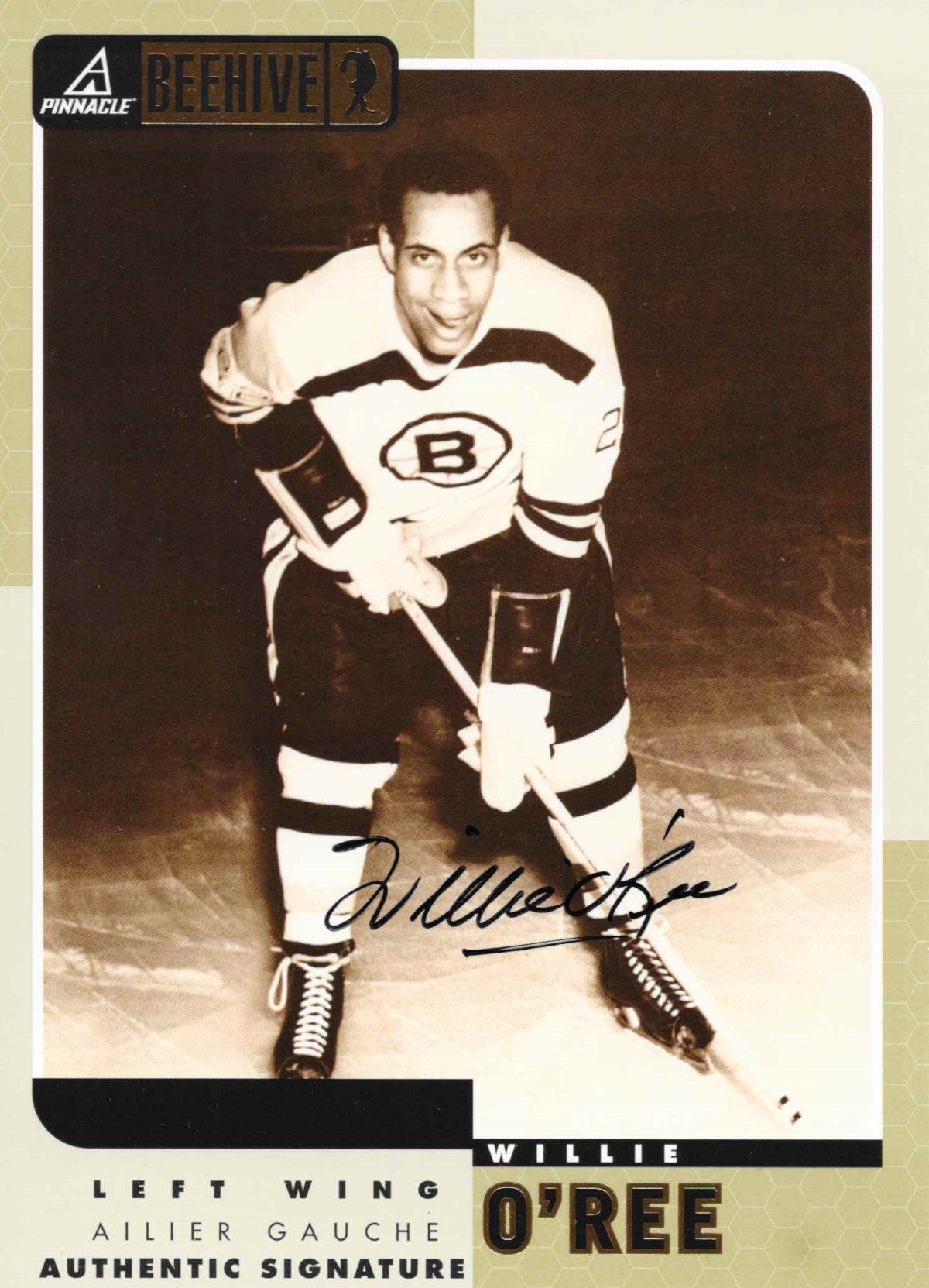 We spoke a few times that year, and he always shared some incredible stories with me. I also got the chance to meet him in person a few times, and I will never forget how warm and kind he was, and very grateful that we thought of him and made a hockey card of him.
The photo we used for the set was one of the only O'Ree photos out there. It was taken during pre-game warm-ups before the Bruins played the New York Rangers at Madison Square Garden on Jan. 29, 1958. It was the same photo used on his original Bee Hive photo. We used a lot of studio-style and posed photos in that card set. The photo editor at Pinnacle, Anita Cechowski, did an absolutely phenomenal job with the photo selection on that card set. If you look back at the Pinnacle and Donruss hockey products from the mid-to-late 1990s, the one thing that stands out is the photography. Our photographers were all shooting chrome slides back then because digital photography was still a few years away. Anita is probably one of the best photo editors to ever work in the hockey card industry.
Gary Bettman Announced Bee Hive Project, First O'Ree Card
In Jan 1998, the Pinnacle Bee Hive hockey card project was announced at the NHL All-Star Game FanFest in Vancouver. Laurie Goldberg, our VP of public relations, arranged for us to have a press conference to announce the launch of the program and the resurrection of the Bee Hive brand. We had members of the Gray family, who owned St. Lawrence Starch when the promotion ran, in Vancouver with us. Some of the autograph guests were there. I don't know how Laurie pulled this off, but she convinced NHL Commissioner Gary Bettman to come to our press conference and introduce the resurrection of Bee Hive photos and the world's first O'Ree NHL hockey card in the same month that he broke the NHL's color barrier.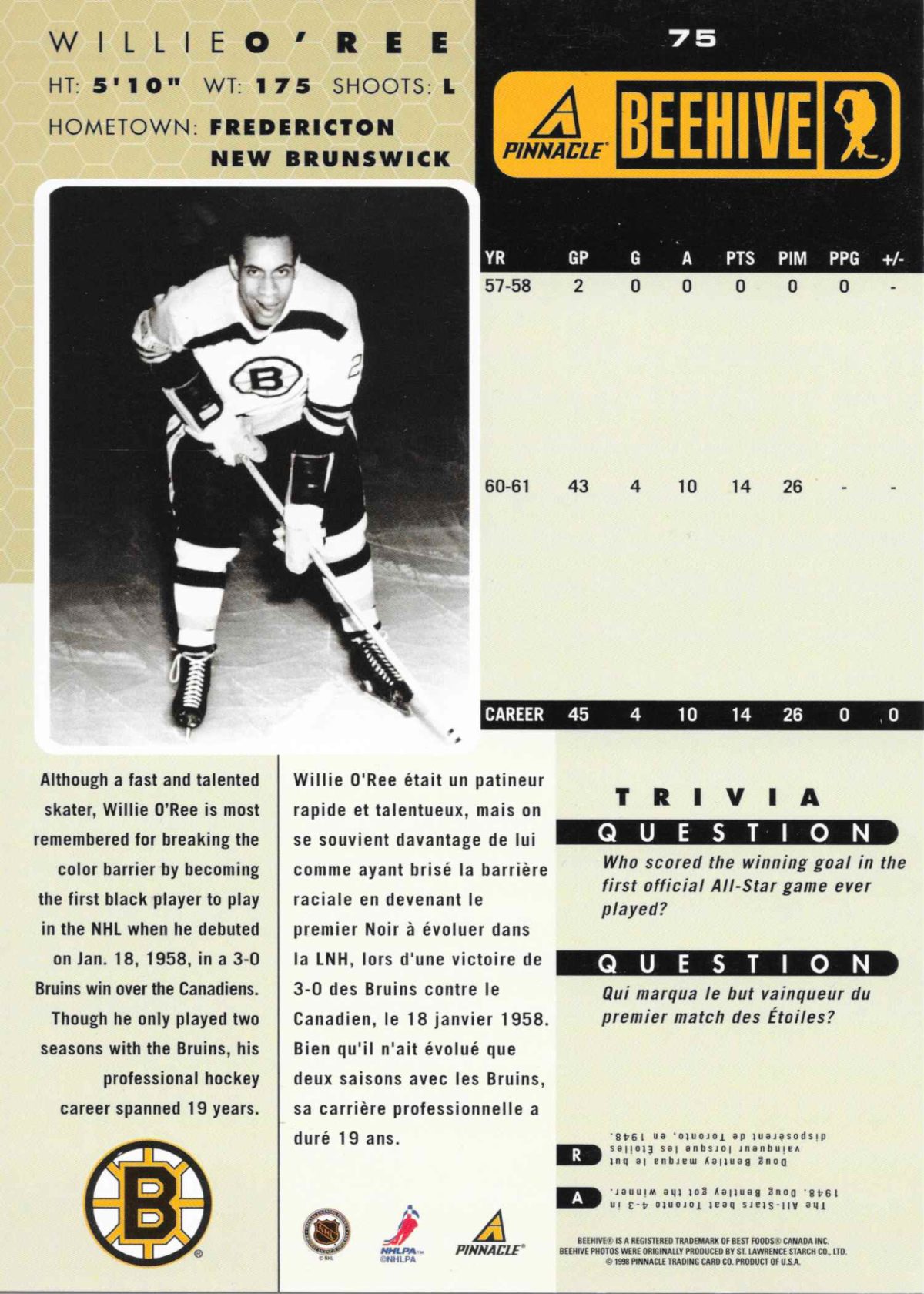 Unfortunately, while we were in Vancouver, things went south in Dallas. When I left for Vancouver in Jan 1998, there were more than 200 employees in our building on Woodall Rodgers Freeway. As we were in our press conference, the corporate axe was swinging back in the Vortex. More than half of Pinnacle's staff was let go on the day that our Bee Hive product was launched. Within a few months, we were in Chapter 11 and down to a skeleton staff. When I left in September of that year, there were eight people left.
Meanwhile, the same weekend, Eastern Ontario was crippled by their worst ice storm on record. I grew up in a rural area outside of Prescott, Ontario, which is about 80 kilometres south of Ottawa. Our house flooded, and many families lived in the high school gymnasium for up to two weeks. With the flood, my childhood collection of ticket stubs, game programs, issues of Sports Illustrated and The Hockey News, and many of my hockey cards, including Bee Hive photos, were destroyed.
There have been more than 300 O'Ree NHL cards made since his 1997-98 Pinnacle Bee Hive rookie card. This year alone, he has been included in the 2020-21 Upper Deck O-Pee-Chee set, the 2020-21 Upper Deck Artifacts set, and the 2020-21 Leaf In the Game Used set.
I haven't seen or talked to O'Ree in more than 10 years. I doubt that he would remember me right away, but I know he would if I reminded him of the Bee Hive card. I have an autographed version of that card on display in my sports cathedral/mancave. For all the years I worked in the trading card industry, that card is the best and most important thing I was ever a part of.
Making O'Ree's NHL rookie card was something special.
But making a friend in O'Ree was something I will never forget.
---
---