The holidays are here; family, friends (virtually… thanks COVID-19), food, and gifts. Not all gifts can be unwrapped, though. Over the last 20 years, the Windsor Spitfires have been involved in dozens of trades, both big and small. Some of those may have seemed minor on the outside, but provided substantial value in the end.
Over the last 15 seasons, former Spitfires' general manager (GM) Warren Rychel (2005-19) and current GM Bill Bowler often played Santa Clause for the team's fans, bringing in talent or high picks to help the team. Some deals happened around Christmas, while others were more of a Christmas in July. They were often of great value, though, which made ears perk up when you heard something was about to happen.
As we unwrap our presents and enjoy time around the tree, let's look at the best value deals from the Rychel and Bowler eras.
1. Windsor-Ottawa Trade – Aug. 16, 2016
To Spitfires: forward Jeremiah Addison, a 15th-round pick in 2018
To 67's: a 15th-round pick in 2018, 2 conditional 2nd-round picks
In the summer of 2016, everyone in Windsor knew that Rychel would be loading up as the team hosted the 2017 Mastercard Memorial Cup. The hope was that he'd make a few bigger deals, but also some smaller ones. He delivered.
In mid-August, he brought in 20-year-old forward Jeremiah Addison from the Ottawa 67's. The Montreal Canadiens' seventh-rounder in 2015 was coming off of a 27-goal season in 2015-16 and gave the Spitfires incredible depth upfront. He finished with 24 goals in 51 games, then another five goals in five playoff games (lost to the London Knights in the first round in seven games).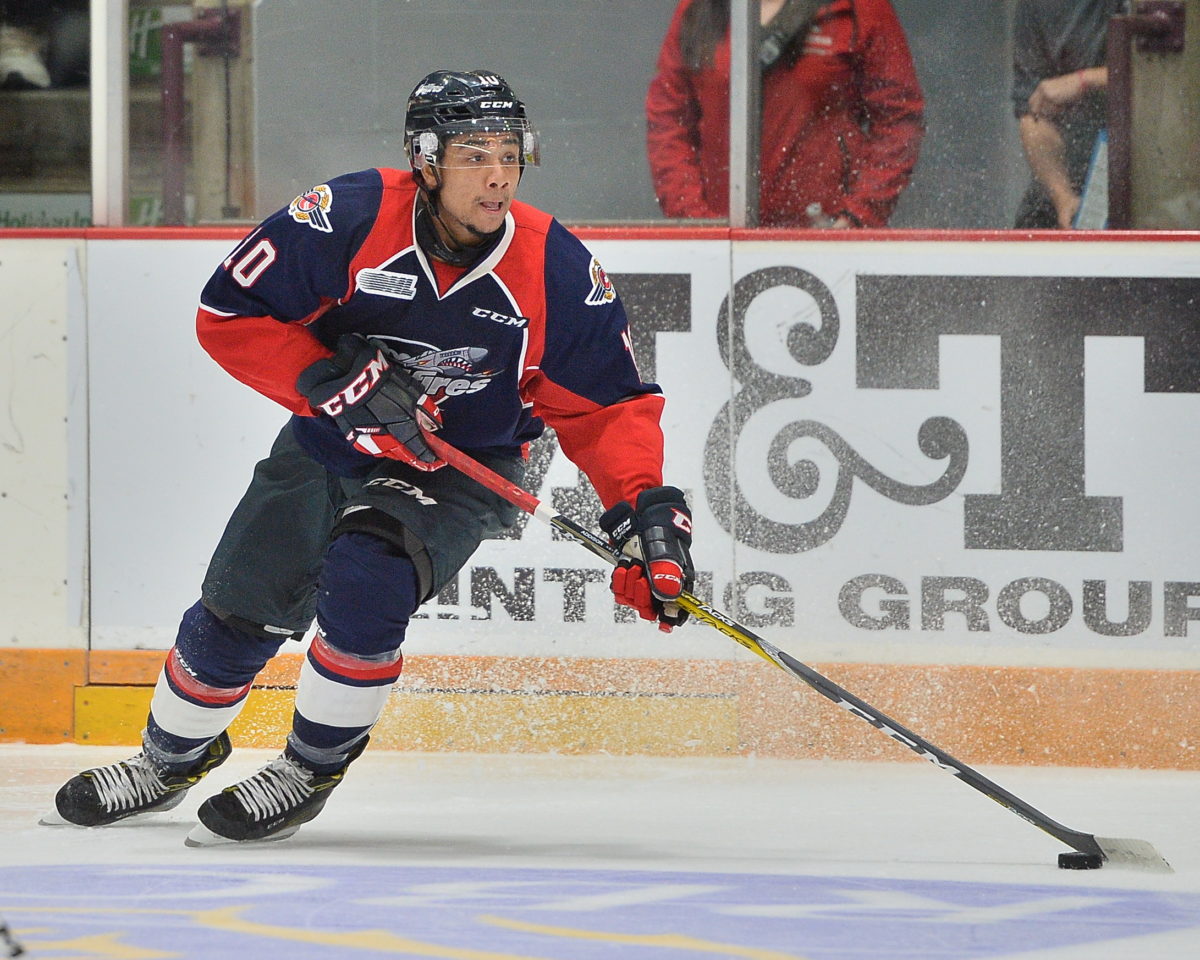 Where Addison really made his mark was the Memorial Cup. In four games, he scored five goals and added one assist, but it was the final round robin game that meant the most to the Spitfires. He scored twice in the first period, then capped off the hat trick in the third, giving the club a 4-2 win over the Erie Otters.
The win sent the Spitfires straight to the Memorial Cup Final, where they beat the Otters 4-3.
As for the picks — neither of the 15th-rounders made the OHL and the second-round picks, while not disclosed, likely didn't matter to the Spitfires after the championship win.
Trading two high picks isn't always good value. However, when your return is that clutch, you make that deal any day of the week.
2. Windsor-Oshawa Trade – June 20, 2015
To Spitfires – forward Bradley Latour
To Generals – defenceman Anthony Kotsovos and a 5th-round pick in 2018
When you're teaching a younger roster how to win, bringing in leadership at a good price can mean everything. That's what happened in the summer of 2015.
Heading into 2015-16, in the second season of a rebuild, Rychel knew he had young talent. What they needed was veteran stability. That's where Bradley Latour came in.
The Spitfires acquired the 5-foot-11, 195-pound winger from the Oshawa Generals in June 2015. In return, they sent Junior B defenceman Anthony Kotsovos (former 13th-round pick) and a fifth-round pick in 2018 the other way.
Latour was exactly what the club needed. He became an instant leader in the room, earning an "A," and put home 49 points in 65 games. Fans loved his approach to the game. It was too bad he was in his graduation season. He later moved on to St. Mary's University.
Kotsovos was a 6-foot, 180-pound grinder who played in eight games for the Spitfires, but wasn't able to crack the full-time roster. Unfortunately, he didn't see any time with the Generals and spent over 150 games in Junior B from 2014-17. The fifth-round pick ended up with the Sarnia Sting who drafted center Wyatt Schingoethe. He went the USHL route and is a University of Denver commit.
Getting someone of Latour's character and talent for a player who wasn't going to make the Spitfires' roster and a future mid-round pick was an ace move by Rychel. It goes down as one of his best bargain deals.
3. Windsor-Mississauga Trade – Oct. 1, 2013
To Spitfires – defenceman Eric Diodati
To Steelheads – A 6th-round pick in 2016
Latour wasn't the only time Rychel made a play for an overage (20-year-old) player, either. In 2013, he sent a sixth-round pick to the Mississauga Steelheads for defenceman Eric Diodati in what became incredible value.
In 2013-14, the Spitfires had a younger defence with three regulars being under 18. When Rychel had a chance to acquire Diodati, he jumped on it.
The 6-foot-1, 175-pound Niagara Falls-native wasn't flashy but more than did the job. In 63 games, he put home a career-high six goals and 24 points and protected teammates when necessary. The Spitfires had other high-profile defencemen in Trevor Murphy and Slater Koekkoek, but that wasn't Diodati's game. It didn't need to be. He played a simple, effective style and the fans appreciated that.
In return, the Steelheads got a sixth-rounder in 2016 that turned into forward Sam Rhodes. He played 121 games in the OHL before heading to the USHL.
4. Windsor-Niagara Trade – Dec. 4, 2018
To Spitfires – goaltender Colton Incze
To IceDogs – A 4th-round pick in 2022
Spitfires' fans will never forget the whirlwind in early December 2018.
From 2015-18, goaltender Michael DiPietro owned the Spitfires' crease, setting numerous team records. When Rychel traded him to the 67's on Dec. 4, it sent shockwaves through the hockey world. It also created a hole in goal.
While rookie Kari Piiroinen had shown flashes of potential, he wasn't ready to take over. That's a tough task for any rookie, let alone one replacing a franchise goaltender. Instead, Rychel made the necessary move, bringing in 19-year-old Colton Incze from the IceDogs in return for a fourth-round pick in 2022.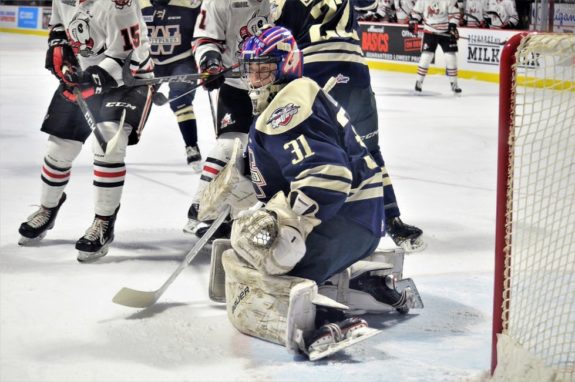 Incze did exactly what he needed to — became a leader, a mentor for Piiroinen, and kept the team in as many games as possible. Trading DiPietro was the last piece in the Spitfires' rebuild, but the young defence had plenty of help now.
While the fourth-round pick won't be used for a couple of years, getting Incze was vital for the Spitfires.
5. Windsor-Hamilton Trade – Aug. 26, 2019
To Spitfires – 2nd-round picks in 2020, 2021, and 2022, plus a conditional 3rd-round pick in 2023 and a conditional 5th-round pick in 2024.
To Bulldogs – defenceman Nathan Staios
When Bowler became the Spitfires' GM in July 2019, his initial goal was to see what roster he had to work with and go from there. However, that's when the Hamilton Bulldogs came calling.
After brief negotiations, the Spitfires sent former first-round pick Nathan Staios to the Bulldogs for several picks. The 5-foot-9, 165-pound Hamilton-native was looking to play closer to home and his father, Steve, was the Bulldogs' GM. It was just the right fit.
In 118 games with the Spitfires, Staios had 41 points. He matched that total in just 60 games following the deal. The deal worked out for both clubs.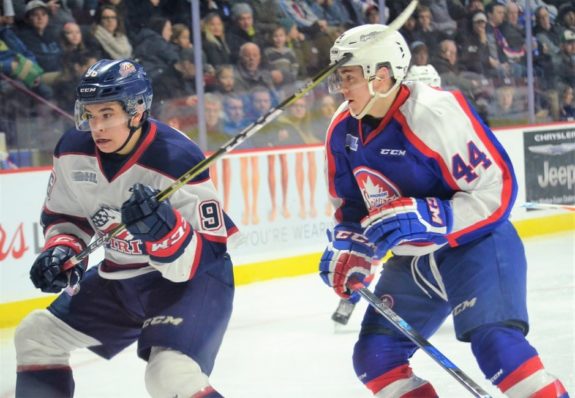 While most of the picks are in the future, Bowler used the second-round pick in 2020 (originally from London Knights) to take goaltender Kyle Downey. He could be the protege for current starter Xavier Medina.
Dealing a former first-round pick isn't often considered "value," but when you receive three second-round picks, plus two more conditional picks, it was a solid start to Bowler's resume.
Value Goes the Distance
While big, star-powered trades can be entertaining, sometimes the most valuable trades for a club are the smaller ones. They don't always grab the headlines at first, but you talk about them for years to come.
Rychel had a knack for finding the deals that help the club without giving up the farm. He passed that knowledge off to Bowler. Once the pandemic is over and the OHL resumes, expect more deals like these in the Spitfires' future.
---
---