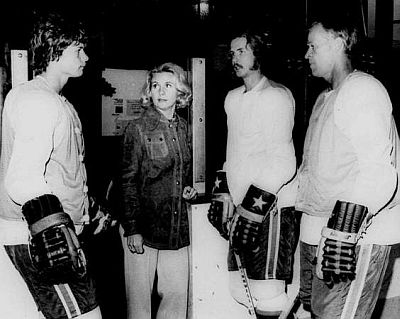 The Red Wings have confirmed that Colleen Howe, known to everyone as Mrs. Hockey, passed away yesterday in Bloomfield Hills, a suburb of Detroit. She was 76.
She had been battling Pick's disease, which is a rare neurodegenerative disease, since 2002. The disease causes progressive destruction of nerve cells in the brain and causes tau proteins to accumulate into Pick bodies, the defining characteristic of the disease.
"We extend our deepest condolences to Gordie, Mark, Marty, Cathy, Murray and the entire Howe family," said Red Wings owners Mike and Marian Ilitch. "Colleen was a pioneer hockey wife and hockey mom and devoted her entire life to the betterment of the game. She will be sincerely missed by us and all who knew her."
Funeral arrangements have not been announced.
"Obviously a great wife, a wonderful mother, a great hockey mother," said Red Wings general manager Ken Holland. "Between her and Gordie, Mark and Marty, they were hockey's first family for a long, long time. A big loss.
There will be a moment of silence before tonight's game when Detroit plays Columbus.
NHL commissioner Gary Bettman said she was a "formidable woman, the wife and partner of our iconic player, the matriarch of a remarkable hockey family."
Colleen Howe was the first woman inducted into the U.S. Hockey Hall of Fame and was honored as Michigan's Sportswoman of the Year in 1973.
On top of that she also founded the first Junior A hockey team, the Detroit Junior Red Wings, and opened the first indoor hockey rink in Michigan, Gordie Howe Hockeyland in St. Clair Shores.
Colleen leaves behind husband Gordie, sons Marty, Mark and Murray, daughter Cathy, nine grandchildren and one great grandchild.
Wings Notes:
– Andreas Lilja is battling persistent headaches stemming from his fight last week with Shea Weber. Lilja won't play until the headaches stop.
– Marian Hossa remains sidelined with a sore neck and back after slamming head first into the boards and being taken off the ice on a stretcher while playing St. Louis on Tuesday. No word on when he will return.
– Wings head coach Mike Babcock called Brian Rafalski "one of the best defensemen in the league all year long." Rafalski is second in the NHL among defensemen with 51 points.
– Goalie Jimmy Howard will not be returning to the Wings lineup this season. Howard made his debut on Feb. 21 against Minnesota, where he allowed four goals on 28 shots.