The 2013 NHL Entry Draft saw several current superstars make their first appearance on stage in their new threads including Nathan MacKinnon, Aleksander Barkov and Sean Monahan.
Nine players from the first-round have been traded since, most notably, Jonathan Drouin, Seth Jones and Shea Theodore. Eight players from that draft class have dressed in less than ten games this season with their team.
Only three players belong to both of these categories and two happen to be the Columbus Blue Jackets' first-round selections, Kerby Rychel at 19th overall and Marko Dano at 27th overall.
While it is coming up on two full seasons since Rychel saw NHL playing time, Dano's absence from everyday action is somewhat inexplicable, yet he is the only player from the first-round that has been traded twice, which warrants the question: if it happened twice, will it happen again?
Leaving His Marko
Dano began his NHL career with the Blue Jackets and impressed in limited action. His first season garnered attention across the league as he picked up 21 points in 35 games. In an 82-game season, that averages out to 49 points, which would have ranked him fourth in freshmen scoring.
General manager Jarmo Kekalainen certainly did not want to move this young Austrian-born, Slovak winger, however, an opportunity came knocking and it was one he could not refuse.
Acquiring power-forward Brandon Saad from the salary cap-strapped Chicago Blackhawks was a no-brainer for Kekalainen. He shipped Dano in a package that included Artem Anisimov among a few other pieces to Stan Bowman and the Blackhawks in the summer of 2015.
Dano's time with the Blackhawks organization was short-lived – he only dressed in 13 games before making his way to the Winnipeg Jets along with a first-round pick in a trade that sent Jets' captain Andrew Ladd back to Chicago, where he won a Stanley Cup in 2010.
In short, Dano showcased his skill and potential in Columbus, moved to Chicago where he was hard-pressed to find a rhythm under head coach Joel Quenneville, and took his talents to Winnipeg in late February, where the cold was as bitter as his transition.
Dealing Dano
Dano did immediately jump into some action, dressing in 21 games with the Jets that season and picking up eight points. He followed up his first season in Winnipeg with another 38 games the next year but only amassed 11 points.
In hindsight, 11 points aren't all that bad in what was about half a seasons work. This total would have averaged 24 points over an 82-game season.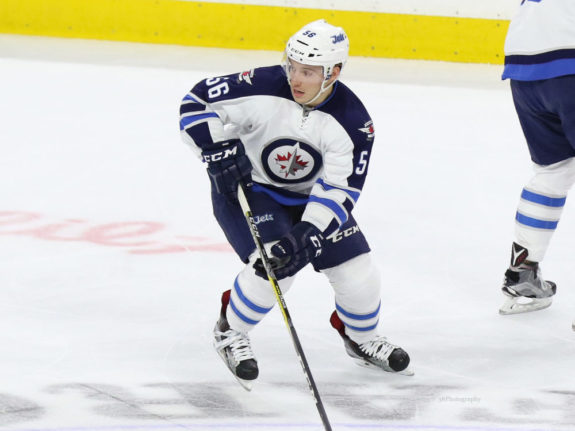 Nevertheless, this is not an acceptable total for a top-six forward and Dano's lack of bottom-six qualities are what have bedeviled his playing time throughout his career.
This resulted in Dano dressing in a measly six contests this season, thus uncontrollably crippling his development by sitting in the press box night after night. Dano's last game was Oct. 27.
Dano must take some responsibility for this due to his inability to grasp essential bottom-six techniques such as working on the penalty kill or learning the proper way to grind opponents down, but the Jets must as well. Limiting any hockey player to only six games when they're completely healthy over a four-month period (eight months dating back to last season) is setting them up for failure.
Head coach, Paul Maurice clearly doesn't trust this player, and, with Shawn Matthias, a veteran of over 500 games, also serving as a healthy scratch most nights, Dano isn't even next in line. With the devastating lower-body injury to dynamic centerman Mark Scheifele, who will miss six-to-eight weeks, Matthias is likely to get an opportunity to play over Dano or they may decide to recall one of Nic Petan or Jack Roslovic in the future.
Maurice said he hasn't decided if it will be Shawn Matthias or Marko Dano will be on the #NHLJets fourth line vs #Isles on Friday – though Matthias took the majority of the reps during today's workout

— Ken Wiebe (@WiebesWorld) December 28, 2017
The Jets currently sit second in the Central Division, and, with playoffs looking likely, wouldn't it be more beneficial for both parties to ship Dano to his fourth club by age-23 and add a veteran, pending unrestricted free-agent defenceman?