Jim Neveau, Blackhawks Correspondent
Ever since Cristobal Huet arrived in the Windy City, he has been the subject for more barroom fodder and heated debate than any of his teammates combined. He has been mercilessly ridiculed by fans of the team, and his confidence has been called into question more times than one would care to remember. While some of the criticism has been unfair, his maddening inconsistency has always made it difficult to defend him from the onslaught of nay-sayers.
On Thursday night, head coach Joel Quenneville decided that it would be an appropriate time to give Huet a start in net against the Columbus Blue Jackets. It seemed like an ideal situation to ease Huet back into the crease after two weeks off, with Columbus struggling to score goals and just biding its time until they can hit the links in three weeks.
What happened instead was the kind of drubbing that can only serve to destroy the confidence of a cage minder, as Huet allowed seven goals on 27 shots in an 8-3 demolition at the hands of the 14th place Blue Jackets. Cristobal looked absolutely awful, misplaying pucks and looking like his skates were stuck in the ice as he struggled to move in the crease. In a word, he looked overmatched, and the fact that he looked so bad against a team that isn't exactly the most talented on the block served to make Blackhawks fans squirm in their seats.
Adding to the palpable misery that flashed across television screens and over radio waves was Joel Quenneville's decision to yank Huet in the second period, and his subsequent re-insertion of the Frenchman into the contest to begin the third period. There is perhaps no lonelier feeling in sports than the one a goaltender feels after he has surrendered a barrage of goals, and the fact that Quenneville put Huet back into the fire surprised many fans of the team.
What would the reasoning of a coach be to put his goalie back into that situation? Was he simply saving Niemi the extra mileage that this pointless game would have put on his odometer? Did he want Huet to sink or swim and prove either his worth or his incompetence? Did he simply want to make Huet look so bad that the front office would consider him DOA and try dealing him after the season?
While all of these theories seem plausible, there is one more that can be tossed into the mix: that Quenneville was trying to recapture some magic from a similar move he made last postseason with Huet. If you'll recall, Huet looked like a bum (to borrow a popular Chicago term) in Game 4 of the Western Conference Finals against Detroit. He allowed several soft goals and took his team out of the proceedings early, and Quenneville yanked him during the second period of that contest.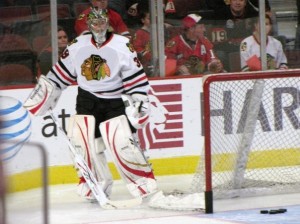 When the third period of that Game 4 got started, Quenneville re-inserted Huet, who did give up one power play goal in the frame, but looked measurably better.
Then, when Game 5 rolled around, Huet was back in net and had unquestionably his best game as a Blackhawk. With his offense stifled on the other end by Chris Osgood, Huet made save after save, playing a masterful game and stopping 44 shots that came his way. One save in particular stood out, as Huet lifted his leg pad to stop what looked like a sure goal in the waning seconds to force overtime.
While it is highly unlikely that Joel Quenneville is going to start Huet on Saturday against Columbus on home ice, the memory of last season's actions is an interesting one to keep in mind going forward. Would the Blackhawks be well advised to try to start Huet one more time, and give him that final shot of trying to save his job? Especially in light of what happened last year in a similar situation, could Quenneville justify rolling the dice and putting Huet back in net?
As tantalizing as this possibility is, Quenneville simply cannot afford to keep giving Huet chances to make himself relevant in the Hawks' goaltending situation. No matter what Joel says about his timetable for sticking with a starting goaltender, he has to go back to Niemi for this next game. The team needs to get one of their goaltenders on a roll, and with Niemi's shutout of the Coyotes a few nights ago, there is reason to believe that he is a heck of a lot closer to "rolling" than Huet is.
If Quenneville does go back to Niemi, what does that mean for Huet? His confidence is certainly in tatters after blowing a tremendous opportunity to get back into the coach's good graces, and if Niemi can nail down the starting job, the winds of change may just take Huet out of town this off-season at a bargain basement price.
The sad reality of this whole situation is that Huet has been given more chances to succeed than most coaches would have given him. With his teammate Niemi rocking a 2.19 GAA and a solid .913% save percentage, a lot of headmasters would have gone to the "Finnish Fortress" a long time ago. Due to his inflated salary and fragile ego, Huet has been handed more opportunities to prove his worth than he deserved, and he has blown all of them.
Huet is on the cusp of being one of the biggest free agents busts to ever don the Indian head sweater, and Thursday night was simply one more piece of evidence against his starting goalie candidacy. He may be getting paid the bucks usually reserved for the elite goaltenders in the game, but Huet's psyche and playing ability have warranted him getting fitted for a baseball cap for the rest of the season.
While a team like the Philadelphia Flyers would kill to have Huet in their ranks at this point, the Blackhawks have little to no use for him. Huet is damaged goods, and Stan Bowman will likely accept any package he can get for Dale Tallon's overpriced mistake when the off-season rolls around.
It's a real shame that this signing hasn't worked out, but when and if Huet gets shipped out of town, there will only be one person to blame for his demise: himself.