By Rick Gethin
Despite the Columbus Blue Jackets having a somewhat less than successful season, RW Jake "don't call me Jakub" Voracek and C Antoine "Twan" Vermette are having career years in Union Blue.

Jake Voracek is coming into his own as a power forward in the NHL in just his second year in the league. Picture, if you will, a less-refined Rick Nash. He still makes mistakes, but is quick to recover and get back into the play. He seems to be blossoming under the tutelage of interim Head Coach Claude Noel, playing with a more relaxed and looser style. He's been given more responsibilty on both the PP and PK. Playing on the second line with C Derick Brassard and LW RJ Umberger, he's become a real scoring threat that other teams must guard against.
He has now set career highs in goals, assists and points, going 14-32-46 through 73 games this season. He's 11 points away from tying C Rick Nash's sophomore season points total. "I just try and play my game," said Voracek. Thursday evening, he notched his first goal on a penalty shot against the Chicago Blackhawks. "I have not done the backhand move for a while, so I just tried it," he said. "I was a little bit lucky it went in, because it went under his (Chicago goaltender Huet) arms." He's having fun and enjoying the game of hockey to it's fullest.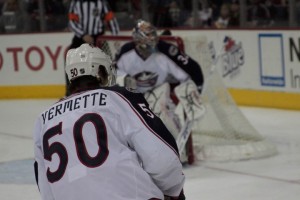 The Columbus fans have taken to calling him "The Twan". C Antoine Vermette is also having a career season, going 25-36-61 in 74 games this season, eclipsing his previous best with the Ottawa Senators in 2007-2008 of 24-29-53. He set a career high with his 15th multi-point game Thursday against Chicago. He's also set career highs in goals, assists and points this season.
The dark spot in his mind is that the team will not make the playoffs this season. This marks the first time that he's not been to the playoffs since coming into the league. "It's a strange situation," he said about missing the playoffs. Contrasting having a career season versus not making the playoffs he said, "Personally, I'd be lying if I don't say I feel good about my game. But, at the end of the day, you want to play well and contribute to a winning team. This is a disappointing season, no doubt about that. We want to have success collectively, that's the main thing."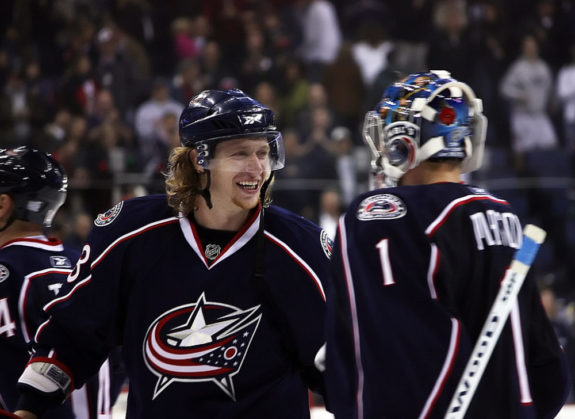 These two guys have their sights set on helping to take this club to the next level, not only making the playoffs, but making a deeper run in them. Personal accolades are nice, but when all is said and done, one constant holds true. It's all about the team.