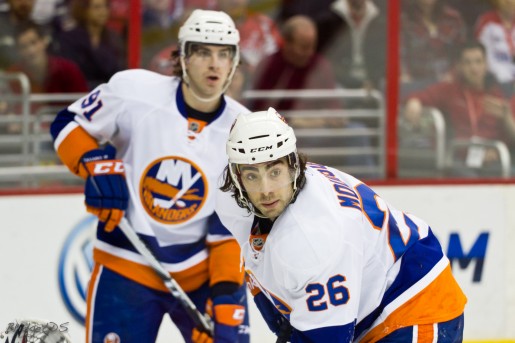 It has indeed come down to the wire, folks.
All the hard work, the gutsy come-from-behind wins, the never-say-die performances, they have all led to this moment. For the New York Islanders, they need to win tomorrow night or else they'll have to wait until October to get another shot.
This has been a banner year for the Isles, by all accounts and should they be on the wrong side of the handshake line tomorrow evening, I really hope the fans do the right thing and give the boys a standing ovation, because they deserve one.
I think it's fair to say that this has been a playoff series for the ages, considering the opponent and the resiliency that has been demonstrated by the underdog throughout. I think that there have been a lot of positives, whether it's Kyle Okposo, Casey Cizikas or John Tavares.
Unfortunately, the one man that has failed to meet expectations is Evgeni Nabokov, and that has kind of been an issue for the Islanders. I wouldn't even say he's been bad in this series (as was the case in the regular season, the stats do not necessarily reflect his contribution). He made some real big saves, particularly in Game Four, and though it obviously didn't take much, he out-played Marc-Andre Fleury.
What he has yet to do, and what the Islanders really need him to do on Saturday, is steal a hockey game. Nabokov has done it before and certainly has enough talent and experience to do it again. His career playoff stats are rather suspect, but he has also put on some of the best goaltending performances in recent postseason history and the Isles sure could use one of those.
I'm not about to hang Game Five on Nabokov. The second goal was a softie, no question, but at the end of the day, the only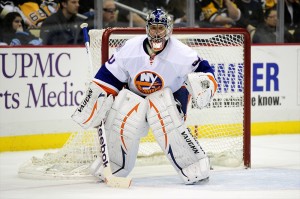 diference that would've been made is that instead of losing 4-0, the Isles would've lost 3-0. What a dramatic turn of events that would have been.
The Islanders lost last night because they didn't have enough sustained pressure; it's one thing to throw shots at the net and get quality chances every once in a while, it's quite another to keep the puck in the offensive zone for a significant amount of time, which is far more effective.
Let's also not forget — the defense has completely hung Nabokov out to dry for much of this series. Most of the goals the Penguins have scored have been on gorgeous plays or defensive lapses.
All the more reason why Nabokov needs to steal one tomorrow night. If he can keep his team in the hockey game, the Isles can win. The Pens are going to be focused and determined to knock off the Islanders, so it'll be up to them to the weather the incoming storm. If the defense plays anything like it has in the first five games, this team will be on the golf course faster than you can say "Nino Niederreiter."
Speaking of prospects, if Frans Nielsen is indeed unable to go for Game Six, which I severely hope is not the case, then I think if you're the Islanders you have to give Ryan Strome a shot. He can help this team in a firefight. Casey Cizikas can absolutely take on Nielsen's role, I'm very confident in his ability to do that. But you do need to replace Nielsen's offensive contributions as well and that's where Strome comes in. He knows what to do with the puck, he knows how to make plays.
As much as I dump on the fans for blaming Marty Reasoner for everything that goes wrong, the man does not need to be in the lineup at this point; he's just not going to give the Isles what they're looking for right now.
I just want to mention one more thing. As bad a coach as Dan Bylsma is (yes, I just said that), he has out-coached Jack Capuano in this series. Some of these lineup decisions have been very iffy; for example, putting Radek Martinek AND Thomas Hickey in and taking out Matt Carkner.
We all knew someone had to replace the injured Andrew MacDonald, no one was going to criticize Jack for substituting a player in for him. But to instead take out Carkner, who'd done a nice job in Game Four and then throw two guys who hadn't played in a while right into the fire? It just didn't make a lot of sense and, though it's not the main reason the Isles lost last night, it definitely played a part.
Some of these line changes have also been brutal. Evgeni Malkin scored a goal in Game Four because Frans Nielsen was called off for a line change and hopped onto the bench just as Malkin darted right past him and into the Isles' zone with a wide-open shooting lane.
The forward lines themselves, by the way, are not quite as effective as some people started thinking after Games Two, Three and Four. Yes, the offense stepped up. Yes, the Islanders scored more goals. Yes, there are certain one-two punches on these lines that make sense. But there are odd men out on each of the top two lines.
I like Josh Bailey on that first line with John Tavares. What I don't like is that Matt Moulson was swapped off it, which has basically rendered him ineffective. Why Capuano would ever separate Moulson and Tavares is completely mind-boggling. If it were me, I'd stick what got me here and, other than swapping Bailey and Boyes, wouldn't touch a thing.
Tavares is going to step up no matter who he plays with, and Kyle Okposo (finally) appears to be developing into that kind of player as well. But that does not mean that all of a sudden, the new line formations are flawless. Let's not get ahead of ourselves.
At the end of the day, the New York Islanders have proven a lot in this series. If they wanted the hockey world's attention, boy did they ever get it. Everyone's taking notice now. Be proud of this team and what they've accomplished this year. The future is very bright.
Win or lose tomorrow night, it's been one heck of a ride and, in my opinion, it's just getting started.
Comments are welcome
Follow Daniel Friedman on Twitter: @DFriedmanNHL
I'm a columnist for the New York Islanders on The Hockey Writers.
I hail from West Hempstead, NY, I'm a Senior at Queens College and work at NBC Sports Network.
Follow me on Twitter @DFriedmanNHL