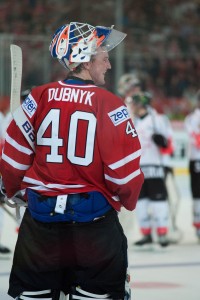 Who is Devan Dubnyk? He will be entering his fifth season in the NHL this October, and no one really knows the answer to that question, not even his team. At the end of another disappointing season, Edmonton Oilers GM Craig MacTavish pointed to the need for goaltending depth in the organization. Veteran Nikolai Khabibulin will be a free agent this summer, as will back-up Yann Danis. The Oilers have a couple of strong goaltending prospects in Tyler Bunz and Olivier Roy, but neither are ready to make the jump to the NHL. That leaves us with Devan Dubnyk. He makes $3.5 million dollars next season, and then is set to become a UFA. The Oilers hoped that they would know by now if he had the goods to be a regular starter in the NHL. But they don't.
Dubnyk didn't have a bad year, in fact he showed moments of brilliance and stole a couple games for his team. The Oilers were out-shot on many occasions, and the defense in front of him had their share of breakdowns. He played the bulk of games in the shortened season, 38, and finished with a record of 14-16-6. He had a 2.57 GAA and .920 save percentage with two shutouts. Not bad numbers. But it would appear that the Oilers still aren't convinced he's their guy.
Here's the interesting thing about Dubnyk. His international play for Team Canada has been stellar. He led Canada to a recent Spengler Cup victory and he's currently having a great tournament at the World Hockey Championships. Granted, the defense is always a little better at these types of tournaments and the competition isn't always top notch. But stats are stats, he's clutch in high pressure situations. But it seems as though that international success hasn't translated enough at the NHL level.
Dubnyk's lifetime numbers in his junior career with the Kamloops Blazers are average. He's got a 2.70 GAA, a .911 save percentage and 15 shutouts in 192 WHL games. His AHL stats are below average, with a 3.02 GAA and .907 save percentage in 132 games. He spent some time in the ECHL before making it to the American League and has very little playoff experience at any level. But at the moment he's battling Mike Smith for the starters role at the World's and making a very good case.
Is Dubnyk more likely to succeed behind a good team? It certainly seems that way for the 27 year-old Regina native. The Oilers will have a lot of roster decisions to make this summer, and goaltending is not exempt. Can Dubnyk handle the load as a regular starter, or is he destined to be a back-up? Will he continue to improve as the team in front of him does? Dubnyk looks like a different goalie when he's wearing the red and white of Team Canada. But he certainly isn't bad when playing for the Oilers. Yet question marks still remain.
If the Oilers truly have faith in Devan Dubnyk going forward, expect them to sign him to an extension soon. But at this point, it's hard to predict if he will be the guy in the crease come opening night in October. Should he get a pass because of how bad the Oilers have been as a whole? He certainly deserves better play from the guys in front of him. So what say you? Is Devan Dubnyk a legitimate number one goalie at the NHL level?