It was never in doubt. Okay, actually it was. For two periods, and 17 minutes of the third, Team Europe suffocated, stymied and smothered Team Canada, who looked disjointed and discombobulated. Once the Europeans got a goal early in the first period, they shut things down in a way that would make Jacques Lemaire proud. They clogged up the neutral zone, they built a fortress around Jaroslav Halak and they didn't allow Canada to gain any momentum. When the Canadians did get a shot, Halak shut the door, bringing back memories of his 2010 playoff mastery. But this is Canada we're talking about. They weren't really going to let it slip away.
Europe Played Their Game to Near Perfection
In Game One of the World Cup final, Team Europe played what they described as their best game of the tournament. They held their own against Canada, they were patient and solid defensively, though Canada's skill ultimately won out in the end. But the tightly contested affair gave Europe plenty of confidence going into Game Two. They were a veteran group, and they weren't about to be intimidated by anyone. If a loss was the best Europe had to offer, surely Canada would have no problem sealing the championship in Game Two. Right?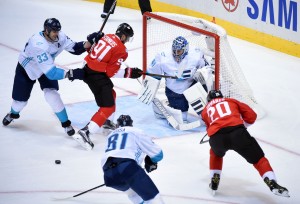 On the one hand, you could say that Canada played below their skill level. On the other hand, you could say that Europe executed their game plan perfectly. They did exactly what they set out to do, except win the game of course. But Carey Price did his part as well. Every time Canada made a mistake, Team Europe tried to make them pay, but Price was there to close the door. Did Canada deserve to win this game? Many will say no, but Europe wasn't able to put the game away with any insurance goals, and you can't hope to just shut out a team of this caliber.
To a man, Canada knew they didn't play very well, and much of their celebration was out of surprise more than anything else. They were expected to win, they were hailed as the better team, but credit to Europe for making things interesting. (Not interesting in terms of action because overall the game was a dud). The best way to stop Canada is to frustrate them and take away their space. And it worked wonders at even strength, considering both of Canada's goals were scored on special teams.
Bad Luck or Bad Penalty?
The fact that Drew Doughty got a penalty late in the game certainly made up for it, but Anze Kopitar's penalty will be one that's up for debate, especially in Europe's dressing room. But Kopitar wrapped up and held his man, and that's a penalty all day long in the NHL. Considering the score, the time left and the magnitude of the game, it was a tough pill to swallow, but there are calls like that all time in hockey. Plus, every guy on the ice should know about inconsistency in terms of penalty calls, so there's no point in complaining about it.
Kopitar when asked about his penalty: "I don't know if I should speak about that out loud." #WCH2016

— Frank Seravalli (@frank_seravalli) September 30, 2016
Sidney Crosby (who else) was the catalyst on the play that scored the goal. Joe Thornton got in front of Halak, took away his vision, invaded his kitchen, and boom, tie game thanks to a Patrice Bergeron tip. The Europeans were understandably frustrated, but if you take a penalty, you serve the penalty. The tying goal brought the Air Canada Centre to life and brought Team Canada's bench to life. Despite how the game had gone until that point, you just had a feeling that Canada was going to find a way to win. They got a jump in their step, something that had been lacking from the first drop of the puck.
Brutal call on Kopi. I guess these refs want to go home.

— Marian Gaborik (@MGaborik12) September 30, 2016
(There was no mention of Gaborik's thoughts on the Doughty penalty). Europe had some chances on their power play, including a shot off the post from Roman Josi and then absolute robbery on Marian Hossa by Price. Ever hear the phrase, a save at one end a goal at the other? Well less than a minute later, Brad Marchand (who else) fired a bullet past Halak to give Canada a 2-1 lead. No matter what country you're from, you had to feel bad for Europe in that moment. The look of devastation on their faces was hard to watch. And the emotion of Marchand, Doughty, and all the Canadian players proved that these guys took this tournament very seriously.
Brad Marchand: "This is a dream come true."

— Chris Johnston (@reporterchris) September 30, 2016
Canada Owns Hockey
You could say that Europe was the better team in Game Two. You could say that Canada snatched victory from the jaws of defeat. But top to bottom in this World Cup of Hockey, Canada was the best team. They may never have even reached their highest level in this tournament, but they won every game that mattered. They may not have been perfect but it didn't matter. They may have had a little bit of luck on their side but, as the saying goes, you have to be lucky to be good. Europe had a game plan that made sense. It was all they could do. And, in the end, it didn't work.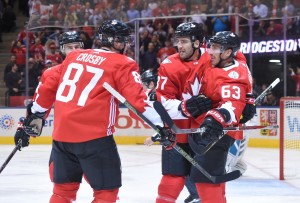 Marchand admitted they got lucky. Europe heaped on all the speed and pressure that they possibly could, and only managed one goal. It wasn't enough. The best hockey players in the world were featured at this tournament, and Canada owned them all. (For the fans who said this tournament is meaningless and pointless, I'd imagine that's because their country failed to win). 2010 Olympic Gold, 2014 Olympic Gold, 2015 and 2016 World Championships and now World Cup champions. Canada's reign atop the hockey world doesn't appear to be slowing down.
The World Cup proved one thing: hockey is alive and well in North America and in Europe, and the spread of talent is very encouraging. The tournament had its warts. The mash-up teams made it feel a little less patriotic. But this truly was a collection of the very best players the sport of hockey has to offer, and Canada proved they are the cream of the crop. How long will their dominance last? Who knows, especially considering the success of countries like Finland and the USA at the Junior level. As of right now, however, Canada rules hockey. And it's really all we have, so let us enjoy it.