When one brings up the Minnesota Wild they don't usually talk about ways the team could upgrade their defence. There's a wide belief that the Wild are set on the blue line and possess solid defensive depth. While the depth may be there, examining the right and left side depth charts a little closer reveals that there may exist a bit of an imbalance.
The Left Shots
The left-side of Minnesota's backend is very much established and may be overstocked with dependable talent. The depth chart of left-shot defenders currently reads as Ryan Suter, Marco Scandella, Jonas Brodin, and Mike Reilly.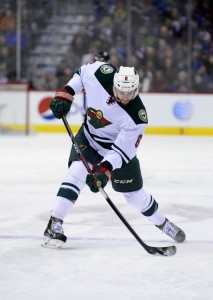 Suter is the anchor of Minnesota's defense corps and annually logs more minutes than almost any other defenseman in the NHL. Scandella is a 26-year-old veteran of 302 NHL regular season games and a solid two-way defender. Brodin, already a four-year veteran, has admittedly spent significant time playing on the right-side but the coaching staff can't help but feel more comfortable having him play his natural left-side position. Reilly rounds out the left-side as he looks to crack Minnesota's opening night roster as a more offensive-minded puck mover.
The Right Shots
The Wild has decent depth on the right-side of their blue line as well but the right-shot defenders on the roster are noticeably weaker than their left-shot counterparts. As of today, the depth chart on the right-side reads as Jared Spurgeon, Matt Dumba, Nate Prosser, and Christian Folin.
Spurgeon has more than proven he can hold his own and has averaged over 22 minutes per game over the last three seasons. Dumba is a developing blue-liner with loads of potential and raw ability. Prosser and Folin, meanwhile, are best suited as sixth or seventh defensemen at this point in their careers.
Current Pairings
As seen in Minnesota's 2016-17 Season Preview, the opening night pairings are projected as follows:
| | |
| --- | --- |
| LD | RD |
| Ryan Suter | Jared Spurgeon |
| Marco Scandella | Jonas Brodin |
| Mike Reilly | Matt Dumba |
Extra: Nate Prosser, Christian Folin
This projection has Brodin again playing on his off-side which is not the most favourable scenario for the Wild. It is necessary, however, if they want to get their top-six defensemen into the lineup at the same time. Alternatively, if the Wild coaching staff prefers to have all of their defenseman playing on their natural sides, we could see Brodin sliding down to the left-side of the third pairing, Dumba moving up to second-pairing minutes on the right-side, and either Prosser or Folin would fill the third-pair right-side hole. This would leave Reilly on the outside, however, which is not the best course of action for his development.
Enter Jacob Trouba
It's no secret that highly-regarded Winnipeg Jets' defenseman Jacob Trouba has asked for a trade and that several teams have been enquiring about the cost of his services. Minnesota, for one, should be among those teams who are enquiring because a player like Trouba could really help solidify their backend.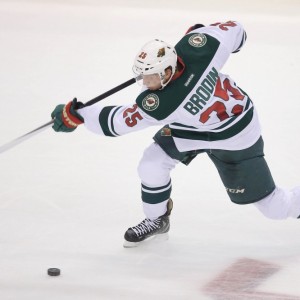 Trouba is a young but experienced right-shot defenseman who comes with a high draft pedigree and even higher potential. Kurt Overhardt, the agent representing Trouba, released a statement earlier this month regarding his client's trade request and the reason behind it. The statement alleges that Trouba wants to play top-four right-side minutes and feels as though that opportunity is blocked in Winnipeg by Dustin Byfuglien and Tyler Myers.
If Minnesota were able to find a deal that would bring Trouba south, he would immediately be placed in his desired role and, potentially, alongside Suter in a new top-pairing that could provide nightmares for their opposition.
Winnipeg's rumoured asking price for Trouba's rights is an equivalent left-shot defenseman. Revisiting Minnesota's left-side depth chart points to two qualified individuals who could provide the Jets with what they are looking for: Scandella and Brodin.
Brodin might fit Winnipeg's asking price better than what most other teams around the NHL can offer. He is a left-shot defender who has, to date, played only 52 more games than Trouba. Brodin is one year older but is locked into an affordable long-term deal which is something that should appease Winnipeg. Brodin was the tenth overall pick in the 2011 NHL Entry Draft while Trouba was the ninth overall pick in 2012.
The players have similar pedigrees and career paths, they are both able to log upwards of 24 minutes per game, they are of similar size (Trouba has two inches and seven pounds on Brodin), but, most importantly, they shoot from opposite sides.
Winnipeg could do a lot worse than a Trouba-Brodin, one-for-one.
As for Minnesota, they would love to enter the season with three pairings that look like this:
| | |
| --- | --- |
| LD | RD |
| Ryan Suter | Jacob Trouba |
| Marco Scandella | Jared Spurgeon |
| Mike Reilly | Matt Dumba |