"Last season was last season."
Pittsburgh Penguins coach Mike Sullivan was both factual and wise in his statement to reporters on Wednesday.
It would be very easy to expect Sidney Crosby and company to pick up where they left off when they hoisted the Stanley Cup in June. But how realistic is it to assume that they can find the same chemistry, drive, and passion in the early stages of a new season? What would happen if, perish the thought, the Penguins start the 2016-17 season in a mediocre fashion?
Since June 12, 2016 Sidney Crosby has won the Stanley Cup, the Conn Smythe, an Emmy, and the World Cup of Hockey. pic.twitter.com/braBKymTd1

— Pittsburgh Penguins (@penguins) September 30, 2016
If you followed Pittsburgh hockey last season, you know very well that championships are not won in October. There are nine games in the first month of the season, and all of them are against quality opponents. The Penguins will face Washington and San Jose early on, two teams that had brutal series against Pittsburgh during the playoffs. They will also see P. K. Subban and the Nashville Predators, Jaromir Jagr and the Florida Panthers, rival Philadelphia Flyers, as well as the Anaheim Ducks, Colorado Avalanche, Montreal Canadiens and the New York Islanders. That is a tough couple of weeks in which anything can happen.
Penguins lose their preseason opener, 4-2, in Detroit. The heat on Mike Sullivan must be unbearable at this point.

— Dave Molinari (@MolinariPG) September 28, 2016
We continue to expect the Penguins to come out of the gate flying. The recent history of slow starts is irrelevant as former head coaches Dan Bylsma and Mike Johnston are gone, and with them their trends. In fact, in the THW Penguins Season Preview, I predicted that Pittsburgh will only lose 20 games in regulation this season. So, if the defending champions come out a bit flat there is no reason for panic in the streets. However, even though most of the roster from last season is returning, the team still needs to find its identity. Will the "HBK" line still work? Is Derrick Pouliot finally going to be a regular? Where does Scott Wilson fit in? There are lots of storylines within the big picture.
We are thirteen days away from the puck drop against Alex Ovechkin. Be excited, but remain realistic.
Looking Ahead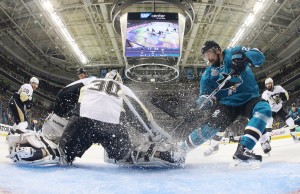 Some exciting dates to look forward to in October, November, and December:
Oct. 13th home against Washington. This is the home opener against a heated rival that the Penguins ousted from the playoffs.
Oct. 20th home against San Jose. A rematch of the Stanley Cup Finals.
Oct. 25th home against Florida. It's always exciting when "Mario Jr." comes to town.
Nov. 8th home against Edmonton. The wunderkind Connor McDavid faces off against Sidney Crosby in Pittsburgh.
Crosby and McDavid still have never faced one another. Will for first time on Nov. 8 at Consol. Election night. Get your popcorn ready.

— Josh Yohe (@JoshYohe_PGH) September 23, 2016
Nov. 12 home against Toronto. Pittsburgh gets their first looks at Auston Matthews.
Nov. 26 home against New Jersey. The return of Beau Bennett and Ben Lovejoy.
Dec. 22 at Columbus. One word. Torts.
The 2015-16 season truly started in mid-December for Pittsburgh. This season the first three months will be exciting, and a growing experience.
The Penguins debut at home on Friday, their first time as reigning Stanley Cup Champions. We are two weeks away from the regular season opener, fresh off of a great showing by Penguins players at the World Cup. It's a great time to be a hockey fan in the "Steel City".
Until next time.