The World Junior A Challenge has come to an end in Bonnyville with the United States shutting out Canada East to grab their seventh title at the annual tournament.
The tournament is a great opportunity for teams and scouts to see many draft-eligible players who are involved in Junior A hockey around the world. Here's a look at seven players who stood out over the course of the week-long tourney.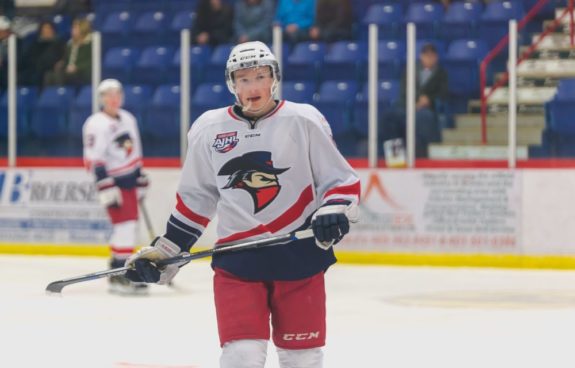 Cale Makar, D, Canada West
There might not be a player who inflated his draft stock more than Makar. The offensive defenseman plays with poise, is strong moving out of his own zone in transition and is a dangerous presence in the offensive zone.
He proved the latter point instantly, setting a tournament record for a defenseman with five points in Canada West's opening tilt. He made scouts who said he "should be in Blainville [at World Juniors camp], not Bonnyville" look awfully smart. Makar was quite easily the best defenseman in Bonnyville and could go late in the first round come June.
Andrei Svechnikov, RW, Russia
The 16-year-old winger absolutely dominated a tournament that is highlighted by 18-year-old and 19-year-old players. He broke the tournament record by potting eight goals and led all skaters with 12 points, a mark that tied the tournament record. That was enough to garner MVP honors for the 2018 draft eligible forward.
RECORD ALERT! Andrei Svechnikov has set the mark for goals in a single tournament, with eight. #WJAC

— World Junior A Challenge (@HC_WJAC) December 17, 2016
Svechnikov has been making a case to be one of the top drafted prospects in 2018 with an incredible 16-year-old season playing for the USHL's Muskegon Lumberjacks. There, he has 10 goals and 24 points in 17 games. His performance at the WJAC has only served to further his ascent.
He probably isn't skating at the Junior A tournament next year and is likely to be a part of Russia's World Junior Championship roster instead.
Cayden Primeau, G, United States
Primeau, a B-rated prospect for the 2017 Draft by Central Scouting, is one of the draft's top goaltending prospects. There are only two A-rated goaltenders and 11 Bs.
Though he isn't a part of the U.S. World Juniors roster, he likely managed to improve his draft stock at the WJAC.
He emerged with the best goals-against average (0.75) and save percentage (.966) in the tournament, including a championship game shutout against Canada East. The other U.S. netminder, Dayton Rasmussen, grabbed just one start, giving Primeau plenty of time to shine, even if he wasn't always facing the biggest tests.
In the championship, Canada East only managed to put only 14 shots on net. Over the course of four games, Primeau faced just 89 shots. That's not many compared to the 153 shots fellow championship netminder Stefano Cantali faced in four games of action for Canada East.
Stefano Cantali, G, Canada East
Cantali also had a strong tournament, with the best save percentage of any non-American goaltender (Rasmussen finished second) and, as noted above, he faced many more shots than any other goaltender. In fact, he faced 43 more shots than Petr Kvaca, who saw the second most shots.
Cantali is quick and though he allowed four goals on 47 shots in the championship game, the U.S. could have had six or more pretty easily. Cantali was impressive and a big part of the reason Canada East was in the championship.
Ivan Chekhovich, F, Russia
Tied for second in the tournament with nine points (3-6-9), Chekhovich put together some highlight reel-worthy moments. Though top 2017 prospect Klim Kostin was expected to highlight the Russian roster, it was Svechnikov, Chekhovich and Alexey Lipanov who stole the show. (Kostin was injured in a pre-tournament game and played through it for three games before missing the bronze-medal game.)
One of Chekhovich's best moments was a breakaway goal — with a beautiful sprawling assist from Veniamin Baranov — where he showed explosive speed and good hands.
Nick Swaney, F, United States
The Waterloo Black Hawk forward and Duluth commit had an excellent tournament. Even though his puck protection isn't perfect, he can make plays and isn't scared to hang onto the puck until the best option presents itself. With the first goal in the championship game, he also showed dynamic speed and hands, toe-dragging the defense off the rush to beat Cantali.
Swaney has been passed over in two NHL drafts already, but he's garnering more attention now and could find himself getting a late-round selection in the summer. A standout Junior A Challenge performance — including Player of the Game honors in the U.S.'s first game against Canada East — ought to help his draft stock.
Kristian Reichel, C, Czech Republic
With a point per game average, Reichel led the Czechs and found himself on the all-tournament team. He's a smart player with a solid shot who was surprisingly passed over in his first draft-eligible year after spending time playing against men in the Czech Republic.
His point per game pace for the Czechs was harder to come by than it might have been on other, higher-scoring teams. And those points came at opportune times, like scoring the lone goal in a 1-0 victory against the U.S.
He's not an outstanding player in regard to any one particular skill set, but his performance at the tournament shows he's able to more than hold his own against his age group and is good at many things.
Honorable Mention: Collin Adams, Chris Berger, Owen Grant, Jordan Kawaguchi