The Penguins have been as hot as any team in the NHL. But troubles are coming for their blue line, which was a good sight from perfect to start with.
Early Saturday, Kris Letang was placed on injured reserve as is slated to be "out a couple weeks" with a lower-body injury.
Later in the day, coach Mike Sullivan revealed that Trevor Daley is now considered week-to-week with an upper-body injury. The ailment occurred sometime during Friday's game against the Kings. He ultimately left the game with the injury, which was undisclosed at that time.
The injuries are a big blow to the team, but will also provide opportunities for younger players who have been playing well in a smaller role. In particular, the team may look to Justin Schultz, Brian Dumoulin, Olli Maatta and Derrick Pouliot as players capable of stepping up and filling the hole left by those two.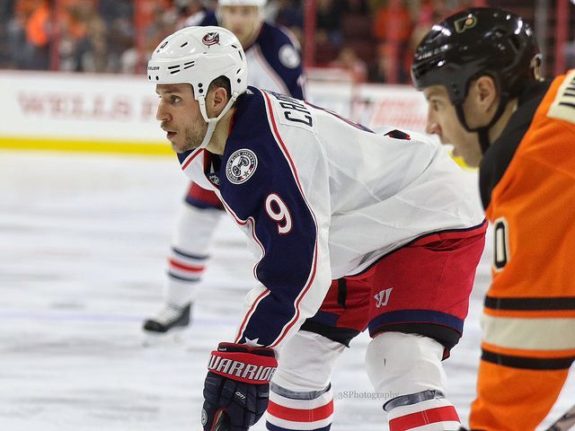 Campbell to Be Terminated
Saturday, the Columbus Blue Jackets placed veteran Gregory Campbell on waivers and confirmed the plan is to terminate his contract.
Campbell was placed on unconditional waivers by #CBJ today; his contract will be terminated if he clears tomorrow. https://t.co/xi9nnybgyi

— Rob Mixer (@RobMixer) December 17, 2016
Campbell, a veteran of 803 NHL games, hasn't suited up at all this season for Columbus or their AHL affiliate the Cleveland Monsters, where he's currently assigned. He has refused to report to the AHL team.
That may mean it's the end of the line for Campbell in the NHL. If the team and player are moving forward with a mutually agreed upon contract termination, there's a better than good chance that general manager Jarmo Kekalainen tried to get something at all for him from another team to no avail.
Vegas Coaching Options
The Vegas Golden Knights are digging for the first coach in team history. Among the candidates being considered are former Flyers bench boss Craig Berube and Montreal assistant Kirk Muller, according to Bruce Garrioch of the Ottawa Sun.
Muller has experience at the top of the food chain, having coached the Hurricanes for three seasons previously. Berube is currently out of the NHL, serving as head coach of the AHL's Chicago Wolves.
P.K. Out
Nashville defenseman P.K. Subban didn't suit up Saturday.
It's not clear when the injury occurred or what the injury is, but he missed Saturday's shootout loss to the Rangers because of the ailment. On Hockey Night in Canada, Elliotte Friedman reported that the team is only revealing he's day-to-day.
Tampa's Secretary of Defense
With a second-period assist on a Jonathan Drouin goal Saturday, Tampa defenseman Victor Hedman has become the franchise's all-time leader in points among defensemen with 254.
Your new all-time leader for points by a #Bolts defenseman (254).

Happy to have you with us, Heddy. ⚡ pic.twitter.com/jRWQHLNZq9

— Tampa Bay Lightning (@TBLightning) December 18, 2016
It was Hedman's 504th career game with the team. The assist put him past Dan Boyle, who hit 253 points in 394 games from 2001-08.
Bladeless Defense
Senators defenseman Mark Borowiecki had the blade pop out of his skate during play last night and did his best to stay in the game. Never has someone's skating brought to mind the Benny Hill theme song quite so clearly.
Desbiens Done
Team Canada netminder Ann-Renee Desbiens was injured in the first period of the December Series opener Saturday. The two-game series between the U.S. and Canadian women's national teams is an evaluative series for the national teams as they head toward the 2017 World Championship and centralizaiton for the 2018 Oylmpics.
Desbiens suffered a non-contact injury that looked like something went wrong with her knee while she was looking for a puck that had trickled behind her. She left the game and was replaced by Olympic gold medalist Shannon Szabados.
Sunday, Hockey Canada announced Desbiens is done for the remainder of the December Series. She will be replaced by Calgary Inferno goaltender Emerance Maschmeyer, who backstopped Team Canada at the 2016 IIHF World Championship.
Odds & Ends
– In his lone visit to Nashville's Bridgestone Arena this season, former Nashville draft pick Jimmy Vesey earned some boos and jeers from the fans that were once upon a time so eager to see him play in town.
Vesey hits the ice to rousing boos and a "Vesey Sucks" chant pic.twitter.com/VXVA72wBPQ

— Kristopher Martel (@kmartel_sports) December 18, 2016
– The Swiss have cut defenseman Alain Bircher (EHC Kloten) and Elia Riva (HC Lugano), as well as forward Nelson Chiquet (HC Fribourg-Gottéron) from their World Junior Championship roster.