Carolina Hurricanes goalie Cam Ward is a workhorse, and head coach Bill Peters is working him hard. After a war Friday night in Raleigh against the Washington Capitals, Ward was right back in goal for Saturday night's home tilt against the Buffalo Sabres.
The entire team has been playing with a developing intensity that has been growing in its depth, and I believe sparked in large part by the determination of Jeff Skinner. (See Skinner Hitting on All Cylinders). Ward is bringing that same determination to work every night, and the starting goalie for the Hurricanes for the last decade is not showing any drop in his game.
Ward at War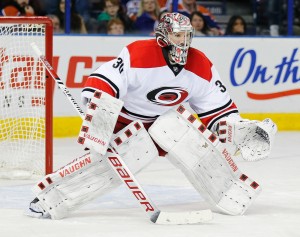 For 65 minutes Friday night against the Capitals, there was a war on the ice in Raleigh's PNC Arena. Back and forth they went, both teams playing with a rare December fury fueled by a desire to keep their respective winning streaks alive. The Caps wanting to get to six in a row overall, and the Hurricanes hoping to extend to eight their winning streak at home.
At the end of regulation, the teams were knotted at three goals apiece and stayed that way through overtime. Then the war was over quickly as, unfortunately, the Achilles' heel that has plagued the 'Canes since last season reared its ugly head. The shootout has been a tough time for the Hurricanes and Friday night was no exception. T.J. Oshie and Evgeny Kuznetsov beat Ward and Philipp Grubauer closed the door on Carolina at the other end and the Caps took the coveted extra point.
While I certainly wanted the 'Canes to grab the extra point, I was excited by what happened after Kuznetsov scored the winning shootout goal. Ward was visibly hot. He slammed his stick against the post as he skated off the ice and it was clear all the way to the locker room that he was fired up, really unhappy that he gave up the shootout goals.
Kuzy sealed it in the shootout. Sick hands. #CapsCanes #RockTheRed pic.twitter.com/R76k3K9bhF

— Washington Capitals (@Capitals) December 17, 2016
It was fantastic to see! It's that kind of burn that this team needs, and has been showing in increasing fashion. The desire to win and the absolute fierce frustration at a loss are earmarks of a team on the rise. The Caps left Raleigh with the extra point, but Carolina is learning to fight, and that will lead to more points along the way.
Ward Again
The Sabres are a team that has become a rival for the Hurricanes over the years. Fueled by their Eastern Conference Finals battle in 2006 which Carolina won 4-3, there has been no love lost between these two teams for quite some time. Saturday night was no exception, as once again a hockey battle was waged for 60 minutes, the 'Canes leading 1-0 up until 17:23 in the third when Evander Kane tied it up.
It stayed that way through overtime and a collective, "Uh oh" seemed to rise through the 11,000-plus 'Canes fans. It was shootout time again. But on this night, Ward would not be abused, and he stopped Jack Eichel cold for the win:
So the workhorse Ward keeps working, sometimes winning the battles, and sometimes not. But he is playing very well and stepping up every time with real effort and flashes of brilliance. For now, at least, the effort of Ward and the determination of Skinner are turning this young 'Canes squad into a legitimate hockey threat. Like Caps' coach Barry Trotz said after Friday's game, "Carolina, to me, is a very dangerous team."
Sweeet!! Way to go #Canes 2-1 WIN!!
Nice save Cam Ward❤️🏒#BUFvsCAR https://t.co/BBezcd3HGk

— Paxton💕 (@PaxtonPia1) December 18, 2016