The 2013 World Junior Championships are underway as top young players from around the world battle against junior league teammates and potential future opponents in the NHL. Many of these players have already been selected by NHL clubs, and many are draft eligible players for the 2013 NHL Entry Draft. The Washington Capitals have three prospects participating in this year's WJC, showcasing their future stars that they hope will lead them to a Stanley Cup in Washington someday. The Hockey Writers' Matthew Speck gives a profile on Filip Forsberg, Christian Djoos, and Riley Barber as this big time hockey event gets underway.
Filip Forsberg: Forward, Sweden
The Capitals selected Forsberg in the first round of last year's NHL Entry Draft with the eleventh-overall pick, as they look to build their offensive through their forwards. Forsberg is only 18-years-old, but already has immense talent and plenty of potential yet to be unloaded. He's played for Leksands in Sweden for one full season and is already off to a hot start in what will be his second full season with the Swedish club. Last season, Washington's first round pick posted 17 points in 43 games for Leksands.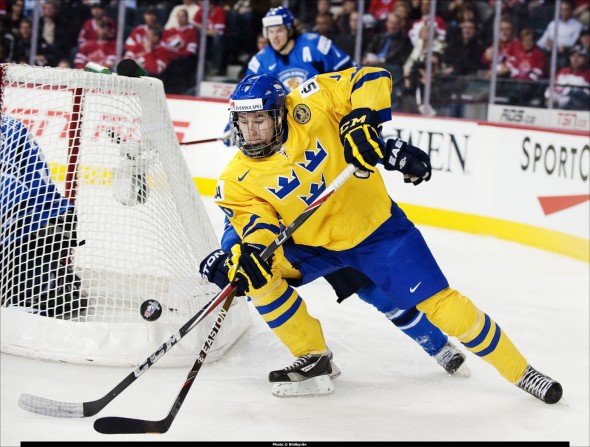 This season, Forsberg has already eclipsed last year's offensive output, already registering 19 points, with nine goals and ten assists in only 22 games. He'll likely finish out the season with Sweden before playing in North America, possibly with the Hershey Bears, Washington's AHL affiliate. Forsberg will likely then play a top-six forward role in Washington beginning in the 2013-2014 campaign.
Although highly skilled, Forsberg still has work to do to become a top-six forward at the NHL level. He could definitely add some strength to his frame to become stronger with the puck, along with becoming more consistency in production. Forsberg should develop into a good two-way forward over time like Capitals center Nicklas Backstrom, earning power play and penalty kill time, while becoming a staple of the Washington Capitals franchise.
Christian Djoos: Defenseman, Sweden
Djoos, like Forsberg, also will be playing for Team Sweden during this year's World Junior Championship. But unlike Forsberg, Djoos plays a completely different type of game. He's a stay at home defenseman, but will be able to provide some offense as he matures and develops his offensive game.
The Capitals selected the 18-year-old Swedish defenseman in the 2012 NHL Entry Draft in the seventh round with the 195th overall pick. Djoos is an undersized defenseman at this point, listed at only 5'11" and 158 pounds on the Capitals website, but has plenty of room to grow physically. If he can add some size the next few years, Djoos could definitely find a spot on the back end of Washington's blue line.
He has played for Brynas in Sweden the past few seasons, highlighted by his 24 point season with their 20-and-under club. Djoos totaled three goals and 21 assists in 43 games with the 20-and-under team during the 2011-2012 season, along with a plus-eleven when on the ice. During the same year, Djoos registered three points in six games for Sweden in the Under-18 WJC.
Although young and not completely built, Djoos could have a bright future for the Washington Capitals. When he signs a deal with Washington, he'll likely spend a few seasons in the minors learning the North American style of hockey, along with Washington's newly revamped defensive system, implemented by new head coach Adam Oates. He projects as a back end defenseman, likely a third pairing blue liner with his left handed shot who can help out an the penalty kill because of his improving defensive prowess.
Riley Barber: Forward, United States of America
Barber, 18, was selected by Washington in the sixth round of the 2012 NHL Entry Draft. He played in the USHL for two years prior to joining Miami University of Ohio in 2012, the same school Capitals prospect Cameron Schilling attended. He played for the Dubuque Fighting Saints in his first season in the USHL, posting 14 goals and 14 assists in 57 games. Barber also contributed in the playoffs that season, registering two goals along with six penalty minutes in 11 games.
In his second year in the USHL, Barber played for the U.S. National Development Team Program, which didn't lack for talent. Future first round draft pick Jacob Trouba headlined the team on the blue line and fellow Capitals' prospect Thomas DiPauli joined the forward units. Barber played in 24 games and recorded five goals and six assists along with 59 penalty minutes.
This season, Barber is a freshman at Miami University of Ohio and has played 18 games to this point. He's shown his offensive capabilities in the early part of the season, contributing eight goals and 14 assists in that time. Barber is an efficient two-way player, providing both reliability on defense and poise with the puck.
Although he's a while away from professional hockey, Barber projects as a third line or fourth line forward at the NHL level. Due to his defensive reliability, the young forward could earn time on the penalty kill and his gritty games would fit his role.
Since Barber has yet to sign with Washington, the Capitals should have him under contract for about six seasons, right around when he turns 28. He'll likely spend a year or two with Washington's AHL affiliate, the Hershey Bears, before a shot at the NHL level. In Hershey, Barber can hone his skills on the offensive end of play, earning time on the power play, but also playing a defensive role late in games, especially on the penalty kill.
Stay tuned to The Hockey Writers for updates on Washington's top prospects participating in the 2013 World Juniors.
You can follow Matthew on Twitter @m_speck and email him at mspeck21@yahoo.com with any questions or comments.
Matthew Speck covers the Washington Capitals organization for The Hockey Writers. He provides coverage of both Washington at the NHL level and prospect related content. Matthew also covers local sports for the Lebanon Daily News in Central Pennsylvania. You can email him at mspeck21@yahoo.com with any questions or comments.