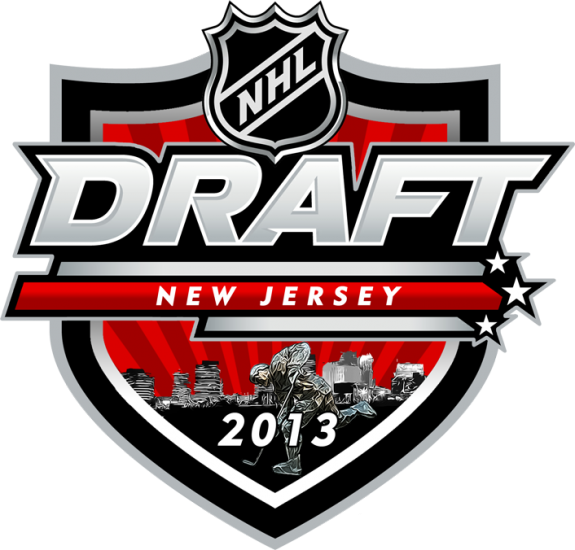 Now that we're nearly three months in the 2012-13 hockey season, it's a good time to review the 2013 NHL Draft class once more. This is a follow-up to my October rankings and is, in a few ways, different.
NHL Equivalencies: As a staff writer over at Flames Nation, I've become a bit more versed in advanced stats than I have before. Now, advanced stats can tell you very little in terms of prospects, except in one important manner – NHL equivalencies. Originally devised by stats guru Gabriel Desjardins, NHL equivalencies basically take a look at how (on average), point totals in other leagues are translated into point totals in the NHL. They provide a handy conversion of how scoring can be projected to higher levels of hockey. They aren't airtight, but they're based on years of data, so they're not entirely bad, either.
Roles: Points are biased, in that when we have only points (or things like plus/minus) to rely upon, we have to take them out of context. Every team needs checkers and defensive specialists, but it's difficult to find them in draft rankings because a lot of rankings are predicated on points. I've ventured to learn as much as I could about the roles guys are playing on their clubs, but it's likely that these rankings are biased towards guys who score more.
The Coattails Effect: Hockey is not a democracy and all teams are not created equal. If you happen to be on the Quebec Remparts, London Knights or Portland Winterhawks, your team is absolutely stacked and will score a lot more than most other teams. As a result, it's probable that the point totals for prospects on these clubs are artificially inflated. I've discounted scoring's impact on the rankings for players from these teams, which may or may not unfairly punish good players for being on these good teams. Similarly, players on bad teams may be unfairly given credit for putting up better numbers because they have less to work with than players on good teams. That said, there's a LOT of Remparts, Knights and Winterhawks to be found on these rankings.
The Consistency Bias: Preference will always be given to players that play longer seasons (and maintain scoring levels over a longer time-frame). This will probably result in European players being ranked lower than they should be and North American (primarily Canadian) players being ranked higher than they should be.
The Goalie Factor: Due in no small part to my background covering the Calgary Flames, I tend not to rank goaltenders in the first round, unless they're truly exceptional game-changing players like Marc-Andre Fleury. Too many things can derail a goaltender's development and I'm very hesitant to draft them early.
Players I've Seen: I've seen the majority of the WHL prospects in-person (and Monahan, Drouin and MacKinnon at World Junior camp) but have to rely on scouting reports from elsewhere to form opinions on the other players. As a result, I'll probably tend to over-rate players I've seen over players I haven't.
As of the end of December, here are the players I would choose at the 2013 NHL Draft, in the order that I would favour to draft them. As always, your mileage may vary.
Other rankings can be found in many places. Of note are Chris Ralph's the Next Ones preliminary rankings, Brendan Ross' scouting report rankings, and the always handy Future Considerations rankings.
#1-ranked Nathan MacKinnon and #5-ranked Jonathan Drouin (Photo: Mike Dembeck)

C Nathan MacKinnon – Halifax Mooseheads (QMJHL) [October: 1]
The leading scorer in the QMJHL turned heads at Hockey Canada's World Junior selection camp in mid-December with his poise and surprisingly strong two-way play. He's one of three draft eligible players on the team.

D Seth Jones – Portland Winterhawks (WHL) [October: 2]
Gaining steam as the season has gone on, Jones has found a groove in Portland and has drastically improved his points production.
LW Aleksander (Sasha) Barkov – Tappara (SM-Liiga) [October: 3]
Just under a point-per-game pace playing in a men's league as a 17-year-old. Exceptionally skilled with the puck.
C Elias Lindholm – Brynas IF (Elitserien) [October: 4]
Undoubtedly a key component of the Swedish World Junior entry, Lindholm has looked good and put up two points in every three games in a very competitive men's league.
LW Jonathan Drouin – Halifax Mooseheads (QMJHL) [October: 6]
Incredibly talented, where teams and prognosticators place Drouin depends on how much they think he's riding MacKinnon's coattails in Halifax. His numbers would definitely be lessened without MacKinnon, but Drouin has fantastic vision and anticipates where opportunities will arise on the ice. His defensive play isn't fantastic, though.
LW Hunter Shinkaruk – Medicine Hat Tigers (WHL) [October: 7]
Although he missed a chunk of time due to a nasty cut on his leg, Shinkaruk looked tremendous before and after his injury. He's been the engine that drives the Medicine Hat offense (the team looked listless without him) and really impressed at the World Junior selection camp, although he was cut from the team. A strong skater and a guy that drives the net, Shinkaruk projects to being a power forward if he can continue to add muscle onto his frame.
C Sean Monahan – Ottawa 67s (OHL) [October: 5]
Monahan didn't set the world on fire at the World Junior selection camp – he was largely invisible – but he's in the midst of a fairly good season. Despite a 10-game suspension earlier this year, Monahan remains among the OHL's leading scorers. He uses his size well and is a great passer and a good shot. He's not the total package, but he's only lacking a couple properties.
D Josh Morrissey – Prince Albert Raiders (WHL) [October: 9]
Dependable at even-strength, but a cut above on the power-play. Excellent puck distributor and a tremendously quick and accurate shot from the point.
C Max Domi – London Knights (OHL) [October: 8]
Tie Domi's son is as skilled as his dad was pugnacious. Benefits from a great London team, but he's one of the team's better players.
C William Carrier – Cape Breton Screaming Eagles (QMJHL) [October: 12]
Doesn't get a lot of press compared to fellow Nova Scotian QMJHLers MacKinnon and Drouin, but Carrier has been a huge bright spot for Cape Breton.
D Ryan Pulock – Brandon Wheat Kings (WHL) [October: 11]
Very good offensive defender in the WHL, but could work a bit more on his own zone.
D Rasmus Ristolainen – TPS Turku (SM-Liiga) [October: 10]
He's a teenager playing in Finland's top men's league who's defensively responsible and has put together some pretty good offensive numbers, to boot. The World Juniors will be a nice litmus test for how good he really is.
LW Anthony Mantha – Val d'Or Foreurs (QMJHL) [October: 33]
Mantha has already equaled his scoring output from last year, in just over half the time. He's got scoring chops and has been keeping the Foreurs above water in the Q.
RW Artturi Lehkonen – KalPa (SM-Liiga) [October: 21]
D Robert Hägg – MODO (J20 SuperElit) [October: 16]
C Nicolas Petan – Portland Winterhawks (WHL) [October: 13]
Great passer went from being a pretty good player last year to being flippin' amazing this year. Definitely benefits from Portland's success, though.
RW Adam Erne – Quebec Remparts (QMJHL) [October: 14]
The highest scoring of the three Remparts on the list, Erne is second on the team in goal-scoring and the team's leader in assists. He's shown the ability to set things up and to score, but bear in mind that Quebec is a really good team.
LW Anthony Duclair – Quebec Remparts (QMJHL) [October: 17]

Anthony Duclair

The second Rempart, Duclair has missed about a dozen games due to various factors but his production is still very steady. He's over a point-per-game player.

LW Morgan Klimchuk – Regina Pats (WHL) [October: 30]
A very capable, all-around player, Kilmchuk's only major rough spot is his inconsistency. When he's on, he's on. When he's off, he's stone-cold.
D Shea Theodore – Seattle Thunderbirds (WHL) [October: 20]
D Darnell Nurse – Sault Ste. Marie Greyhounds (OHL) [October: 28]
LW Valeri Nichushkin – Traktor Chelyabinsk (KHL) [October: 22]
Bouncing around various Russian teams and leagues this year – Traktor in the KHL, Chelmet in the VHL and Belie Medvedi in the MHL – all in the general Chelyabinsk area. Points production hasn't ground to a halt, even as he entered the professional ranks (at age 17).
C Frederik Gauthier – Rimouski Oceanic (QMJHL) [October: 23]
Over a point per game on a surprisingly good Rimouski club. A QMJHL rookie this season, Gauthier has adapted very quickly to the rigors of the Canadian major-junior game.
F J.C. Lipon – Kamloops Blazers (WHL) [October: not ranked]
Lipon is hard to place. He went undrafted last year and is experiencing a higher-than-usual 19-year-old production bump. He's a late bloomer and really has turned his game around this year, but the big question is how much is he benefiting from being on a very strong Blazers squad?
LW Kerby Rychel – Windsor Spitfires (OHL) [October: 18]
The Spitfires are struggling a bit this year and, as a result, Rychel is both expected to shoulder the load but is also suffering due to the team's struggles. Nevertheless, Rychel's a good skater and a strong overall player, but it's hard to tell what his offensive ceiling is given the Spitfires' overall declines.
C Bo Horvat – London Knights (OHL) [October: 29]
C Curtis Lazar – Edmonton Oil Kings (WHL) [October: 19]
Strong two-way player. On occasion, he can fade into the background, but when he's geared into a game, he's excellent. Good passer and very good at reading a play before it happens.
D Nikita Zadorov – London Knights (OHL) [October: 27]
RW Nick Sörensen – Quebec Remparts (QMJHL) [October: 37]
A standout in Sweden's junior leagues, Sörensen made the jump to the Q last year and missed all kinds of time but was a strong producer in a small time window. He's just under a point-per-game this season.
C Ryan Kujawinski – Kingston Frontenacs (OHL) [October: 15]
RW Juuso Ikonen – Espoo Blues (SM-Liiga) [October: 57]
A representative of Finland at the World Juniors, Ikonen has turned pro this year after a strong junior career in his native country.
G Eric Comrie – Tri-City Americans (WHL) [October: 55]
Likely the best net-minder in the 2013 Draft. He's kept Tri-City in a lot of games this year, has stolen a lot of them, and arguably has the best underlying statistics of any goaltender of his age class.
C Lucas Wallmark – Skelleftea AIK (J20 SuperElit) [October: 56]
D Steven Santini – U.S. National Development Team (USHL) [October: not ranked]
RW Oliver Bjorkstrand – Portland Winterhawks (WHL) [October: 32]
Danish import is in his first year in North America and is producing at just under a point-per-game pace. Production might actually improve as he becomes more acclimated to the WHL style, but he remains a bit of a project.
RW Ryan Hartman – Plymouth Whalers (OHL) [October: 47]
C Jacob de la Rose – Leksands IF (HockeyAllsvenskan) [October: not ranked]
D Chris Bigras – Owen Sound Attack (OHL) [October: 44]
D Eric Roy – Brandon Wheat Kings (WHL) [October: 34]
Not quiet as consistent or flashy as his teammate Ryan Pulock, Roy is a dependable two-way defender who has shown some ability to put points on the board, but has displayed some inconsistent judgment in terms of when to engage himself in the play.
RW Jackson Houck – Vancouver Giants (WHL) [October: 36]
The Giants are a terrible team and Houck's production has slowed down a bit, but he's still one of a handful of bright spots on his team. Good offensive instincts, but on nights when things aren't going well for Vancouver, he hasn't been able to stop the bleeding or change the complexion of the game much.
C Jason Dickinson – Guelph Storm (OHL) [October: 38]
LW Riley Sheen – Seattle Thunderbirds (WHL) [October: 52]
RW Sergei Tolchinsky – Sault Ste. Marie Greyhounds (OHL) [October: 53]
RW Evan Allen – U.S. National Development Team (USHL) [October: 48]
C Greg Chase – Calgary Hitmen (WHL) [October: 51]
Looked a bit out of his depth last year, but he's settled into a productive top-six role this season. He's an excellent passer, particularly on the power-play, but is a fairly streaky scorer. When he has confidence in his shot, he has a tendency to shoot more and create more offensive chances.
D Madison Bowey – Kelowna Rockets (WHL) [October: 46]
D Ian McCoshen – Waterloo Black Hawks (USHL) [October: 35]
C J.T. Compher – U.S. National Development Team (USHL) [October: 26]
LW Connor Hurley – Edina HS (USHS) [October: not ranked]
A high school standout in Minnesota, Hurley opted to say at home rather than join the USHL's Muskegon Lumberjacks this year. He's putting up excellent numbers, but there's a bit of question about high school success translating to higher levels. Future Considerations' Aaron Vickers profiled Hurley earlier this month.
LW Pavel Buchnevich – Almaz Cherepovets (MHL) [October: 42]
Strong Russian player is still primarily playing in junior, although he dipped his toe in the KHL earlier this season. Didn't produce much in the pros, but he may blossom given a bit more time to develop.
C Ryan Fitzgerald – Valley Jr. Warriors (EJHL) [October: 25]
This year's Mark Jankowski? Primarily known for being a junior A standout (and his excellent play at summer tournaments), a lot of question marks surround Fitzgerald. The lack of concrete information from a lot of scouts keep him down here, but some teams will probably rank him higher. There's not nearly enough information about how the EJHL translates to the NCAA to make good inferences about how his production will translate.
C Bogdan Yakimov – Dizel Penza (VHL) [October: 50]
A late cut from Russia's World Junior camp, Yakimov is one of several interesting Russians in this draft. He's put together very good numbers in Russia's secondary league, but has yet to make the jump to the big lights of the KHL.
RW Gustav Possler – MODO (J20 SuperElit) [October: 41]
LW Stephen Harper – Erie Otters (OHL) [October: 39]
Most notable for being name-twins with Canadian prime minister Stephen Harper, the hockey-playing Harper scored like mad last year (a goal every three games or so) but has seemingly settled into more of a two-way role, although he still has shown the ability to put the biscuit in the basket.
LW Andre Burakovsky – Malmo (Elitserien) [October: 24]
D Samuel Morin – Rimouski Oceanic (QMJHL) [October: not ranked]
A gigantic young man at 6-foot-5, Morin has quietly been a steady offensive contributor (averaging a point every three games) while using his massive frame to keep scorers at bay. Concerns may arise about the challenges of Morin building muscle onto his frame, as well as maintaining mobility.
D Tommy Vannelli – Minnetonka HS (USHS) [October: not ranked]
Impressive at the summer's Ivan Hlinka tournament for Team USA, the big-bodied Vannelli opted to stick in high school rather than jump to the USHL. Once again, as a high-schooler, questions about his level of competition may keep him low on many rankings. Future Considerations had a bit on him in the fall.

G Zachary Fucale – Halifax Mooseheads (QMJHL) [October: 54]
A good goalie on a good team, but his underlying numbers are a bit lower than some of the other goalies in his age group.
G Spencer Martin – Mississauga Steelheads (OHL) [October: not ranked]
D Mirco Müller – Everett Silvertips (WHL) [October: not ranked]
Edges out Swift Current's Dillon Heatherington for the last spot by virtue of more points production in fewer games on an Everett team that's not setting the world on fire this year.

Ryan Pike has covered the Calgary Flames and the NHL Draft extensively since 2010 as a Senior Writer for The Hockey Writers and Senior Contributing Editor of FlamesNation.ca. A member of the Professional Hockey Writers Association, he lives in Calgary.