The World Junior Championships are going to be highly entertaining this year, as each national team plays a completely different style of hockey. The international tournament features a display of culture and style and yeah, it will prove which country is the best because there can be only one winner.
Step 1: World Junior Summer Showcase
To ensure Canada has the best roster possible for the tournament, the team's selection process is a lengthy endeavour, beginning in early August at the World Junior Summer Showcase in Plymouth, MI. There, eligible prospects from the USA, Canada, Finland and Sweden play in a series of games where scouts of each country come to watch their nation's top players battle for a spot on their national team.
Step 2: CIBC Canada-Russia Series
Then there's CIBC Canada-Russia Series, a six-game tournament also used by Hockey Canada to determine which Canadian players will be invited to their final selection camp, from Dec. 11-15 in St. Catherine's, Ont. In this series, each CHL league hosts two games to showcase the country's top talent from coast-to-coast.
Kole Lind of the WHL's Kelowna Rockets was said to have dominated the series and is considered to be one of the Rockets' top forwards in recent years. Although he's out of commission right now with strep throat, he should be healthy in time to make Team Canada's national junior team roster.
Similar to the gold medal match between Canada and the US at the 2017 WJC, the winner of this year's Canada-Russia series was determined by a shootout after the Russians played the Canadians to a 3-3 draw. Unlike last year's World Juniors, though, team Canada came out on top.
Team USA: Big Talent Pool
This year's run for gold isn't going to be easy for Team Canada, as the Russians proved to be worthy contenders in the Canada-Russia series. Team USA also took the Summer Showcase by force, only losing two out of nine games – both by one goal.
Interestingly, each summer showcase invitee for Team Canada has already been drafted by an NHL team – including the handful of guys who were invited but couldn't make it. Team USA, on the other hand, had eight draft-eligible invitees, all of whom contributed in points (with the exception of the goalie, Dylan St. Cyr).
Team USA's Quinn Hughes had many great performances during the summer showcase. He's a defenseman who plays for the University of Michigan and played in five games at the summer showcase and scored a point per game. So did left-winger Brady Tkachuk, the younger brother of Matthew Tkachuk who plays for the Calgary Flames and son of Keith Tkachuk, a former NHL player. Both of these players are expected to be drafted within the top 10 spots this June.
Then there's Max Gerlach, a right-winger who scored four points in five games at the showcase. Considering how well he did at the tournament, he seems underrated since he's still not considered a top prospect for the 2018 Draft.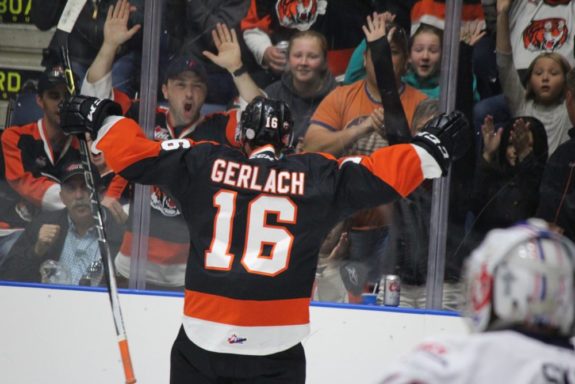 It seems like being drafted has become a requisite for Hockey Canada's new head scout Brad McEwen. Maybe he only wants players that have been vetted by an NHL team or perhaps Canada's young talent pool is now smaller. In Sportsnet's most recent Draft Prospect Rankings (November 2018) only two of the top 10 prospects are Canadian: Joe Veleno, a centreman who plays for the QMJHL's Saint John Sea Dogs and Jared McIsaac, a defenseman who plays for the QMJHL's Halifax Mooseheads.
Dominique Ducharme vs. Bob Motzko
It will be interesting to see how Team Canada's head coach Dominique Ducharme fares at the Juniors this year considering he's spent his entire coaching career in the QMJHL and doesn't have any QMJHL-developing players on his team.
Samuel Girard, a defenseman drafted in the second round by the Nashville Predators in 2016 (no. 47) had played for the QMJHL's Shawinigan Cataractes but is now playing in the NHL. He attended the Summer Showcase. Same with Pierre-Luc Dubois, the 2016 Draft's third overall pick selected by the Columbus Blue Jackets.
Dominique Ducharme, Tim Hunter and Kris Knoblauch returning to #WorldJuniors coaching staff for 2017-2018 season. https://t.co/aYMmLGBB1K pic.twitter.com/OuhURpFzeK

— Hockey Canada (@HockeyCanada) March 8, 2017
Team USA's head coach Bob Motzko, on the other hand, is in his 25th season coaching at the NCAA level, having either been the assistant coach, associate head coach, or head coach for four different universities within NCAA Division I teams.
Team Canada will enter the tournament with a few disadvantages. Their pool of talented prospects to choose from may be smaller than the United States' and Ducharme will be coaching players who've been playing in different leagues than his experience as a coach entails.
Motsko already has the luxury of coaching in the NCAA – a league that's quickly becoming more relevant to the NHL as a feeder league compared to any CHL or European league. On top of that, the Americans will be loaded with offensive talent and that's coming straight from TSN's Bob McKenzie, who's anxiously waiting for the names of the 30-ish players for Team Canada to be announced in a week's time.