Scott Darling has gone from being the backup goaltender to the Chicago Blackhawks' Corey Crawford, to the starting goalie for the Carolina Hurricanes. As we venture into the second quarter of the NHL season, a candid evaluation of Darling would yield several responses.
Some might say, "He's better than Cam Ward." Or, "He's no Cam Ward." Others might weigh-in with, "He just needs time to get settled in with his new team." To which some might respond, "Time to get settled in? Are we supposed to keep losing until then?"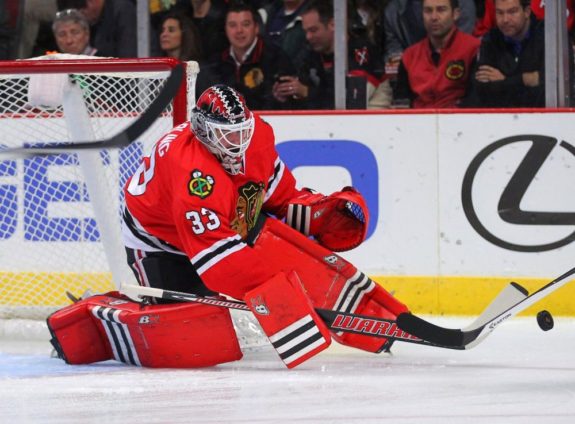 The point is that the jury is still out on Darling. There are those that truly rejoice that Ward is no longer the full-time goaltender for the Hurricanes. And, there are others who appreciate Ward's hard work and rising to every challenge he has faced – especially in recent years. But, the bottom line is that Darling is the guy.
Chicago-Style Darling
General manger Ron Francis felt the team needed an upgrade in-between-the-pipes, and Darling is the player he went out at secured for the Hurricanes. Darling had a nice run in Chicago. Chris Hine at the Chicago Tribune broke down Darling's career with the Blackhawks this past May:
He filled in capably over the last three seasons for starting goaltender Corey Crawford. Over 75 career games, including 64 starts, Darling had a save percentage of .923 and a 2.37 goals-against average. Darling was 18-5-5 this season for the Hawks and filled in for Crawford in December when Crawford missed nine consecutive games after undergoing an appendectomy. Darling's .924 save percentage this season was fifth among all goaltenders who played at least 30 games this season. His 2.38 GAA was 10th.
Darling certainly had a nice resume when he arrived in Raleigh as the new number one for the Hurricanes. But, in a move that was reminiscent of the Eddie Lack debacle, Francis gave Darling a contract without seeing him on 'Canes ice. The belief was that he was good as a backup with the Blackhawks, so he will be good as a starter with the Hurricanes. So far, that is a belief that has yet to be fully realized.
Carolina Darling & Pressure
Darling has looked pretty good at times. His out against the Buffalo Sabres was stout. But, when back home in the PNC Arena facing the New York Rangers last week, Darling had a moment that was unlike any other most of us have ever seen in the NHL:
Mika scored from where!! This #NYR 🚨 is a MUST 👀

Stay tuned on @msgnetworks or https://t.co/TMLf6zaGIh for more Rangers game action. pic.twitter.com/INc3p66i1s

— New York Rangers (@NYRangers) November 23, 2017
Sometimes stuff just happens, and sports is filled with crazy moments every athlete wishes they could have over. Darling told my colleague, Chip Alexander with the Raleigh News & Observer that he "lost it in the lights." The good news is that shots like that are pretty rare so Darling may never have to run out to center field for a pop fly again anytime soon.
I asked Darling after Sunday's shootout win against the Nashville Predators about the difference in pressure that he may be feeling as the starter as compared with what he felt as a backup with the Blackhawks. Darling said,
I actually don't think I'm under more pressure at all. Every game you play there's tremendous pressure backup or starter. It's kind of the same thing, you just play more. That's how I see it. You know, playing in Chicago when you only get to play 20-some odd games you have tremendous pressure to play good. So now, you have tremendous pressure to be the guy for the team night in and night out. It's just pressure being an NHL goalie. They're different situations, but they're both pressure-packed. I'm just enjoying this, getting to play, and I think I'd steadily learning more and getting better and I'm excited to keep going.
I really appreciated his honesty. What he said makes a lot of sense. Whether he's a backup or a starter, the pressure to perform is there. Yes, the jury is still out as to whether or not Darling will be a long-term successful starting goaltender with the Hurricanes. If plays like this one against the Predators start becoming routine, the jury will be weighing in favorably on Darling for sure.
Darling is a smart guy, dedicated and fully aware of what he is being asked to do for the team. It may be that time is the thing he needs the most, but for Hurricanes fans, time is something they have spent a lot of already, and were hoping that this year would see their team make the playoffs. Darling has won in the past, and has what it takes to win again with the Hurricanes. Winning consistently sooner rather than later, however, would be nice.