* originally published in June 2018
With the NHL Playoffs now complete the focus turns to next season and trades will pick up again. Some trades are win-win, the Seth Jones for Ryan Johansen deal is a good example, but plenty of trades become a significant loss for one side (eg. Taylor Hall for Adam Larsson or Tuukka Rask for Andrew Raycroft). Here is a look at the five worst trades from the 2017-18 season.
No. 5: Calgary Flames Trade for Travis Hamonic
The trade: Calgary Flames trade their first and second-round picks in 2018 and a second-round pick in either 2019 or 2020 to the New York Islanders in return for Travis Hamonic and the Islanders' fourth-round pick in either 2019 or 2020.
Adding Hamonic to the Flames defence that already included Mark Giordano, Dougie Hamilton, T.J. Brodie and Michael Stone was supposed to elevate it to rank among the best defences in the NHL with the Nashville Predators and Anaheim Ducks. They were expected to make the playoffs in 2018 and the first-round draft pick they traded away would have been late in the first round.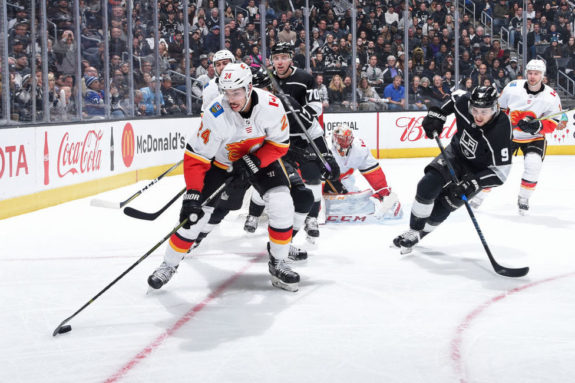 Unfortunately, that's not how it panned out. Hamonic produced a career-worst 11 points in 74 games and his advanced stats were nothing special. The Flames finished below average in goals against and missed the playoffs. That first round pick that was supposed to be a late one wound up being twelfth overall. Cam Fowler, Max Domi, Tyler Myers and most recently, Martin Necas are examples of players who were taken twelfth overall.
No. 4: Pittsburgh Penguins trade away Marc-Andre Fleury (kind of)
The trade: Technically the trade reads "Vegas Golden Knights acquire a 2020 second-round pick from the Pittsburgh Penguins for future considerations" but we all know that the second-round pick was to entice the Vegas Golden Knights to select Marc-Andre Fleury in the 2017 NHL Expansion Draft.
This trade would be higher on the list if Vegas had won the Stanley Cup, in which case Fleury was a shoe-in to win the Conn Smythe Trophy, but they fell three wins short. It's also worth noting that Vegas could have picked Fleury in the expansion draft regardless of the second-round pick, but there's no doubt that the Penguins pointed Vegas in Fleury's direction.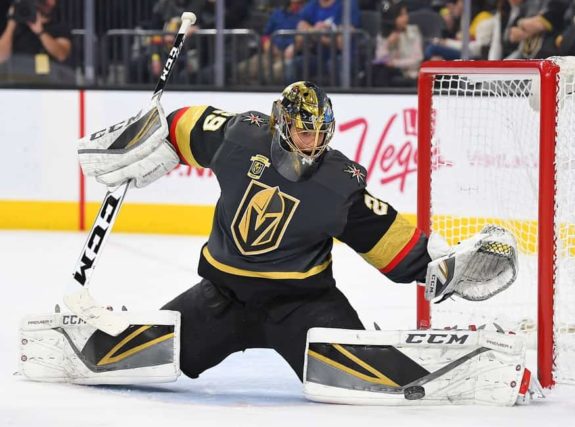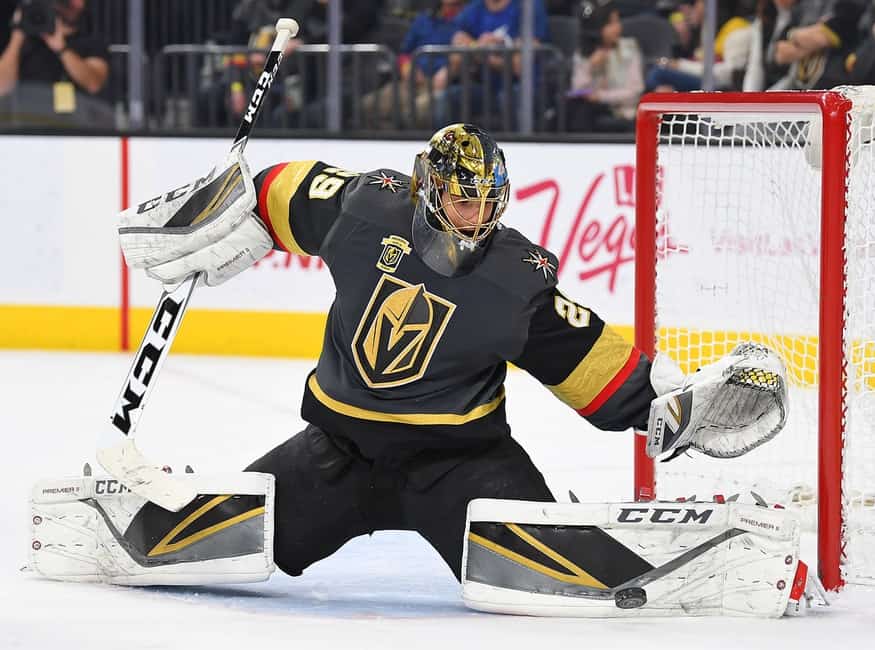 The trade made sense at the time. Matt Murray had passed Fleury on the Penguins' depth chart and it doesn't make sense to have a backup goaltender with a $5.75 million cap hit. It didn't work out for Pittsburgh though. Murray struggled with health issues, starting just over half of the Penguins' regular-season games and when he did play, he underperformed. Meanwhile, Fleury had some health issues of his own but he was stellar when he played.
Matt Murray 2017-18 Regular Season: 2.92 GAA, .907 Sv %
Marc-Andre Fleury 2017-18 Regular Season: 2.24 GAA, .927 Sv %
Matt Murray 2018 Playoffs: 2.43 GAA, .908 Sv %
Marc-Andre Fleury 2018 Playoffs: 2.24 GAA, .927 Sv %
Fleury's playoff numbers dropped significantly in the Stanley Cup Final. He had a sparkling .947 save % through the first three rounds of the playoffs. If the Penguins had that kind of performance in net, they likely would have hoisted the Stanley Cup for the third straight year.
No. 3: Ottawa Senators Trade for Matt Duchene
The trade: The Ottawa Senators received Matt Duchene from the Colorado Avalanche in a three-team trade. They sent Kyle Turris to the Nashville Predators and a package to the Avalanche that included Andrew Hammond, Shane Bowers, a third-round draft pick and a conditional first-round draft pick.
This trade backfired immediately on the Senators. At the time of the trade (Nov. 5, 2017), the Senators were second in the Atlantic Division, but they won just 3 of their next 15 games, tumbling down to third worst in the NHL and never recovered. Duchene had two goals, two assists and was minus-10 during that losing skid. To rub it in, Turris had 13 points during that same time span.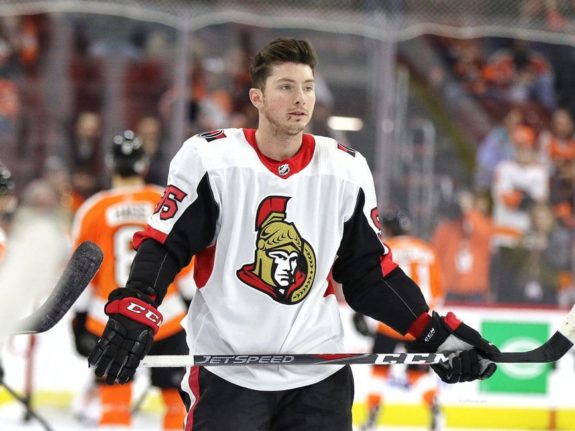 While it was too late to salvage the 2017-18 season, Duchene did bounce back to finish with a respectable 27 goals and 59 points, playing all 82 games (14 with the Avalanche and 68 with the Senators). If he re-signs, at least the Senators have their top-line centre for the foreseeable future.
What makes this trade horrible is how it positions the Senators for the draft and Erik Karlsson. The organization is scheduled to select fourth overall in the 2018 NHL Draft and they have the option to give the Avalanche that pick or their 2019 first-round pick instead. They have one of two options:
Scenario 1 – Give the 2018 pick to the Avs and lose out on one of Brady Tkachuk, Evan Bouchard, Quinn Hughes, Oliver Wahlstrom or Adam Boqvist. This pick could also be Filip Zadina if one of the top three selecting teams goes off the board.
Scenario 2 – Keep the 2018 pick and automatically trade the 2019 first-round pick to the Avs. Then the Senators would have to decide what to do with Karlsson. They can trade him so they don't lose him for nothing next summer, but if they do that they may finish near the bottom of the standings again and risk trading away the pick that might have landed mega-prospect Jack Hughes.
It's a nasty situation to be in.
No. 2: Chicago Blackhawks Trade Away Artemi Panarin
The trade: The Chicago Blackhawks traded Artemi Panarin, Tyler Motte and their 2017 sixth-round draft pick to the Columbus Blue Jackets in return for Brandon Saad, Anton Forsberg and the Blue Jackets' 2018 fifth-round draft pick.
In the first round of the 2017 NHL playoffs, the top-seeded Blackhawks were swept by the Predators. Most onlookers attributed the sweep to Pekka Rinne's ridiculous .976 save percentage in the series. These things happen in the playoffs. However, Blackhawks general manager Stan Bowman overreacted to the loss, promising big changes and this catastrophic Panarin trade was the result.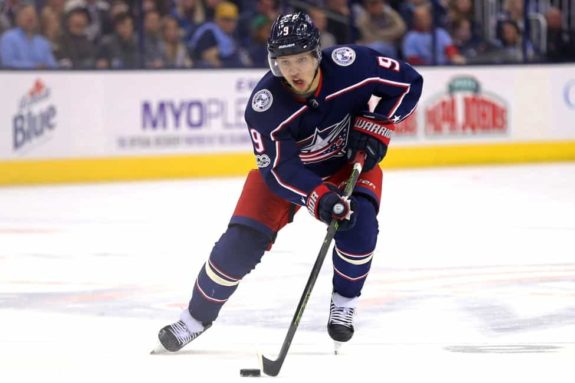 There may have been other small pieces in this trade but it's pretty close to a one-for-one deal between Panarin and Saad. The trade looked bad for Chicago at the time but it's even worse now.
Artemi Panarin 2017-18 Regular Season: 81 GP, 27 Goals, 55 Assists, 82 Points, plus-23
Brandon Saad 2017-18 Regular Season: 82 GP, 18 Goals, 17 Assists, 35 Points, minus-10
Panarin was the Blue Jackets' leading scorer by a whopping 25 points and led the team to the playoffs. Meanwhile, Saad was terrible and the Blackhawks had their worst season in over ten years.
No. 1: Florida Panthers trade away Reilly Smith and lose Jonathan Marchessault in the Expansion Draft
The trade: The Florida Panthers traded Reilly Smith to the Vegas Golden Knights in return for a 2018 fourth-round pick.
This trade alone was awful for the Panthers, but it was also part of a deal that sent Jonathan Marchessault to Vegas.
I'm presuming FLA had to reduce its budget. In order to move Smith's contract, Marchessault had to be used as inducement. A $ deal IMO.

— Bob McKenzie (@TSNBobMcKenzie) June 21, 2017
As Bob McKenzie states, this deal was done for the Panthers to shed Smith's contract, which they had signed less than a year earlier. One of many funny aspects to this deal is that Smith's contract now looks like a bargain since he put up 22 goals and 60 points and was a plus-31 in 67 regular season games for the Golden Knights with an additional 22 points in 20 playoff games. Marchessault had 75 points and was plus-36 in 77 regular season games and followed it up with 21 points in 20 playoff games.
Instead of losing Smith and Marchessault, Panthers GM Dale Tallon could have simply exposed one of Alex Petrovic or Mark Pysyk instead and perhaps they wouldn't have missed the playoffs by a single point. Enjoy that fourth-round pick Florida!
I'm a Toronto Maple Leafs contributor for THW and a fantasy sports guru (hockey and football). I have a BBA and MBA from Wilfrid Laurier University and my day job is as a finance manager for a fortune 500 company. Feel free to reach out to me at davidapetrie@gmail.com