For the Edmonton Oilers, much of the Olympic hockey talk was around disappointment. Young stars Taylor Hall and Jordan Eberle falling short of making Team Canada or Nail Yakupov being left off the Russian squad.
For Anton Belov and Martin Marincin though, the experience should be nothing but positive, and for the Oilers sake, beneficial.
Aside from veteran Ales Hemsky, Belov (Russia) and Marincin (Slovakia) are the lone Oilers representatives at the Oympic Games in Sochi.
Both were somewhat surprise picks for their respective countries, especially Marincin who is just a few months into his NHL career.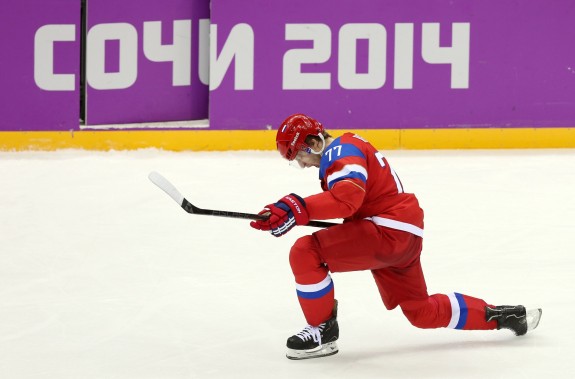 Anton Belov
The experience for Belov should be both memorable and invaluable. Playing for a host Russian team facing similar pressure that of Canada in Vancouver 2010, he will play in some pressure packed games that won't be in Edmonton this season.
Ranked 7th on the Russian defense in ice time at 12:18 through the preliminary round, Belov is playing a limited role, however has played in all four games and is the only defenseman on Russia to record a goal.
Belov has been inconsistent in his first pro season in North America, going from a top four defenseman to a healthy scratch and everywhere in between in his first year with the Oilers. Inconsistency is not saved for just Belov though and could describe the Oilers defense as a whole.
Belov however, has struggled more of late and has been a healthy scratch and seen some time in the AHL over the past two months. A trip to the Oympics and a shot of confidence could be exactly what he needs.
The further Russia goes in the playoff round the more valuable experience he will gain. Experience and confidence that the Oilers hope he will bring back to Edmonton.
Martin Marincin
At just 22 years old and only 22 games into his NHL career, many were surprised when Marincin got tabbed for the Slovaks.
Perhaps more surprising is the role Marincin played for Slovakia before being eliminated by Hemsky's Czech Republic.
As the tournament wore on Marincin found himself playing top four minutes behind only NHLers Zdeno Chara, Andrej Sekera and Andrej Meszaros.
Martin Marincin on the ice in OT, four on four in a huge game vs Russia.

— Ryan Rishaug (@TSNRyanRishaug) February 16, 2014
It could not have been a more perfect situation for Marincin, as it gave him a chance to learn from a player like Chara and soak up as much knowledge as possible. 
There is probably no better player for him to try and emulate than the Bruins blueliner. While certainly not a large as Chara, Marincin at 6'5″ is a big, lanky defensemen with a long reach trying to learn how to use his body against NHL competition. Who better to learn from than the Slovak captain.
A player who has been a pleasant surprise for the Oilers in the last two months, Marincin has made the most of his opportunity and looks to stay with the big club for the rest of the year.
Dividends for the Oilers
The only defensemen that would appear to be fixtures on the Oilers blueline past this season are captain Andrew Ference, Justin Schultz and Jeff Petry. The rest are either free agents or expendable. Which means there are spots to be had moving forward.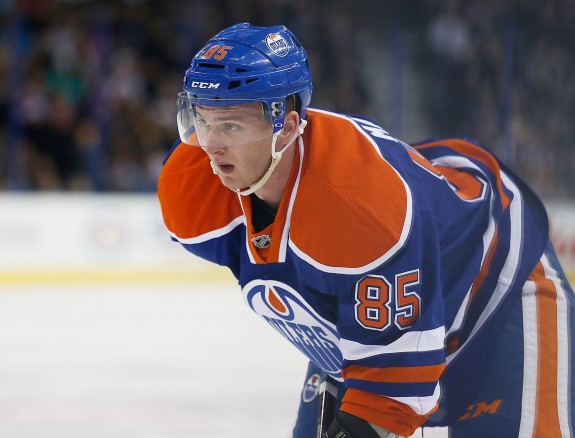 Belov is a pending UFA as well and if he can take his game to another level following his Olympic experience, he could earn himself a new contract and a spot on the Oilers defense. He has the ability to be, if not in the top four, at least a mainstay in the Oilers group of six. He has good size and puck skills and a bomb of a shot.
Marincin is a defenseman trending upwards that could earn himself a top four spot should he continue to impress.
Jumping over other prospects in the AHL like highly touted Oscar Klefbom, Marincin has played with poise and confidence that belies his age. He hasn't looked out of place in the NHL, or the Olympics for that matter, all good signs for the Oilers.
Edmonton desperately needs to have marked progress on their defense and signs there is improvement to come. The group has been much maligned for poor play and is lacking legitimate top four talents. If they can't find a top pairing guy, the group as a whole has to be better.
If Marincin and Belov can take their Olympic experience and translate it to NHL progress, it will go a long way for the Oilers and the state of their defense.
____________________________________________________________________
Follow Carl on twitter @carlTHW and Google+ for more articles