Few people anticipated what has turned into the story of Patrick Sharp's tough luck in Sochi. As Team Canada prepares to square off against Latvia in the men's quarterfinals, the prolific Sharp is just one of three forwards who have skated in only two of Canada's three games. With 58 points through 60 games this season with the Blackhawks, many are left scratching their heads at Sharp's lack of playing time and contribution. But is there really a cause for concern?
Tough Luck in Sochi – Not Alone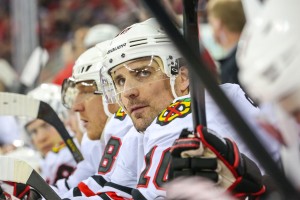 Patrick Sharp was a healthy scratch in Canada's 6-0 victory over Austria last week. The 32-year-old left winger and his 12:04 of average time on ice through two games sat in lieu of Matt Duchene, who is averaging nearly two minutes more in playing time, despite also being scratched in a previous contest. In such a short tournament, it would be easy for Sharp to grow frustrated. But here's why he more than likely isn't – he's not alone.
Counting Sharp, Canada has six forwards who have yet to claim their first point in Sochi. In fact, six of Canada's 11 goals scored in the first three games were scored by two defenseman: Drew Doughty and Shea Weber. With Doughty hogging the spotlight, team captain Sidney Crosby has been secretly held in check with just two assists. Doughty's five points not only leads the team in scoring, but also has some calling him the team's best forward, despite the fact that he's a defenseman.
"Fortunately, while the forwards are struggling, Drew Doughty has transformed into a sniper. The LA Kings' defenceman scored both Canadian goals in this game, his third and fourth of the tournament, to propel his club to victory. Both came from just about the same spot. The first was on a powerplay, with Doughty beating Tuukka Rask with a perfectly-placed wrister. The second was a bit of a knuckler, but it got past Rask because, simply, everything off of Doughty's stick is magic right now. On a team loaded with standouts, he's been the supra-standout." — Harrison Mooney, Puck Daddy
With further attention being set on solving the Doughty riddle, opportunity could and should arise for a player of Sharp's stature. "There's a lot of great forwards on this team and guys that can put the puck in the net," Shea Weber explained. "Teams collapse here and really take away the middle of the ice. I think we're getting some chances and things are going in."
It's difficult to think that teams aren't beginning to see this method of effectiveness as they break down film. Still, Canada is considered to be one of, if not thee best team in the tournament, so beating them won't be easy. "It's going to be a hell of a game," said Latvia's Kaspars Daugavins. "They're the world's best… We know it's going to be a battle for us. Miracles happen, but you have to earn them."
And yes, Patrick Sharp is part of the "world's best."
On any game, at any time, I'd rather have Patrick Sharp in my lineup than Chris Kunitz. Does more. Gives you more options.

— steve simmons (@simmonssteve) February 16, 2014
Tough Luck in Sochi – A Numbers Game
The talent left off of the Canadian roster has turned out to be the perfect preface to what Patrick Sharp has faced. With the surplus of super star presence on the roster, head coach Mike Babcock has encountered the best problem a coach can have – a problem nonetheless though.
"It's way harder (than in 2010)," Babcock said. "It's ridiculous actually. You tell an athlete he competed hard, he did things right, and that he's not playing. It's no fun. If you're Sharpie for example, you're a high, high-end player. I grab him when he's walking in today to tell him he's not playing. Doesn't ask me why. It's good he doesn't ask why, because I've got no reason why."
Others, however, claim to have a better understanding of Babcock's juggling act.
"Knowing Babcock they way I do, I mean they did not play up to the way everyone expected them to play, including Mike Babcock, in the first game," Hedger said. "And I knew somebody from that starting lineup in Game 1 was coming out and I just felt like this is a guy right here who never gets a lot of respect anyway, so it didn't shock me that he was the guy that gets [scratched]." — Brian Hedger, NHL.com via CSNChicago
https://twitter.com/JamesNeveau/status/434379251366645760
Tough Luck in Sochi – Winning Cures All
Despite Patrick Sharp's early tough luck in Sochi, the 11-year-veteran has maintained his professionalism, due in large part to Canada's success. "I'm not really concerned with ice time or my role with the team," Sharp told Chris Kuc of the Chicago Tribune. "I'm happy to do whatever they ask me to do. Whether it's nine minutes or 14 minutes, who cares? I'm going to do whatever I can out there."
Although Babcock did not officially announce his active lineup on the day leading up to their tilt with Latvia, Sharp was paired with John Tavares and Rick Nash in their most recent practice. The pairing appears to be an effort to get all three stars out of their scoreless ruts, which have plagued both Tavares and Nash in all three of Canada's outings.
While it's too early to label Sharp's Olympic experience as a complete disappointment, the Winnipeg native would love nothing more than to add an Olympic gold medal to his collection of two Stanley Cups. "It's not easy," said Blackhawks and Canadian teammate Jonathan Toews. "I'm sure he's — I won't say frustrated — but not happy. Anyone in that position wants to play, coming this far. We know Sharpie will be ready for any chance he gets and when he does get that chance, he's going to make a difference."