When it comes to being excluded, Claude Giroux can rest easy in knowing that he is not alone. That's because Chicago Blackhawks defenseman Brent Seabrook will have to live vicariously through the 10 teammates who were, in fact, selected to play in Sochi. While Giroux received the bulk of the attention for his exclusion, Seabrook's Olympic snub from Team Canada is equally, if not more of a head scratcher.
Olympic Snub Despite Familiarity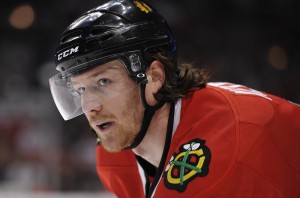 Among the 10 Blackhawks representing their countries, three of them are fellow defenseman – most notably, Duncan Keith. For the better part of Seabrook's career, both he and Keith have been paired together with this season being no different. Not only did the two break into the league together back in 2005, they also won two Stanley Cup Championships together as well.
The familiarity Seabrook and Keith share together would be an asset to Team Canada. "They have a unique relationship, for sure," said teammate and Swedish Olympian Johnny Oduya. "They know each other in and out and they compliment each other in a lot of ways both on and off the ice. It's one of those things where the chemistry is just right. It's almost like they're meant to be 'D' partners together for a long time."
Skating in their 9th season together, the top defensive pairing for the Hawks have scored a combined 711 career NHL points, which includes their five playoff appearances together. "We've been good friends off the ice since Day 1," said Keith of Seabrook. "We were paired up together early on in our careers. He's a great player. He's easy to play with. It makes it easy for me to play out there with him."
Seabrook's two championships is an accolade that should entice the attention of Canada's Executive Director, Steve Yzerman. While Seabrook owns a modest but respectable 31 career playoff points, it's important to point out that he's a defenseman – his job is not to score per se. With that being said, Seabrook potted two game-winning goals in last season's post-season, proving to be an invaluable piece to their most recent championship run. After all, if Canadian captain Sidney Crosby can be rewarded with Chris Kunitz for chemistry, why wouldn't the same apply for arguably the game's best defensive pairings in Keith and Seabrook?
Olympic Snub Based on Stats?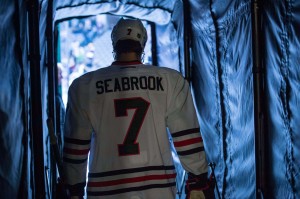 While Seabrook's six goals and 28 assists on the season are not considered offensive juggernaut numbers, they're still higher than Team USA's top defenseman Ryan Suter by a single point. Furthermore, Seabrook's average-like point total dwarfs Marc-Edouard Vlasic's, who did make the Canadian roster, by 16 points. In fact, Seabrook has also proven to be quite affective on the power play, equalling teammates Jonathan Toews and Brandon Saad with three power play goals.
Also, no defenseman for Team Canada has a better plus-minus rating than Seabrook's plus-24 mark, including Duncan Keith himself. And although Seabrook only tallied a single point in seven games as a member of Team Canada in 2010, Seabrook is four years wiser with even more playoff experience.
In disagreement with the decision to exclude Seabrook, Don Cherry spouted off last month, "He's a rock back there. And don't forget, besides (Alex) Pietrangelo, you've got all sweets on that club on defence. He's a rock back there, he's a leader. He should be on that club."
The Explanation of the Olympic Snub
At 6-3, 221 pounds, Seabrook is a physical body with size. Second only on the team to Brandon Bollig in hits, and tied with Andrew Shaw with 130, the three are on another level in comparison with the rest of the Blackhawks when it comes to dishing out punishment. To further illustrate the gap in physicality, Bryan Bickell's 74 hits are the next closest to Seabrook and Shaw.
Seabrook's use of the body is not exclusively limited to hits, however. His 97 blocked shots through 60 games split between Niklas Hjalmarsson's 121 and Johnny Oduya's 96 – again, both Olympians. But unlike the 2010 games in Vancouver, this go around is anticipated to be different. NHL.com's Barry Melrose recently explained the difference on international ice:
"There are reasons Canada had to adapt, of course, and the Americans have done the same with their roster. It's because we'll be seeing a completely different style of hockey. There won't be any fighting of course and there won't be much hitting. In the European game, with the big ice surface, if you hit someone you basically get pulled out of position and leave the ice open for your opponent 2-on-1 or 3-on-2 chances. People will see that there won't be much physical play so teams can avoid this. There won't be much grinding, there won't be defensemen smashing people into the boards in the corners. You can't run behind the net to get a guy because there's too much room and they'll make you pay. On this ice you have to be able to skate and you have to be a smart player. You can't go looking for that big, open-ice hit because you just don't have time to get back into position."
Melrose did acknowledge Seabrook as "one of the best defensemen in the NHL," however, hinting that the British Columbian native still has a case to be on the team. Seabrook responded to the disappointment in stride though, saying, "I'm looking forward to watching, maybe having a few beers and relaxing over the break."
Under the radar: Dan Hamhuis' trip to the Olympics is in jeopardy, too. Would Seabrook get the nod or would Canada want a lefty shot?

— Matt Larkin (@THNMattLarkin) February 6, 2014
Brent Seabrook said he plans on having a few beers and watching the Olympics. Also said he will plan a trip somewhere. Sounds kind of nice.

— Shawn McKenzie (@ShawnMcKenzieSN) January 7, 2014
With an average time on ice of 21:54, it'll be a break that's well deserved. Seabrook can now recharge his battery and possibly have the final laugh as the Blackhawks aim to be the league's first back-to-back Stanley Cup Champions since the Detroit Red Wings of 1997 and 1998.