Patrik Elias, Jaromir Jagr, Marek Zidlicky, and Damien Brunner will be representing the New Jersey Devils in Sochi during the 2014 Winter Olympics.  While Jagr will be an Olympian for the fifth time in his hockey career, Brunner will be playing in his first Olympic tournament.  Elias and Zidlicky have performed well on the international stage, each receiving a bronze medal from the 2006 Olympics, but the only player with a gold medal entering this tournament will be the veteran Jagr.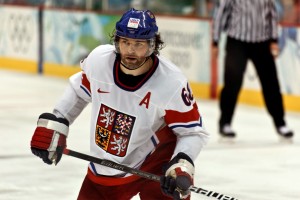 Patrik Elias (Czech Republic)
Patrik Elias has previously played for the Czech Republic in the 2002, 2006, and 2010 Olympics.  In 10 games he has scored three goals and tallied three assists.  He is coming off of his best Olympic performance when he scored a pair of goals and two assists in five games.  The Czechs will be facing Sweden, Latvia, and Switzerland in the Preliminary Round.  In 2002, Elias was held scoreless against Sweden. Elias has previously faced Latvia twice, both times in 2010, and picked up a goal and an assist.  He has never faced Switzerland.
Patrik Elias previews the 2014 Winter Olympics in Sochi:
Jaromir Jagr (Czech Republic)
Jaromir Jagr, also representing the Czech Republic, has scored 7 goals and 13 assists for 20 points in 23 games.  Jagr has played in every Winter Olympics tournament since 1998.  Jagr scored a goal and tallied five points in 1998 when the Czechs defeated Russia to win the gold medal.  Jagr has previously faced every opponent the Czechs will battle in the preliminary round in 2014.  In two games against Latvia, Jagr has scored only one goal.  In a 3-2 loss to Switzerland in 2006, his only Olympic appearance against the Swiss, Jagr picked up a goal.  Jagr has faced Sweden twice and notched three assists despite losing both contests.  Jagr's best Olympics took place in Turin in 2006 when he scored two goals and five points in eight games as he helped lead the Czech Republic to the bronze medal.  Jagr has also shown a more tenacious side during the Olympics and has picked up 18 PIM.
Jaromir Jagr was on the receiving end of a solid hit by Russia's Alexander Ovechkin during the 2010 Winter Olympics:
Marek Zidlicky (Czech Republic)
The only defenseman representing the Devils, Marek Zidlicky, will be suiting up for the Czech Republic as well.  He has scored four goals, all during the 2006 Olympics, and six assists, five of which came in the 2010 Olympics, for a total of ten points in 12 games.  In one match-up against the Swedes in 2006, Zidlicky picked up his only assist that year.  Zidlicky scored a goal against the Swiss in his only battle against them, the aforementioned 3-2 loss.  Zidlicky registered three assists in two games against Latvia in 2010.  In the 2006 Bronze Medal Game against Russia, Zidlicky scored a goal and finished with a +2 rating in the Czechs 3-0 victory.  Like Jagr, Zidlicky has also spent a fair amount of time in the penalty box, where he has 18 PIM total.
Damien Brunner (Switzerland)
Damien Brunner, making his Olympic debut, has not played on the international stage in any tournament thus far in his young career.  He will be representing Switzerland and will face his Devils teammates on Saturday, February 15th when his team squares off against the Czech Republic.  He is familiar with the larger international ice surface, however, having played in the National League A in Switzerland prior to joining the NHL.  In his last five seasons overseas with EV Zug, Brunner scored 103 goals with 144 assists in 201 games.  In seven total seasons, including his time with the Kloten Flyers, Brunner picked up 272 points in 305 games.  In the playoffs in the National League A, Brunner has scored 16 goals and 38 points in 56 games.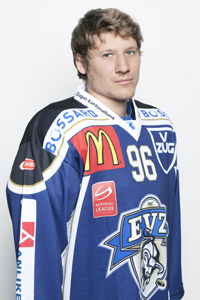 While the Olympic break provides a much needed rest for most of the New Jersey Devils players, Elias, Jagr, Zidlicky, and Brunner will be fighting to bring a gold medal to their respective nation.  The Swiss have not ended up with a medal since the NHL started sending their players to the Games in 1998 while the Czechs will be looking for their third medal and second gold.  Jagr, Elias, and Zidlicky are the top three players in points for the Devils during the 2013-14 season and will play a vital role for the Czech Republic squad in Sochi.  Brunner, who has nine goals and eight assists for the Devils this season, will be counted upon heavily as he is one of just two NHL forwards, Nino Niederreiter being the other, on the Swiss roster.