Michael Grabner has been trying his best on Long Island for years now. His speed has always been his biggest threat, but as the seasons pass, fans are beginning to demand results. Despite his great defense and penalty killing for the Isles, his missed breakaways add up to missed scoring chances and potential goals. However, Grabner seemed to have a breakthrough in February.
Being nominated to the Austrian national hockey team alongside fellow Islander Thomas Vanek – the two are some of the most famous Austrian hockey players – the pair were undoubtedly anxious to show off their skills on the international stage. During Grabner's time in Sochi, his production has skyrocketed. This begs the question – can this production come back to Long Island?
When you look at Michael Grabner's descent from Calder candidate to marginal third line player, I think that there's more to be said than just a flukey rookie season. Grabner's defense and penalty killing have been his greatest assets, even when he was scoring at a ridiculous clip, and continue to be. He's able to disrupt other teams from passing the puck fluidly and does a good job of pushing players off the puck.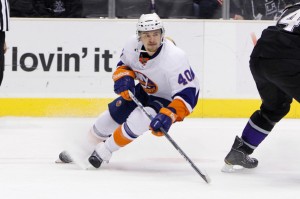 Certainly, it is disappointing to watch how often Grabner misses or gets robbed, but his speed is always exciting and always has to be seen as a threat. Fans have called for his head and have demanded that he be traded. I recently wrote about why the Islanders should hold onto him and his recent performance in Sochi has only backed up my opinions on the Austrian. In three games, he's scored five goals and tallied one assist in international play. Grabner led all Olympic scoring before Austria's elimination from play.
The Islanders don't play again until February 27th against the Toronto Maple Leafs, so he's going to have some R&R time like most other Islanders who didn't make the trip to Russia. Despite all this, I think Grabner's Olympic play will in fact carry over to the NHL season for a multitude of reasons, and has been elevated due to certain factors as well.
Olympic Sized Rinks
The rinks in Olympic play are bigger than NHL sized rinks. This helps guys like Grabner find space due to how fast they can get from one end to the other. A guy like Grabner needs room to skate and move with and without the puck.  By no means is he limited when he's in the NHL in terms of how quickly he can break out – it's clear that he sometimes skates faster than his mind can process the situation at hand – which likely leads to the majority of his missed breakaways. The bigger rink allows Grabner more space and time to find the back of the net, just like he did three times against Finnish net minder Tuukka Rask.
Playing Time
Michael Grabner gets the majority of his time on the Islanders' third line, and primarily on the penalty kill. His opportunities to score are not plentiful and the small amount of chances he does have are generally on breakaways. This inevitably leads to a mediocre shot-to-goal conversion rate. With Team Austria, Grabner has received more ice team and is a top six player with the squad. Ice time makes a world of difference for any player, but especially one like Grabner. He gets about five more minutes TOI with Austria than with the Islanders, so the opportunities are much more plentiful.
Roster Moves
Peter Regin is a Blackhawk!
This opens up a spot for Ryan Strome to come back to the team, and while he was with the team, they performed much better. Unfortunately, Frans Nielsen will likely miss some time due to his broken hand, but the influx of talent that Strome will bring will certainly help the secondary scoring. This also leaves the door open for other players to step up from Bridgeport such as Anders Lee and Mike Halmo, in an effort to prove their worth in the big leagues. If Grabner ends up playing with any call ups, I think that will help his production.
In the end, if the Islanders are able to catch "Grabner Lightning" in a bottle, it will be a huge help to potentially salvaging what has been a tough season thus far. The biggest question is if Grabner's confidence is higher now that he has started to perform like we all know he can. He was able to find the scoring touch from the slot against one of the better goaltenders in the league in Tuukka Rask, and if he gets the appropriate ice time, then I think that will continue this season.