The Islanders have had a troubling year so far. This year was supposed to be the next step for a young team in growing and becoming a formidable playoff team, but instead it was a step backwards. The team didn't add much to help the team succeed this season, as Pierre-Marc Bouchard has spent the majority of the season in Bridgeport, and Peter Regin has been unspectacular. The failures to address the lack of consistent goaltending and upgrades to an anemic defense has left the team in a state of disarray, despite the acquisition of superstar forward Thomas Vanek from Buffalo earlier this season. Now that the trade deadline is beginning to creep up, as well as the Olympic roster freeze, many names have been circulating social media and NHL sources as players who could be wearing different sweaters by next month. The first, and most spoken about name is obviously and none other than Thomas Vanek.
Thomas Vanek – Sell
While Vanek has been nothing short of spectacular in his time with the Islanders, we all knew for quite some time that the Austrian winger would more than likely hit free agency regardless of any offer given to him. This was evidenced by the reported seven year, $50 million offer he turned down recently. I've been on record stating several times that I thought that Vanek would re-sign with the Islanders if he were to be on the team past the trade deadline, however it's starting to look like Garth Snow will do just the opposite. Several teams have had significant interest in the Olympic Captain since even before Vanek was traded to the Islanders, such as the Blues, Kings, and others.
Would these teams still have the same significant interest? Most definitely, as these and others would probably be interested in talking trade with Garth Snow. The goal must be if Garth does decide to recoup the assets he traded to get Vanek, which was an established NHL player in Matt Moulson, and two picks (conditional first and second in 2015). It doesn't have to be exactly this for a trade to be considered up to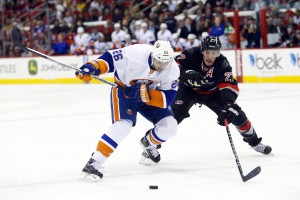 snuff, but something close to it should be what the team is looking for. Names such as Tyler Toffoli, Jake Muzzin and others have been tossed around and these would be good starting points. However, if Vanek truly is headed for Minnesota in the offseason, what team would give significant assets for a half season rental? This will be by far the hardest deal for Garth to swing and will be interesting to follow until the news breaks. Next on the checklist-  Andrew MacDonald.
Andrew MacDonald – Sell
A-Mac has become the a scapegoat for Islander fans after becoming a mainstay on the blue line for years. His cap hit is a bit more than half a million for this season and is due for a substantial pay increase. It has been recently reported that MacDonald turned down a $16 million offer that would keep him in orange and blue for the next four years, more than I personally thought the team would offer him. The guys over at Lighthouse Hockey did an awesome job citing some of the more recent deals for defensemen at the deadline in the past few years, and why these would be good trades to gauge what MacDonald might be worth. The only reason why I think he's worth more than those mentioned in the piece is his great cap hit and younger age than most options at the deadline in years past. While he might not be the favorite defenseman for Islander fans, he does eat up time, getting over 20 minutes of ice time per game. On top of that, he blocks a lot of shots and is able to play on both the power play and penalty kill.This type of versatility does wonders for the trade value of a defenseman. Almost any coach in the NHL would love to have a guy who can do a little of everything the way A-Mac does.
I don't know what sort of role MacDonald has on this team once guys like Reinhart, Pulock and Mayfield start to come up, so it might be wise to move the blue liner for some valuable assets. Whether it be on his own or in a package with other pieces, such as a Thomas Vanek or someone else, MacDonald could likely fetch some great assets that could either be held onto and utilized or flipped for more assets or at a later time. Not too bad for a sixth round pick if you ask me.
Michael Grabner – Hold
I'm as big a Grabner fan as they come, but it would be irresponsible to ignore his shortcomings- since his rookie year in which he scored over 30 goals, he has yet to come even close to that number. His first two years with the team were productive but since then, he hasn't been even close to the same player. Grabner hasn't shown that he can finish on breakaways like he did years ago and it's become the butt end of too many jokes. Therefore, his value is extremely low, and he might never be the same player he was back in 2011. Despite this, I think his value extends past what people see him as, which is trade bait. He's a very good defensive player and arguably one of the teams best penalty killers. Trading Grabner at this juncture in his career would be a mistake.
Grabner is still under contract for the next two years, and at a pretty reasonable price- a cap hit of $3 million. There are a lot of teams that wouldn't mind taking a risk on the Austrian speedster even if his sole addition would be penalty killing, so selling low or as a throw in are not what I consider smart hockey moves. If the return is better than his presumed value however, I could see Grabner is another jersey after the deadline.
Evgeni Nabokov – Hold
When I first saw Nabby's name come up in trade rumors, I was shocked- while the Islanders are certainly not in a good position moving forward this season, trading Evgeni Nabokov would be a huge mistake. The outlook for the season looks dim, but there's still a chance to get into the dance, however slim that may be. Evgeni Nabokov has been a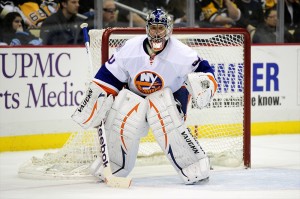 leader on and off the ice for the young Islanders since his arrival on the island. Nabby may retire after the year is over and dealing him at this point would yield little to no return, so a trade is likely not in the cards. Couple this with the fact that the goaltender market might not be there when you consider teams on the bubble, with only a few teams really having a hole between the pipes currently. If any net-minder is going to be at the top of a GM's list, it's going to be Ryan Miller. Besides, who would give great interviews with Stan Fischler and the rest of the media?
This is bound to be one of the most exciting trade deadlines for Islander fans in a while, for better or for worse. The team has several interesting trade pieces and is destined to make at least one move at the trade deadline with one of these players in them. Will Garth Snow and the Islanders make the right decision? We'll find out in the next few weeks. Until then, enjoy Thomas Vanek and Andrew MacDonald on Long Island, because it may be the end of their tenures in orange and blue.
Lifelong Islander fan who spends way too much time playing NHL 15. Student at Hofstra University currently studying broadcast journalism. Generally can be found tweeting about hockey or whatever he's watching on Netflix.