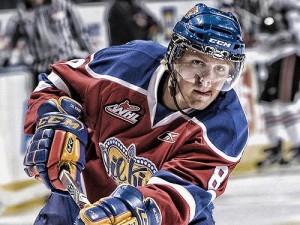 Like Father, Like Son
The sky is the limit for 2012 NHL Draft prospect Griffin Reinhart. This six-foot four, two hundred pound blueliner from the Edmonton Oil Kings has all the tools needed to have a successful pro career. His father Paul played for the Calgary Flames for many years, younger brother Sam plays for Kootenay of the WHL, and his older brother Max, who also plays for the Ice, is currently a highly touted Flames prospect.
Griffin thinks that one of his strong points is his shot, which isn't too surprising given his size, but scouts will also tell you that his mobility on the ice is another strength. Pro scouts are salivating at the thought of having Griffin on their blueline some day, as big mobile defenseman are highly sought after in today's NHL. Reinhart likes to think that he could be the next Shea Weber, and at this rate there is certainly a possibility that he could be just that.
Being from the Vancouver area, it's not surprising to hear that Griffin is also a big Vancouver Canucks fan. However the chances of the Canucks – a top NHL team – selecting him are slim. Griffin is expected to go fairly early in the first round in 2012, and the Canucks typically have a pick later in the first round. But wherever Reinhart ends up, he'll be happy to go there, and the team that drafts him will certainly be glad to get him.
A native of West Vancouver, British Columbia, Griffin Reinhart has a lot of things going for him. For his large size, Reinhart is a very smooth skater, and a mobile skater that's six-foot-four is something that a lot of general managers are, and will be interested in. One thing that is perhaps limiting him from being ranked higher in draft rankings is that, as of right now, he's not great at using his size to play a physical game. It's not like he avoids all contact (he was recently suspended five games for kneeing), but scouts would like to see him be more aggressive to take pucks away from opponents.
ISS Has Griffin Reinhart Pegged For The 1st Round
The International Scouting Service currently has Reinhart ranked as the 11th best prospect, and at the moment, most people will agree that's an appropriate ranking. Griffin's still a very raw prospect, and he will likely need a few more years of development before he can step into the pro game. However, he's also an intriguing prospect because of the fact that Reinhart has all the tools and loads of potential.
Griffin is very appreciative of all the support he receives from his family. His father Paul, who played 648 career NHL games, is there to give him advice whenever he needs it, especially when it comes to Griffin having to handle all the expectations and pressures that are placed on top prospects. Griffin's brother Max has also been key to helping Griffin along. Griffin says that "[Max's] been a big help. I'm going through everything he went through so if I have any questions he knows exactly what's going on in my mind. It's a big help having him." There are concerns that because Griffin is NHL ready in terms of size, teams might want to rush him to the NHL instead of letting him develop his game some more in major junior. Current Colorado Avalanche defenseman Erik Johnson is being used as an example of what not to do with Reinhart, as Johnson was brought into St. Louis too early, and some say that as a result his career has already been ruined.
So be sure to follow Reinhart's progress this season, because if he plays well enough, it is certainly possible that he could be a top-five selection.