He's staying.
After suiting up for nine games with the Tampa Bay Lightning, Brett Connolly was told by Bolts' GM, Steve Yzerman, that he'll be remaining in the NHL for the near future.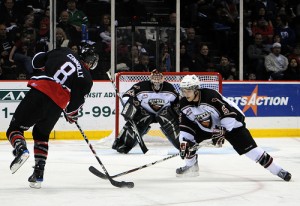 There had been speculation that the 19-year-old rookie would be sent back to his major-junior squad, the Prince George Cougars of the Western Hockey League, after the October 25th match against the Buffalo Sabres.
Connolly is not old enough to play for the Lightning's farm team, the Norfolk Admirals of the American Hockey League.
NHL rules state that its franchises may play rookies like Connolly in no more than nine games before their entry-level contracts activate. In Connolly's case, his contract promises $2.7 million over the standard entry contract's three years. This will have salary cap implications, and it starts the countdown to Connolly's free-agency.
Most importantly, high-potential prospects like Connolly, who was the 6th overall draft pick of the 2010 draft, need a delicate balance struck between challenge and support to maximize their development. Many teams have compromised their prospects' growth by rushing them into the NHL.
Both Yzerman and the Lightning's head couch, Guy Boucher, have been cautious in their assessments of Connolly's future – often stating that the decision would have to consider the young winger's long-term development.
Boucher said that with young prospects its about "being patient and smart because I've seen so many guys that are good lose it because they stick too early. So we want to make sure we don't make that mistake."
I'm not afraid to put him on the ice." Tampa Bay head couch Guy Boucher on Brett Connolly
After the decision was made, Boucher explained that "we felt that he'd learn more about the details of the game here with us than with his junior team…I am not afraid to put him on the ice."
Connolly's Performance So Far in 2011-12
Over the nine regular-season games that he's played so far, Connolly has marked two assists, 17 shots-on-goal, and, most impressively, is a plus-five player.
He has been averaging a respectable 13:54 of ice time per match over his first nine games. More importantly, that ice time has included more than 15 minutes of power-play time.
The 19-year-old has also been given the opportunity to play alongside Tampa Bay's best players.
Head coach Guy Boucher explained that Connolly is the type of high-potential prospect who needs to to play alongside the team's most skilled players because "he is a big boy that skates, and that's what you need with those guys…guys who can't skate can't play with them."
He can fly, he's got a good shot and he sees the ice a lot better than I thought he would." Martin St. Louis on Brett Connolly
Martin St. Louis has been the linemate most often on the ice with Connolly, and its possible that the skilled veteran may have taken on a mentoring role with the Bolts' young star. Speaking about Connolly, St. Louis said that the NHL game "is a new thing for him at a young age and you try not to overwhelm him with too much information." But echoing Boucher's comments, St. Louis added that "he can fly, he's got a good shot and he sees the ice a lot better than I thought he would. He's got tremendous abilities."
During the meeting when Yzerman broke the news, Connolly said that his GM told him that, "I have earned my opportunities and that I need to keep earning them."
The praise must be all the more satisfying for the Campbell River native, considering that he wasn't identified by many to make the Lightning this year. This time last year, Connolly had already been sent back to Prince George with Yzerman's pointed advice to get stronger and focus on conditioning.
Connolly did just that and many have pointed to his physical condition as a contributor to his successes in 2011.
Yzerman may have had his advice from a year ago in mind as he congratulated his young prospect. But it's a certainty that his advice concerning the need to keep earning opportunity will be telling for Connolly. Perhaps the best definition of an bona fide NHLer is a player who continually works to earn his opportunities.
Connolly's been given his chance.