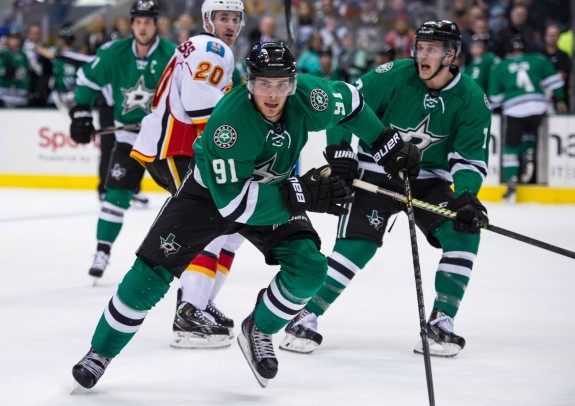 After months of speculation, news officially broke on Wednesday that Tampa Bay Lightning franchise forward Steven Stamkos will not be joining Team Canada at the 2014 Olympics in Sochi as he is still recovering from a broken leg suffered earlier in the season.
Steven Stamkos will not participate in the 2014 Olympic Games. Release: http://t.co/0qd8zxDDTA pic.twitter.com/0kdVtqLAn5

— Tampa Bay Lightning (@TBLightning) February 5, 2014
With Stamkos out, the talk quickly turned to who could be his replacement. His Lightning teammate, Martin St. Louis, and Philadelphia Flyers forward Claude Giroux, two of the most publicized snubs when the roster was initially announced, were the early obvious front runners. Speculation didn't last very long, as Hockey Canada announced early on Thursday morning that the 38 year-old St. Louis would be Stamkos' replacement.
It's a fitting decision with its fair share of hockey karma: St. Louis, the perpetual underdog to ever even stake out an NHL career due to his small stature, led the NHL in points during the lockout-shortened 2013 season, with 60 in 48 games, but apparently that wasn't enough to make the initial cut. All of this coming after St. Louis was also excluded from the 2010 Winter Olympics in Vancouver, despite a Hart Trophy, Stanley Cup, and a 102 point season in the previous years.
Yet, despite the agreeable and feel-good nature of St. Louis' selection, there was another player in the running for that last remaining spot that made a compelling case, possibly even the most compelling case, to be Stamkos' replacement: Dallas Stars center Tyler Seguin
Considering the type of player that Stamkos is, and how he was projected to be used by the Canadian team, Hockey Canada would have been hard-pressed to find a more suitable replacement than Seguin. Both players play similar styles, with each equally capable of playing center or right wing, both exceptionally fast skaters, and both possess a lethal right-handed shot. Both players are also staples on the left sides of their respective teams' powerplays because of their excellent one-timing capability.
While St. Louis undoubtedly deserves to be an Olympian, and probably should have been penciled into the roster months ago, how well he fits into the specific role that is created in Stamkos' absence remains in question. St. Louis is a left-handed shot compared to right-handed, is more of a passer than a shooter, can't slide into the center spot and take faceoffs if need be, and doesn't have the same speed that Hockey Canada seemed to covet because of the larger international ice surface for this tournament.
Team Canada head coach Mike Babcock was full of praise for St. Louis while talking to the media today, but still offered up this interesting tidbit about where he might fit into the roster:
"It was really hard decisions when we were picking the team.," he said, as reported by NHL.com. "He goes in as a group of one of 14 and then he's got to carve out whatever he can carve for himself, just like the rest of the guys."
With 55 points in 56 games so far this year, Seguin's strong offensive production had him into the conversation before the roster was first announced, but what really made his strongest argument has been his play as of late: Seguin is currently riding a seven-game point-scoring streak, with 11 points in that span. If Hockey Canada wanted to bring in a hot-hand right before the games begin, certainly a worthwhile argument on its own, Seguin certainly fit the bill.
What could have made things even more interesting are Seguin's Dallas ties to Team Canada. Stars forward Jamie Benn is already on the roster, and he and linemate Seguin have had dynamite chemistry since first being paired together at the start of the season, forming one of the best 1-2 punches in the NHL. Dallas head coach Lindy Ruff is also an associate coach for the Canadians, so it's a given that the familiar between he and Seguin could have been a valuable factor for the team.
That the 22 year-old Seguin already has championship experience and a Stanley Cup ring is only icing on the cake.
Despite his missed opportunity this year, Seguin still remains one of the NHL's brightest young stars. If he can continue to grow and develop as a player, the early indications are that this won't be the only time in his hockey career that he gets the chance to don the Canadian Olympic red and white.