Similar to the Kris Versteeg deal that came out of nowhere in November, Stan Bowman was working the phones again Thursday. His efforts culminated in another trade, this time with Islanders' GM Garth Snow:
#Blackhawks acquire forwards Peter Regin and Pierre-Marc Bouchard from NY Islanders for fourth-round selection in the 2014 NHL Entry Draft.

— Tracey Myers (@Tramyers_NHL) February 7, 2014
Some are dismissing the move as meaningless. I think the opposite; Brandon Pirri has already been assigned to Rockford, which would be an odd decision if Joel Quenneville had serious plans to continue playing him at the NHL level after the Olympic break. With Patrick Kane missing Friday's game in Phoenix for his grandfather's funeral, the only good explanation for Pirri being demoted early is one that implicates him having no NHL future… with the Blackhawks, that is.
Brandon Pirri, demoted by CHI after Regin trade, may be dealt by March 5 deadline. CHI getting calls on him. For right offer, he could move.

— Bob McKenzie (@TSNBobMcKenzie) February 7, 2014
All signs, then, point to no more Brandon Pirri in Chicago.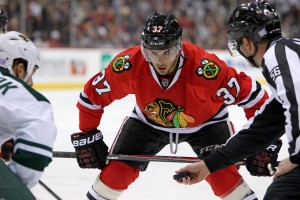 I find this disappointing – I don't think Quenneville ever gave Pirri a fair chance to succeed as far as ice time, consistent linemates, and fostering confidence are concerned. Stiff competition wasn't exactly a factor; Chicago is quite weak at center, possessing no top-6 talent at the position other than Toews. There seemed to be some sort of bizarre rift between player and coach from the very beginning.
The qualms about Pirri's play were – and remain – grossly overstated. He has always been a young player with an unpolished but effortful defensive game. Somehow this was converted into a preposterous narrative in which Pirri's own-zone play was considered analogous to the disaster that was 2007-08 Patrick Kane's.
I could discuss the Pirri situation ad nauseum – and am open to doing so with anyone who wishes – but before all this rambling, I did mention a trade.
Blackhawks Trade Fourth-Round Draft Pick for Regin, Bouchard
Bouchard was promptly sent down to Rockford for what were likely salary cap reasons. If he gets a call up to Chicago at some point, he'll have a difficult time sticking in the lineup. The Blackhawks are stocked at Bouchard's position with 12 NHL-caliber wingers already on the roster and unlikely to lose their spots.
Regin, however, is much more interesting. The general regard for him as a player is quite low.
Despite that, I want to caution you right now: Do not so quickly fall into the negative label trap. When it comes to player judgment, hockey fans – like those of any sport – can often be ruled by emotion, an immediate-past attitudinal centricity, and on the whole a glaring lack of honest perspective.
For whatever it's worth, I think Regin could potentially be a strong fit on Chicago's second line if given the opportunity. He's had a difficult year in terms of production, but his possession numbers are rather impressive and there is no denying that he has a solid offensive skill set (even if it has been largely latent for a few seasons).  He has been a quality contributor in the past; perhaps a new city will help bring Regin back to that level.
Ultimately, Chicago gave away a mid-round pick for a couple of NHL-capable talents. It's difficult not to give the trade an initial thumbs up.
Follow Sean Sarcu on Twitter: @seansarcu