What is the recipe for success in a Stanley Cup winning team? The blue line needs a true number one defenseman as we have seen with Duncan Keith of the Blackhawks and Drew Doughty of the Kings. They need a coach who knows his players well enough to play them the right way. And what is most needed is from a championship team is the development of youth talent. Brandon Saad and Teuvo Teräväinen were able to supplement the scoring of Patrick Kane and Jonathan Toews. Tyler Toffoli supplied the rebound for Alec Martinez to get the Stanley Cup winning goal. If the Ducks wish to break through to new heights they will need their young players to add to the scoring and the defense. As vital as a great defense and smart coach is, there is no truth in the statement that superstars win the cup all on their own. Here are the Ducks who will need to step up in a big way this season.
Rickard Rakell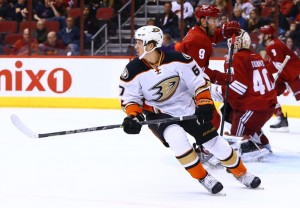 Rakell's NHL development started out slow. At the beginning of the 2014 campaign, Rakell was in a competition for the fourth line center role with, now Columbus Blue Jacket, William Karlsson. But since his four point night on Teemu Selänne tribute night, Rakell has claimed his spot on the Ducks and hasn't let go. Since that night, Rakell racked up 19 points and ended the season with a Corsi for percentage of 53.1. He would end the season with 31 points in 71 games ranking 12th in rookie scoring. But it was a different story come playoff time.
Rakell continued to put up great possession stats with a Corsi for percentage of 53.3 in 16 games. He also scored an overtime goal in game 3 against the Winnipeg Jets completing another improbable comeback for the Ducks. But that was the only point he had in those 16 games. While Rakell gained a bit more notoriety in the series against Chicago, he did not score any points against them. His chemistry with linemates Emerson Etem and Jiri Sekac led to a great amount of scoring chances that they weren't able to collect on. Rumors out of training camp and preseason games are that Rakell is again clicking with Sekac. They will both need to put the puck in the back of the net, when it counts, in order to push their team to the top spot.
Jiri Sekac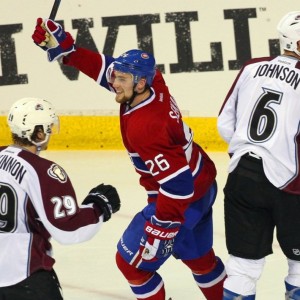 A change of scenery and some new linemates were enough to draw some good hockey out of Jiri Sekac. The speed of Sekac was a refreshing new asset to the Ducks coaching staff after being known league-wide as playing a heavy and hard-hitting game. It was clear to Bob Murray before the trade that speed teams like the Tampa Bay Lightning and Chicago Blackhawks were able to skate circles around the Ducks' big bodies and changes needed to be made. For some reason, Sekac was not iced in the first two series that Anaheim had in the 2015 playoffs. There was a large amount of outcry from the fans because Sekac was a thrill to watch.
But finally, after two series of seeing Tim Jackman played over Sekac, the young Czech got his shot against the formidable Blackhawks. He managed no points and the Ducks lost in seven games. Now we come to a new season and a new training camp. More than a few have observed a different level of play with Sekac coming into camp.
Bruce Boudreau said Jiri Sekac was probably their best forward last night; said this could be a big camp for the winger.

— Curtis Zupke (@curtiszupke) September 23, 2015
I've said it once, and I'll say it again. This is a different Jiri Sekac. Just scored his second goal of the game. He's a man on a mission. — Kyle Shohara (@kyleshohara) September 23, 2015
Anaheim's Jiri Sekac using the Desmotec to work on explosiveness at the #OctagonHockeyProCamp in Montreal. pic.twitter.com/3LnpmSRKDY

— Allan Walsh (@walsha) August 28, 2015
In his first full season with the Ducks and a quicker roster, it will be interesting to see the number Sekac puts up. It also appears that Bruce Boudreau is showing him a bit more respect and that could lead to some big opportunities.