What the players say must be true. After all, reporters only get a glimpse of a player after practice or after a game. At the same time, it's quite rare that a player's true personality, worth and substance is exposed.
Perhaps more so in this case, because Arizona Coyotes' captain Shane Doan, in his 19th NHL season and all with the same franchise, has evolved into a persona beyond reach. When coach Dave Tippett merely says, "he's our leader," that description clearly falls short of Doan's accomplishments on the ice and his worthy endeavors in the community.
What makes Doan's story this season all the more remarkable, is that, at age 39, he is having one of the most productive years in his distinguished career. Energized by the youth and speed in the Coyotes' line-up, Doan seems to be at the right place at the right time. When the native of Halkirk, Alb. picked up a pair of goals in last Friday's win over Calgary, he reached the 20-goal plateau for the 13th time in his career. That tied the Kings' Vincent LeCavalier for the fourth-most 20 goal seasons among active skaters.
Coming into Monday's home game against the Montreal Canadiens, Doan leads his team in goals with 21; that's five more than defenseman Oliver Ekman-Larsson who ranks second. What seems more remarkable is his plus-minus ratio. Last season, Doan recorded a minus 29 in 78 games played. Before the Montreal contest, Doan was a plus one in the 46 games played to date.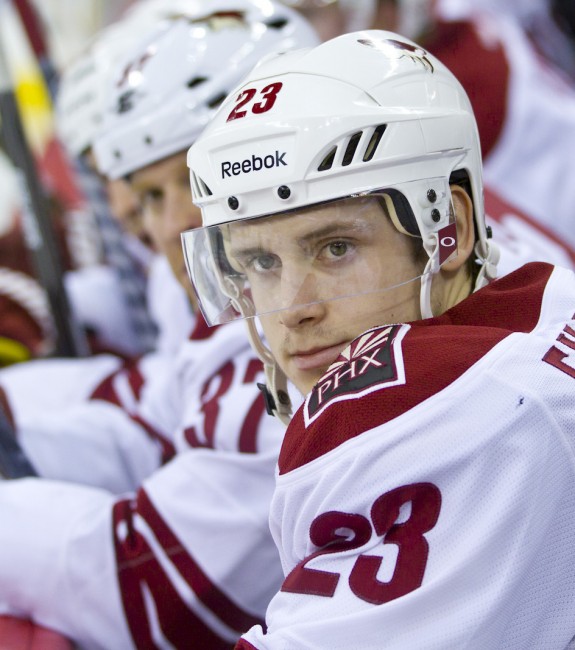 Asking Doan to speak about his current state of affairs yields little. Humble and unassuming, he is always pointing that "the team first" concept remains paramount to his character. Yet, he is quick to flash a broad smile and break into a laugh when offering thoughts on the way his season has progressed.
"I appreciate everything, and it's been pretty special," he said. "This year has been fun, and we're finding ways to win games. We're in February, and no one predicted that we would be in the middle of it."
Franchise Leader
If Doan continues to flash smiles of gratitude, his sense of accomplishment is now legion. With a three-point night last Friday against Calgary, he surpassed Dale Hawerchuk for most points in franchise history. Now with 931 points, to Hawerchuk's 929, the next closest is Thomas Steen (1981-82 to 1994-95 ) with 817 points.
While his work in the community continues to draw superlatives, Doan is happiest on the ice. He constantly tells reporters that he still loves the game, still loves the ambiance in the dressing room, and still feels the rush of competition on game night. When players reach their late 30s and beyond, it's time to think about tee times and places to retire. At this point, Doan is  far from calling golf courses for available times and simply loves being an integral part of the greater Phoenix community.
"What he has done for this organization is phenomenal," said Tippettt. "The commitment he has to the organization, the city and his teammates is amazing to watch every day. Plus, he's in great shape. He's playing with guys much younger, and looks like he's having fun. You feel like you could still play, but your body doesn't let you. But, his body's doing fine."
If there is one word around the Coyotes dressing room which characterizes Doan, in all of his capacities, it's "amazing." While Doan skated with part of the Coyotes' youth movement, he is usually on a line with Jordan Martinook on the left wing and veteran Brad Richardson in the middle. Doan takes his usual spot on right wing and, as part of his current 21-goal season, has contributed 10 power play goals. That ties Doan with Ekman-Larsson for the team lead.
While Doan may be enjoying both a productive season and well-deserved accolades, he is in the final year of $21 million contract. Some indications point to his retirement at the end of the current season, but Doan, as usual, laughs off the notion, laces up his skates and rejoins his teammates on the ice.
Don't be surprised if that's Doan's modus-operandi for this season, or perhaps two ahead.