The New York Rangers are one of six NHL teams who currently do not have one designated captain, and they've not had one since they traded former captain Ryan McDonagh to the Tampa Bay Lightning back in 2018. The Rangers do have a couple of options to be honored as the 29th captain in franchise history, but the team has held off in doing so.
Instead, they have run with three alternate captains rotating between four players, although Jacob Trouba did see some time with an "A" on his sweater while Mika Zibanejad was injured. Jesper Fast and Marc Staal were two of the alternate captains but neither will be returning in 2020-21. That leaves Chris Kreider and Mika Zibanejad, the two men who were clear favorites for the captaincy last season. Both players have an excellent case for being honored as the captain but to some, Zibanejad has a slight edge.
He Has Been Stellar On Ice
Since arriving in New York, Zibanejad has only gotten better each season and has truly become one of the top centers in the league. Since the Rangers announced their rebuild, he has consistently been one of their top offensive threats, one of their top defensive players, and, most importantly, has been doing it consistently.
Zibanejad has been one of the top players for the Rangers for quite a number of games they've played and is one of the most important players on the team. He can play and excel in any situation and a team's captain should be a reliable staple of the team. With how dangerous Zibanejad is in all three zones, he is able to soak up big minutes. Last season he averaged a career-high 21:38 time on ice, most of any Ranger forward. 
Leadership is important, especially for a young team like the Rangers, and Zibanejad's on-ice performance is him leading by example. Last season, he had six game-winning goals, including two overtime winners, one of which came in a monster five-goal effort against the Washington Capitals. It was more than any other Rangers despite missing 13 games due to injury. Oftentimes, teams look towards their leaders for a boost and clutch performances, and Zibanejad has shown an ability to come up clutch for the Rangers. 
Zibanejad has shown he can handle being the No. 1 guy. His emergence as an elite player came during a time when the Rangers were cutting talent for the sake of the rebuild. The team was lacking in talent and he was able to find plenty of success. Ever since Derek Stepan was traded to the Arizona Coyotes, Zibanejad became the top center and has sprinted with the opportunity. During the Rangers' brief visit to the playoff bubble, Zibanejad was one of only eight Rangers to post a point, one of the four who had more than one point, and one of only four to score a goal.
Leadership Goes Beyond Games
For a team as young as the Rangers, strong leadership is a big help for players adjusting to playing in the top league in the world. Many of the team's prospects are European and coming into very different circumstances than they are used to. Zibanejad has had to do the same thing and could easily help guys like fellow Swede Nils Lundkvist who appears to be carving his way to the NHL in the near future. He did just that for former prospect Lias Andersson when he was still with the Rangers. Last season, the Rangers were the second-youngest team with an average age of 26.1, so having one guy to look towards to guide them would be beneficial.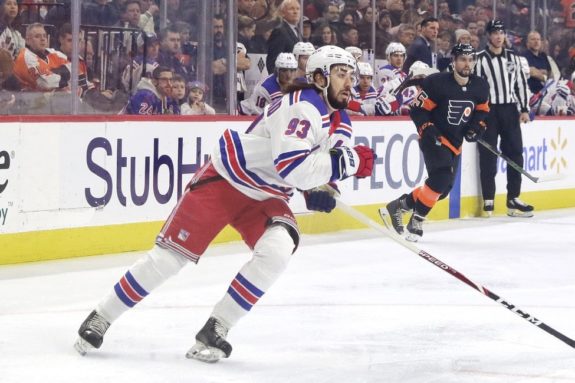 In games, Zibanejad looks to be a leader and is always talking to his teammates. He has also done plenty of talking with the referees while plays are under review – things a captain is expected to do. On the ice, Zibanejad seems to be the big leader and he backs it up with his play. In his time with the Rangers, Zibanejad has turned into a complete player on the ice and has emerged as a fantastic leader for a young hockey team. He has built an excellent case for earning the "C" patch on his jersey, and should the Rangers decide to give it to him, it would not come as much of a surprise.
---
---