Talk about making a good first impression. In her first game with the Connecticut Whale, on her first shift, Zoe Hickel scored her first goal with her new team in their road game against the New York Riveters. She finished the period (and game) with two goals and finished the game with six shots on goal. Unfortunately for Hickel, she was in the penalty box when the Riveters completed a wild comeback in overtime, and following the game was upset with herself, lamenting the final sequence in regulation, and accepted the blame for 'costing us the blanking game.'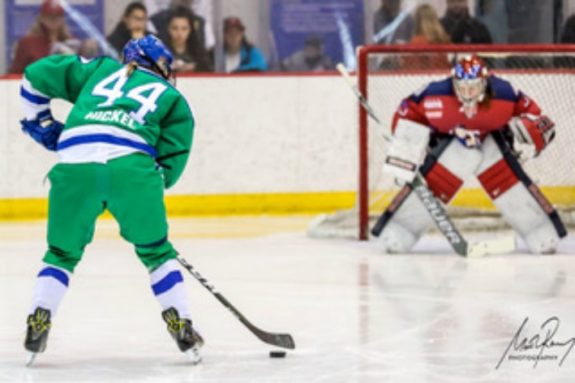 In talking to Hickel during the NWHL's All-Star weekend in Pittsburgh she admitted that she asked to be traded from Boston, where she had seen her role (and playing time) reduced behind a stacked lineup. "Yeah, I did. I don't know if its something that I'm supposed to say, but I don't think it matters," she said. "I loved, and I really appreciate so much my time in Boston. The team is amazing, it was some of the best group of girls that I've ever played with, and experiencing the love of the game, trying to grow the game of women's hockey."
Many of those teammates she left behind Hickel still trained with in Boston for the duration of the season in hopes of being selected for the US Women's National Team with the 2018 Winter Olympics on the horizon. Hickel was left off of the initial roster that was recently named and will train together in Tampa Bay, Florida before departing for South Korea.
"Yeah Zoe, she's on the Whale now. Now we're going to turn against her…," Gigi Marvin of the Boston Pride said with a laugh. "No, I love Zoe. She's awesome. She lives in Boston and she's still going to train with us there. I was really excited for her because it (the trade) was huge for her and her development. We're all doing what it takes to get better and put our best foot forward, and a lot of us have dreams of playing for the National Team. That's her next step, and I'm pulling for her."
Here's a Gif-tastic recap of the first period! First, Zoe Hickel's (@ZoeHickel) 1st goal on her 1st shot AND shift as a Whale! pic.twitter.com/WMTTz17FH8

— Connecticut Whale (@CTWhale_NWHL) February 19, 2017
Old Friends Reunited
"I'm excited to go to the Whale, I'll have a bigger role and more of a chance to be an impact player on that team," Hickel said smiling. "I'm really looking forward to it for the rest of the season." When asked about (asking for a trade and) leaving a first-place, undefeated team that were the reigning champions to join a team that was at the bottom of the standings, Hickel politely smiled and said, "Yeah, yeah…it's somewhere that's an easy change because I'll still be living in Boston. Haley Skarupa and Dana Trivigno both commute to Connecticut during the week and they live right down the road from me so that was another big consideration for me."
Lesson learned, always make sure you have a car pool set up in place before you make a trade request.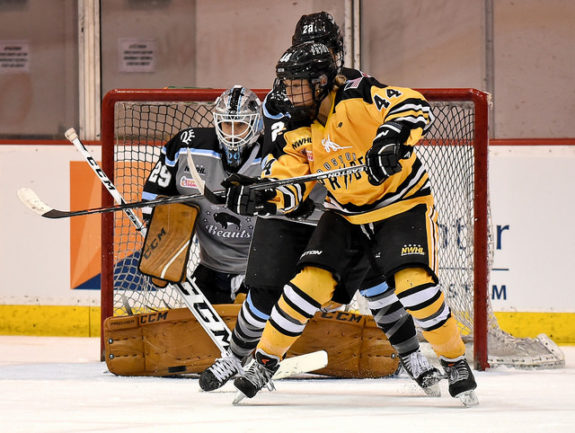 "It'll be fun to play with them, I haven't played with them besides on the national team," Hickel added. "I haven't gotten a chance to play with Meghan Huertas since UMD and it's fun to be teammates again, and have her in the league now. They've (the Whale) had a lot of bodies moving around so it seems like a good time to jump in and help out that team. Kelli Stack, Trivigno, and Skarupa – they are so much fun to play with and I'm looking forward to playing alongside them more."
Hickel's long term goals include eventually suiting up for Team USA and bringing home a goal medal to Anchorage, Alaska. A goal that may be on hold, as we wait to see if she re-joins the NWHL to further develop her game for the 2022 Winter Olympics.
She finished the season with three goals for the Whale in five games to go along with six points (1g-5a) for the Pride. Last summer she was the first player to ever have a day with the Isobel Cup and when asked about that day she couldn't stop smiling and glowing as she recalled the memorable day.
"Oh, my gosh," Hickel said, her face lighting up as the memories flooded back. "I had it shipped up to Alaska and had an instructional camp going at that time. So I had Hilary Knight, Kacey Bellamy, and Brianna Decker up there (to help with the camp). It was so much fun; we had a blast and took it golfing, fishing…we did a lot with it. It was awesome and great timing for us because all the Alaskan girls were able to see it at my camp, there were like 80 girls there; it was a lot of fun for our local community too."
Alaskan Asset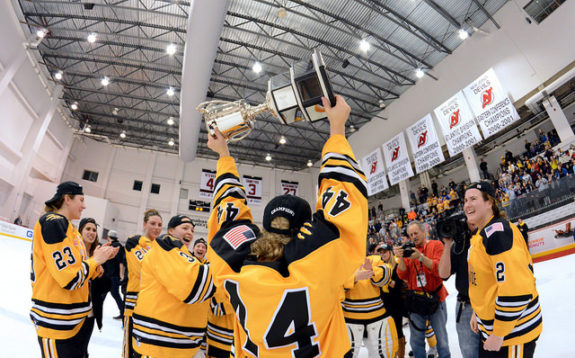 Trades in the NWHL are rare, and the Whale are very fortunate to have been able to add a player of Zoe Hickel's stature. It was a costly trade though, as Connecticut surrendered their first pick in the 2017 Draft, along with future considerations. If the Whale can re-sign Hickel for the upcoming season the trade would not be as costly as it would be if the Alaskan returned to the Pride.
Regardless, whichever team is fortunate enough to sign Hickel is getting one heck of a player that is sure to be motivated for a long time to make it back onto the USWNT radar.