The St. Louis Blues celebrated their 50th year in existence this season (1967-2017). It was a roller coaster ride filled with its fair share of bad times,  but there's no doubting the good moments outweighed the bad. Unfortunately, the 49th season of hockey ended the same way their previous 48 seasons have ended, without a Stanley Cup.
After defeating the Minnesota Wild in the first round of the Stanley Cup playoffs, the Blues would fall to the eventual Western Conference champion Nashville Predators. While the organization is disappointed that they could not end the championship drought, it has to be remembered as a successful season. Before we start the next chapter in Blues hockey at the 2017 NHL Draft on June 23, let's look back at the top five moments of the 2016-17 season.
5. Bob Plager's #5 is Retired
It's only fitting that Bob Plager's jersey retirement comes in at number five. On February 2, 2017, Plager's name and number five were raised to the rafters at Scottrade Center alongside his brother Barclay's #8, Al MacInnis' #2, Bob Gassoff's #3, Brian Sutter's #11, Brett Hull's #16, and Bernie Federko's #24.
Plager has given his heart and soul to the Blues organization for all 50 years of its existence. He became a member of the Blues as part of an expansion draft trade with the New York Rangers in their inaugural season. Plager became one of the biggest fan-favorites in Blues history thanks to his ferocious defense and his famous hip checks. The Kirkland Lake, Ontario, product played 10 seasons with the Blues and in the process racked up 141 points and 762 penalty minutes in 615 games.
"Anyone that has had the privilege of being around Bobby knows how much pride he has in the number 5 and more importantly pride he had in wearing the blue note," former Blues defenseman Barret Jackman said in a tribute speech during the ceremony. "There's no debate that Bobby has poured more passion and dedication to the Blues than anyone who has passed through St. Louis." Jackman also wore the number five in his days with the team.
Plager hung up his skates in 1977 but he held many positions with the organization following his retirement. He was the head coach of the Peoria Rivermen, vice president of player development, director of professional scouting and director of player development. He currently works in the Blues' Community Relations department, serving as an ambassador in the St. Louis community.
4. Barret Jackman Comes Home to Retire
Number four is right where Jackman belongs on this list. Plager gets number five by default and Jackman signed his one-day contract to retire on October 4, 2016.
After becoming the youngest captain in the history of the Regina Pats of the Western Hockey League, Jackman won the first and only Calder Trophy in 2002 as a member of the Blues. He finished with a plus-23 rating and was among the leaders for NHL rookies in average ice time per game.
He was described as having unmatched heart and determination. Jackman was never out-hustled or out-worked.
"Every team has a heart-and-soul type of guy, someone that wears their heart on their sleeve and does what's best for the team, sacrifices their body. Jax was that guy in St. Louis for a long time," said former Blues teammate Chris Pronger.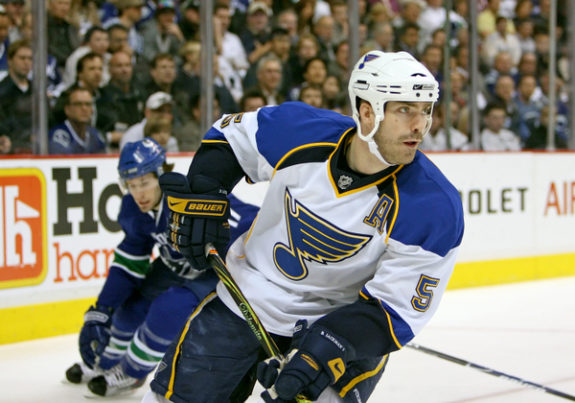 Jackman finished his career with 29 goals and 157 assists for 186 points in 876 games over 14 NHL seasons. His 803 games wearing a sweater with a blue note on the front is second in franchise history only trailing Bernie Federko.
3. Defeating the Blackhawks in the Winter Classic
The Blues first ever outdoor game in this year's Winter Classic was the second NHL game that has ever faced the possibility of delay due to rain (Penguins/Capitals 2011). In fact, light sprinkles came down over Busch Stadium in the 46-degree weather. However, the weather didn't affect the game and the Blues came away with a 4-1 victory.
In front of 46,556 fans star forward Vladimir Tarasenko scored two of the Blues four goals. Both goals came in the third period after the game was tied at 1-1.
Patrik Berglund scored the first goal for the Blues in the second period and Alexander Steen scored an empty-net goal with a little over one minute remaining. Goaltender Jake Allen was magnificent in the game, only allowing one goal that knuckled off the ice and off of his glove into the net.
"I don't know about (my teammates), but it's probably the coolest thing I've been a part of," Blues captain Alex Pietrangelo said of playing in the Winter Classic.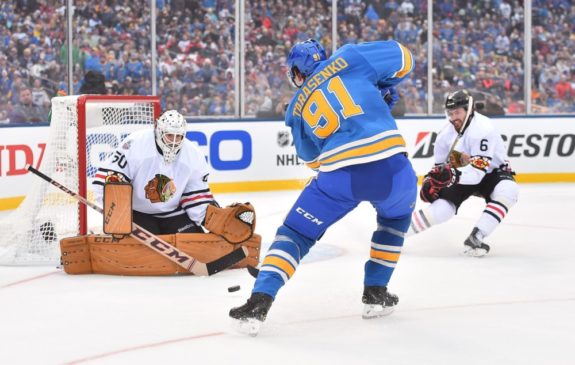 The Blues became the second home team with a regulation win in the last nine years at a baseball stadium in the Winter Classic. The fact that it was against the Blackhawks made it that much sweeter.
2. Tarasenko Scores for Ari
If Vladimir Tarasenko wasn't your favorite Blue already he probably should be after what he did for 11-year old Arianna Dougan during the regular season.
Tarasenko and Ari met when the two were paired together for the team's Hockey Fights Cancer Night in October 2015. Ari was diagnosed with neuroblastoma when she was three years old and has been battling the childhood cancer that affects nerve cells throughout the body for eight years. In November 2016, she was on the ice during a pregame ceremony with other cancer patients when Tarasenko spotted her and took a selfie that went viral on social media.
The best selfie you'll see today. #HockeyFightsCancer #stlblues pic.twitter.com/BekcFGoupx

— St. Louis Blues (@StLouisBlues) November 6, 2016
Their relationship didn't end there. In February of 2017 Tarasenko purchased a trip for two on the team's charter to Arizona and Colorado in late March. The prize was the most coveted item in the team's Casino Night live auction. He surprised Ari and her mother Lori in the Blues Locker room the following week with an envelope, and authentic jersey given to her by head coach Mike Yeo and the team's rendition of "Happy Birthday."
"She's a sweetheart. She's a great kid and it's fun to be around her," Yeo said. "We know what she's gone through, but her attitude and her personality, she's one of the happiest people you could meet."
Before the Blues game with Arizona, Ari interviewed Tarasenko for Fox Sports in a heart-melting interview. To finish it off Tarasenko told her that they would try their best to win especially with her in the stands.
Tarasenko and the Blues did just that as they defeated the Coyotes 3-1 and with 17:35 remaining in the 2nd period he scored a goal for his 11-year-old friend.
Not all professional athletes are role models off of the field, court, or ice but Tarasenko is one of the good ones.
1.  Allen Stands on His Head to Lead Blues to Round 1 Victory
At one point in the 2017 season, Jake Allen was sent home during a road trip to "reset". After head coach Mike Yeo replaced Ken Hitchcock and Yeo named Martin Brodeur the new goaltending coach everything changed. Allen and Brodeur went back to the basics and worked on his fundamentals and the slight changes paid dividends and saved not only Allen's season but the Blues' season as well.
After the coaching changes Allen carried a .941 save percentage and a 1.80 goals against average, the best in the NHL over that span. The Blues went from 28th to first in goals against per game and finished with a 21-8-2 record, finishing as one of the hottest teams in the NHL going 7-1-2 in their final 10 games.
Allen carried his success right into the NHL playoffs. In game one of St. Louis' series with Central Division rival Minnesota, "The Snake" saved a franchise-record 52 shots and no matter what the Wild threw at him he was up to the challenge. In fact, Allen was so good many of the Wild players voiced their frustration to the media throughout the series. Following Game 3 Minnesota Head Coach Bruce Boudreau lost his cool at his post-game presser.
"If you're looking for me to criticize our team, it's not going to happen," Boudreau said. "We were friggin' good tonight, and we didn't get the breaks. Quit trying to put words in our mouths that make us look like we're bad because we're not."
They may have played well but just weren't good enough to solve Allen, who proved that he could lead the Blues to a postseason series victory. He put the team on his back not just for one game but for an entire series. The entire NHL is on notice that "The Snake" is for real and could be ready to strike for years to come.
You may recognize me as "The Coach" from The Coach and Cole Show on Blog Talk Radio. After starting my college career with concentrations in journalism I decided that I wanted to be a part of the headlines instead of writing about them. I am now less than a year away from obtaining my bachelor's in Physical Education, but I have recently rediscovered my passion for writing. I grew up as a goaltender and have been a lifelong hockey fan. I will be covering the St. Louis Blues. You can find me on twitter @CoachO37.