With the 2016 All-Star Game rosters announced on Wednesday, we have the four teams that will compete in the new 3-on-3 tournament format. Between each division getting a team, every NHL team having at least one player on the roster and fans picking the team captains, some snubs were bound to happen.
Here are the 10 biggest All-Star Game snubs for the 2016 game.
Wheeler is quietly having the best season that no one is talking about. Even through the Jets' slump, he produced. His 40 points are seventh in the NHL and 30 assists are fourth. Short version of why he's not in the All-Star Game: Seventh in the NHL in points; fifth in the Central Division.
There probably isn't a defenseman in the NHL that's more fun to watch in overtime than Klingberg. Add in that he's third in the NHL in assists and it's kind of hard to see why he's not on the All-Star Team. The three Central Division defensemen — Dustin Byfuglien, Shea Weber, Roman Josi — are an odd group. Byfuglien is there because the Jets need a player and the Central forwards are insanely good. Weber and Josi are both very good, but they also play for the home town crowd. Let's not forget that the All-Star Game is in no small part about growing the game and audience in the host city.
Suter is putting up Norris-worthy numbers for the first time in a couple seasons. His defensive game is sound and he's found a way to spark his offensive game again. If I'm picking defense in the Central, it's probably Suter, Josi and Klingberg. Not only would that not fly for the above reasons, but there's not much name recognition with Josi and Klingberg (yet), making them a little harder to sell to the people who watch the All-Star Game. You may have also heard, Suter's not very popular in Nashville. Sounds like the kind of thing organizers might want to avoid and Suter might not want to deal with during a potential vacation weekend.
I have to assume Crosby requested not to be in the All-Star, otherwise it's hard to understand why he's not here. But I'm not entirely disappointed that he's not a part of the game. He's not much fun for an All-Star Game — in the way that Claude Giroux, Johnny Gaudreau and Alex Ovechkin have proven to be in the past. Yet, he's the face of the NHL right? And he's still good. He may have started the season with a bit of a slump, but 31 points in 38 games isn't anything to scoff at.
Pekka Rinne is a homer addition to the game. Allen has a .926 save percentage to Rinne's .907. It has not been a banner year for Rinne and either Allen or Corey Crawford are the easy choice if this is in another city.
Draisaitl didn't even start the season on the NHL roster and is tied for 32nd in points. He's 13th in assists. Corey Perry, who did make the All-Star roster, is 90th in points, gets more minutes and has played more games. It's been a down year for Perry. He's there for what he's done in the past. For the sake of an entertaining game (and based on merit this season) Draisaitl is the man. Pair him up with Taylor Hall and let them try to give the Pacific a chance against the Central.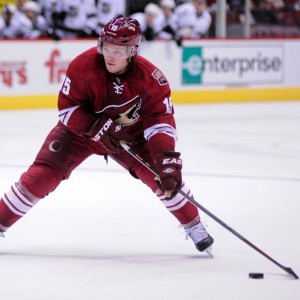 Has to be someone on the list from Arizona, right? Oliver Ekman-Larsson is their best player, but I don't see how he gets picked above Brent Burns, Drew Doughty and Mark Giordano unless it's one of those shoehorn votes because every team needs a player. Domi has more points than Perry and, like Draisaitl, he's fun to watch in 3-on-3. Perry is fun to watch in real play. He's a grinder, he gets under people's skin. That's not what's happening here.
Also, with both Draisaitl and Domi there's additional motivation. The NHL believes that prize money being involved is going to motivate players to try in the 3-on-3 tournament. If you believe you need to dangle a carrot, you better hitch that stick to an animal that eats carrots. A kid on his ELC is much more likely to find motivation in a cash prize than a 30-year-old on a $69 million contract.
I don't necessarily think there's a way he's on this team above Evgeni Malkin, John Tavares, Claude Giroux, Nicklas Backstrom, Brandon Saad or Alex Ovechkin, but I don't think he's a victim of the format. He's had a great year. You're also looking at some huge salaries in the Metropolitan Division forwards. Again, a guy on his ELC might find some motivation here.
Hoffman is having a fantastic year and would be a ton of fun to watch in the 3-on-3 format. Hoffman ranks seventh in the league in goals and has been way better than Stamkos so far this season. That's worth something.
Sending Daniel without Henrik is weird. I feel like we'll see NHL security bouncing Henrik repeatedly throughout the weekend. "Sorry Henrik, you have to go home." [Silently points to Daniel on the ice.] "Home."