The first leg of the Champions Hockey League's Round of 16 starts on November 3. Here are some players to watch in this round (with an admittedly North American slant).
The Colorado Avalanche prospect chose to return to Karpat instead of toiling away in the AHL this year and that decision has been huge for Karpat. He's suited up for every CHL game, allowing just one goal on 134 shots against. That's a .993 save percentage. Goals Against Average is often a better judge of team defense than a goaltender's prowess, but good lord that's a 0.17 GAA.
Aittokallio has the ability to turn a game by himself and he may find himself lugging Oulo into the elite eight all by himself if he keeps up this incredible performance. Sparta Prague has some great scorers, so this will be a great test of Aittokallio's skill. (Though Sparta will presumably be without Habs prospect Martin Reway, who scored a couple beautiful goals earlier in the tournament.)
Christian Bull, Storhamar Hamar
The 19-year-old defenseman isn't flashy, but he's been a key piece of Storhamar's unexpected success in the CHL. With five assists in six games, he's proving himself to be a distributor, but his most impressive feature is his defensive abilities. For Storhamar's cinderella tale to continue, they'll be relying on Bull and the rest of the defense to keep TPS Turku in check.
Jan-Mikael Jarvinen, Tappara Tampere
The team's alternate captain has been a force both in the CHL and the domestic league so far this season. He has five goals and 10 points through 18 games in Liiga play, as well as seven points (2-5—7) in six CHL games. He's a small player at 5 foot 9, but he's making a big impact. It will be interesting to see if he can keep it up against the defending champion Lulea Hockey, in what should be one of the more exciting matches in the Round of 16.
Toni Koivisto, Lukko Rauma
Koivisto is going to be central to the Rauma attack, tied for the team lead in points during CHL play with four goals and five assists in six games. His plus-3 rating is second on the team and he's taken a team-leading 16 shots. The 32-year-old alternate captain is having a great year in the Finnish Liiga as well, with seven goals and 14 assists in 20 games. That's coming up on last season's 32 points in 58 games already. No wonder he was named Player of the Month for September.
Koivisto's presence will be especially important with Janne Lahti out two months due to injury (though the series preview at the CHL's website implies that Lahti may return). Even though Lahti missed the return game in the last round, he is tied with Koivisto for the team lead in points in CHL play, scoring a goal and eight assists.
Niitä ikävämpiä uutisia: Torstaina loukannut #Lukko-hyökkääjä Janne Lahti on sivussa arviolta kaksi kuukautta.#Liiga pic.twitter.com/P5rOkuFrJT

— Rauman Lukko (@TeamRaumanLukko) September 25, 2015
Ryan Lasch, Frolunda Gothenburg
Lasch leads Frolunda in points with four goals and five assists through six matches. But it's not just that he's putting the points up, the California native and former St. Cloud State forward has an ability to show up when the team needs him most. He's put up a couple of highlight reel moments already this season, including when Frolunda was almost upset in the Round of 32 and needed a last minute goal to tie the series and force overtime. Lasch put in one of the most beautiful goals you're likely to see this year in overtime to clinch a trip to the Round of 16.
Jacob Micfliker, Lulea Hockey
The defending champs may have one of the tournament's best lines featuring Micfliker teamed up with Jacob Lagace and Bill Sweatt. Micfiker's seven points (4-3—7) leads the team as they seek to repeat last year's success. The 5-foot-8 Canadian is in his second year in the SHL and is thriving with nearly a point per game pace in the domestic league. He's dangerous and plays a sound two-way game.
Petteri Nummelin, TPS Turku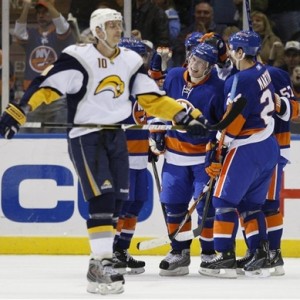 Yes, that Petteri Nummellin. The 42-year-old continues to be effective with three points in the CHL's first six games. One of the most amazing things about the TPS match against Storhamar is that when Nummelin came into pro hockey, in the early 90s, he was a defensive partner on TPS with Storhamar coach Alexander Smirnov.
Additionally, former NHLer Henrik Tallinder is thriving for TPS with two goals and two assists to start the tournament. TPS and Storhamar could be an interesting defensive battle, particularly since the underdog Norwegian squad — who most expected to lose the group stage before they won it off back-to-back wins on the road against Geneva and Prague — is coming into the match with home-ice advantage. Though, Storhamar has been most dangerous on the road, where they have yet to lose a game.
Janne Pesonen, Skelleftea AIK
Pesonen is an impressive player who may not have the top-end raw talent of some of these players, but more than makes up for it in on-ice intelligence. He's also a part of one of the more dynamic power play units left in the tournament with Patrik Zackrisson, Andrew Calof and Jimmie Ericsson, who just returned from injury. Pesonen currently leads Skelleftea with four goals and three assists.
Jesse Puljujarvi, Karpat Oulo
The 17-year-old, 6-foot-3 forward hasn't broken out in CHL play yet, with just a single assist through six games, but the kid has loads and loads of talent. He's projected to be a top four pick in the 2016 NHL draft and has started to find his rhythm in Liiga play. He has five goals and four assists through 19 domestic games and there's a chance that his budding success overflows into CHL play.
Dario Simion, HC Davos
He played his first full pro season last year, scoring 13 goals and 14 assists through 47 games. This year, at age 21, he's continuing to show his growing offensive skill, leading the team in scoring with six points and a plus-5 rating through six CHL games, including a key goal in the Round of 32. Production hasn't been as easy to come by in the NLA for Simion, with just two goals and six assists through 18 games. Maybe it's the stage, but Davos will be hoping that Simion can keep up his torrid pace and then bring that back home to the NLA.