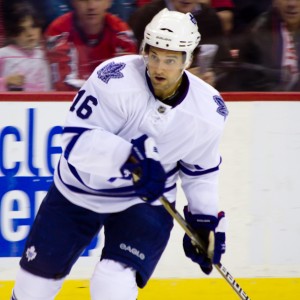 As the Toronto Maple Leafs' push to the playoffs fades, one can't help but look back over the season. With 4 weeks and 12 games remaining, fans will say "if we'd won this game…" and "if this guy was in the lineup…"
Though still undetermined whether the Leafs can defy the odds (and recent history) to make the post-season, we've seen enough to find 10 things about this season that it's fair to say Leaf fans did not expect.
10. The Playoff Push. Perhaps somewhat expected, as the Leafs have a habit of playing well after the All-Star or Olympic breaks. But, after dropping in the standings early, the Leafs played .500 in January and .714 in February. The pace has slowed in March, and they have to play 'lights out' the rest of the way. Still, they're on pace for 82 points which is an 8 point improvement over last season, and the most points for the franchise since 2007-08. It will be an even bigger surprise if they are successful enough to grab a playoff spot.
9. Wilson Still the Coach. Many, including myself, have advocated for the dismissal of Ron Wilson. From his sub-.500 record, possible trouble with players on his squad, and poor special teams' performance, chants of 'Fire Wilson' rained down in the ACC. But, credit where it's due, despite high player turnover again this season, Wilson has this group buying in to a hard-work ethic, and he has his players tightening up defensively while finding some offensive flair. At the very least, Wilson has bought himself enough rope that he will start next season behind the Leaf bench.
8. First Round Draft Picks. While Brian Burke is always active in the trade market, it's something of a surprise to see the Leafs own 2 first-round draft selections for 2011, considering they had none since trading for Phil Kessel. Now, the picks will not be as early as the one Boston owns via Toronto. Many feel this draft is not very deep, and there won't be many 'special' players to be found where the Leafs will select. Still, it seemed there wasn't any way the Leafs would be drafting during the televised portion of the draft, let alone twice. Further, it gives Burke assets he could use in possible trades to improve his team again.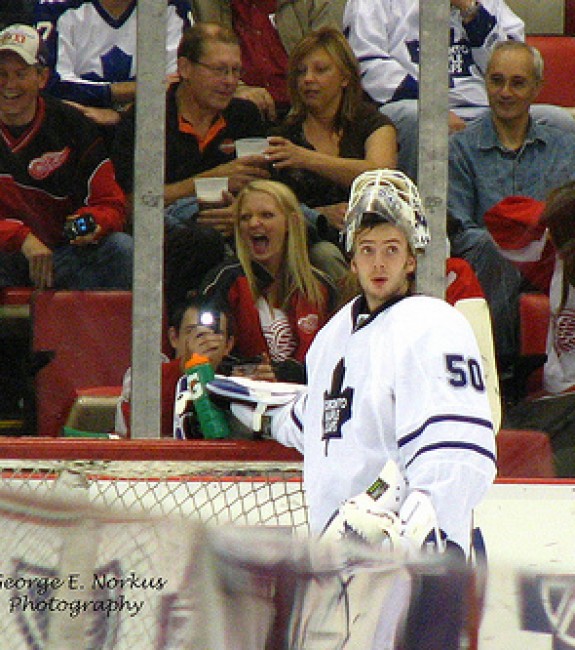 7. Jonas Gustavsson. In a decent rookie season, Gustavsson posted a 16-15-9 record, a 2.87 GAA and a .902 save percentage, and that included a 7 game winning streak. Some wondered why he wasn't named the starter coming out of training camp this season. While he played well to start 2010-11, the Leafs often did not provide the young netminder with enough goal support. Gustavsson seemed to lose his focus and confidence, even after JS Giguere went out with injury and Jonas was handed the job. He has not seen NHL minutes since January 19, and his record stands at 6-12-2, a 3.28 GAA and save percentage under .900. His conditioning stint with the Marlies went very well, going 3-1-1 with a miniscule 1.14 GAA and .955 percentage. However a third heart ablation procedure has some wondering if Gustavsson will ever be a capable NHL starter.
6. Nikolai Kulemin. In his 3rd NHL season, the former second round draft pick is having a breakout year. In 2 seasons, he'd had 31 goals and 67 points in 151 games. He's exploded for 26 goals and 50 points in 70 games. More than that, his game has matured by miles. The 24-year-old can be found in front of the net and deep in the corners, working hard to gain possession. In the defensive zone, he's been calm and thoughtful, making smart plays to relieve pressure. He's currently a +8, and is an integral part of Toronto's offence.
5. Keith Aulie. Thought by some to be a throw-in to last year's deal with Calgary, Aulie is showing he is a bona fide NHL defender. The hulking 21-year-old has stepped in to be among the top minute-getters for the Leaf blueline since Beauchemin was traded. His game still needs to mature, but most Leaf fans are being pleasantly surprised by the poise and ability this kid has already shown night in and night out.
4. Tomas Kaberle Traded. Considering the years of rumors and the missed trade window this past off-season, it is a surprise that Burke did eventually deal the longest-serving Leaf and last remaining member of a playoff team. Truly, some people thought Kaberle was never going to be traded, and he'd walk in free agency. Another surprise was that while some suggested the Leafs might receive a 2nd round pick at most, Burke was able to secure a good prospect as well as a first round pick and another draft choice. Most surprising, Kaberle went to Boston, a division rival and a team many observers felt would not give Burke the opportunity to try to 'save face' after the Kessel trade. Perhaps unfair to link those 2 trades, but the bottom line is that Burke was able to get more for Tomas Kaberle than some thought possible.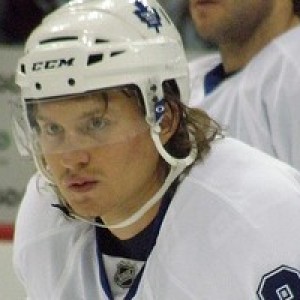 3. Mikhail Grabovski. Grabovski managed 10 goals and 35 points in 59 games during 2009-10. At a cap hit of $2.9M, many wondered if there was any way to send this guy anywhere rather than endure another season with him on the roster. After a slow start, Grabovski turned on the jets. He may never be an elite first line NHL centre, but he and his linemates have been the bulk of Toronto's offence. After 70 games, Grabbo has taken the team lead in scoring with 53 points, 27 of which are goals. These are both career highs. More impressively, he is a +13, and has relished his new role which now includes playing penalty kill minutes in addition to powerplay. Leaf fans are optimistic that Mikhail has finally rounded into form, rather than just having a career year.
2. Clarke MacArthur. Clarke MacArthur represents one of the better free agent signings of the season.  When Atlanta refused his arbitrated $2.4M salary, Burke was able to scoop him for a mere $1.1M. While his pace has cooled from early in the season, MacArthur has simply put up career numbers, hitting 20 goals for the first time, adding 32 assists for 52 points in 70 games. Some worry he could be a one-year wonder, but MacArthur has gone from a signing no one knew, to player many feel should be re-signed at a reasonable number in order to try to keep that Kulemin-Grabovski-MacArthur success going.
1. James Reimer. In his third pro season, 22-year-old Reimer has taken Leaf Nation by storm. With the publicity of other signings such as Jussi Rynnas and Ben Scrivens, the 2006 4th-round pick was hidden somewhere around 4th on the goalie depth chart. But given the opportunity, 'Optimus Reim' gave the Leafs some strong netminding, making 30 or more saves in 16 of his 26 appearances. True, as the Leafs fade down the stretch, so has Reimer's play. He's made 13 consecutive starts, and his GAA has risen to 2.68 while his save percentage has dropped to .918. But, if the Leafs do not sign a veteran goalie in the off season, James Reimer will have gone from being a virtual unknown to being the odds-on favorite to win the starter's job for 2011-12.
A graphic designer and production artist by trade, Mark is a long-time hockey fan. He was a Maple Leafs contributor to TheHockeyWriters.com for over 2 years, and has written for other websites. You can follow him on Twitter @MarkAscione