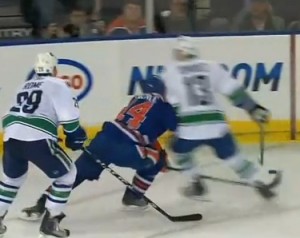 January is always a great time to reflect on the previous 12 months. It is also the perfect time to look ahead at the future. Each year, I use the first few days of January to examine what would improve the game I love. It could be an idea that improves the NHL, or it could be something that begins at the grass-roots level and gets more people involved in the game. Here's this year's list, in no particular order:
Hand out real suspensions/Get players to respect one another: Concussions continue to plague the NHL, and a major reason for that is the number of devastating hits – both legal and illegal. The NHL really needs to crack down on the illegal hits, and the way to do that is to quit doling out suspensions from 4 to 8 games. Instead, drop the hammer with an initial suspension of 10 to 12 games, and then follow any subsequent issues with 20, 30 or more games. Once these repeat offenders start losing their livelihood, you can bet the illegal hits will stop. On top of that, the league should fine owners who keep repeat offenders on their teams. We are talking serious fines here, not a slap on the wrist, drop in the bucket fine.
Furthermore, players need to respect each other. Far too many times, players are running full speed, without reservation, into another player. The lack of obstruction allowed in the neutral and defensive zones allows for these full speed collisions. For whatever reason, be it the way the league is or television or the compete levels or the culture, players do not seem to respect the fact that these hits are not necessary and cause injury. Let's not forget that the main purpose of a body check is to gain control of the puck, and more often than not, that is forgotten by today's NHL players.
Put the Winter Classic on a lake in Minnesota: I know the Wild do not have the big name stars that previous Winter Classic teams have, but imagine a true outdoor game, played on a lake in the dead of winter. If the NHL can build a rink in the middle of a baseball field they can certainly do it on a lake. Bringing in stands and fans might be a challenge, but the TV rights alone might bring in enough money. Unrealistic I know, but it would be awesome.
More realistic would be a game between the Wild and the Dallas Stars somewhere in Minnesota, putting the past against the present. Either way, the next Winter Classic should include the Wild in Minnesota – one of the best hockey places in the U.S.
More for the kids: The NHL does a decent job with running youth clinics for young fans, but they could so much more. I remember the Bruins actually having camps through New England in the summer, with Bruins players running the show. I know players make more money these days and do not need the extra cash, but it would be a fantastic way to grow the game. They could o one-day street hockey or skating clinics, or one- or two-day skills clinics.
In addition, teams should offer more reduced tickets for kids under 10 (or 12). Doing so would bring in so many new fans. It would cost teams very little in terms of revenue, as we all know kids will make mom/dad buy concessions, souvenirs, etc, and it would create lifelong hockey fans.
Another youth-oriented program that could be brought back is NHL Street, which was a series of street hockey tournaments in NHL cities. Pittsburgh has always done a great job with this, and the New York Rangers have run many youth clinics in the inner city. Kudos to those teams, but there needs to be more to build a culture of hockey fans.
Move Phoenix elsewhere: The fans don't care about the Coyotes, and though I appreciate the fact they are trying to grow hockey in a non-traditional place, there comes a time when you have to admit failure. That time is now. The team could be moved to a hockey hotbed like southern Ontario or Quebec City (heck, why not Milwaukee? They love hockey in Wisconsin and they need another Midwest team) or to a place where hockey might stand a chance like Kansas City, Seattle, or even try Hartford again. Wherever they move the team, it would be better than Phoenix!
NHL 24/7 Flyers/Rangers is must-see TV
Continue to produce hockey programming: Obviously more games would be beneficial, but the league needs more programs NHL 24/7, NHL 36, Oil Change, and Making of a Royal  to promote the sport, the NHL, and its players. In addition, the NHL should, using Canada's Kraft Hockeyville as a model, have a similar hockey community competition in the United States. It would create pride in communities, develop a hockey culture, and bring attention to and grow the sport.
Extend overtime: I said this last year (and the year before), but make overtime eight minutes: go four minutes of 4v4 and four minutes of 3v3. Most games would likely find a conclusion during those eight minutes, and it would provide plenty of fast-paced action. If it ended in a tie, then go to the shootout (though I would love just to see the league just go back to ties).
Get rid of touch icing: The touch icing rule has been the cause of so many pointless injuries. It is time to get rid of it. Add a modified rule where if the defending player reaches the hash marks/dots (or bottom of the circle) before a forward, the whistle is blown. There is no need to allow these high-speed collisions that cause injuries to continue.
Make visors mandatory: Again, this should be a no-brainer. Too many careers have been cut short, curtailed, or put on hold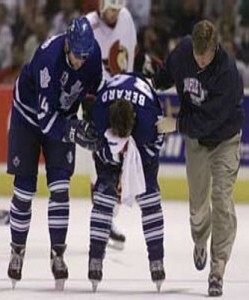 because of a puck or stick hitting them in the eye area. Every player uses some form of facial protection until they reach the pros, so there is no reason for it not to continue. Grandfather it in if need be, but why watch player after player suffer these needless injuries?
Make the rinks bigger: Most importantly, this would create more space on the ice, which would make the game more skill-based, like the Olympics (which everyone loves) and cut down on a bit on the ridiculous hits that are thrown each night.
Make fighting an ejection: This would be the most controversial proposal. I love hockey fights, but the high cost to the players have made me rethink my views. Hockey fights, especially the staged ones, add nothing to the game. Again, the most watched hockey games of the past 30-plus years have been Olympic hockey games, and fights in playoff games are a rarity. The league is better off with more skilled players and less goons anyway. If the NHL does it jobs with suspending repeat cheap-shot artists, the fights will be sliced down anyway. The league should eject players who fight, and consider suspensions for anyone who gets in five fights in a season.
(Steve Kendall has covered hockey at all levels for nearly 20 years. He has worked for such publications as the Boston Herald, New England Hockey Journal, Worcester Telegram & Gazette and The Hockey Writers. You can find Steve on Facebook, follow him on Twitter @skendallhockey or email him at stevekendall17@comcast.net).