In what will go down as a Dickensian weekend for the Philadelphia Flyers and their fans, "It was the best of times, it was the worst of times."
In what was an unbelievable celebration of the game of hockey on Monday afternoon, the Philadelphia Flyers came up just short in the game itself, providing for a sour taste at the end of an outstanding week of events. With shades of the 2010-11 Flyers, the Flyers blew a 2-0 lead to lose the 2012 Bridgestone NHL Winter Classic to the New York Rangers 3-2.
"We didn't get the two points that we needed and it's 3 losses against the Rangers," Flyers forward Claude Giroux said. "I don't think we played bad but when you're leading going into the third period and you don't find a way to get the win it hurts and in the playoffs we'll have to find a way to get those wins if we want to win the Cup. We'll learn from it and hopefully it doesn't happen often."
For the Flyers and their fans, this one stings. It stings a lot. Not so much because it was the Winter Classic (although that adds to it), but more importantly because the Flyers have now lost 3 games this season to the New York Rangers and haven't been able to really solve Henrik Lundqvist. They are also now 4 points out of first place when they could have been tied for first with a win. And well, the Flyers had a ton of chances to draw even that were staring them right in the face and they couldn't seem to get it done.
The New York Rangers are now number 1 in the league in points with 52 (24-9-4 record). They are tied with the Chicago Blackhawks in that category.
One positive for the Flyers was rookie Brayden Schenn finally got on the right track with his first NHL goal to make it 1-0 Flyers. Claude Giroux added the second goal and that would be it for the Flyers as far as scoring on the day.
The goalie saga which Flyers fans dread just may continue as Sergei Bobrovsky let in at least 1 questionable goal, but the bottom line is it came down to New York's Henrik Lundqvist making one great save after another.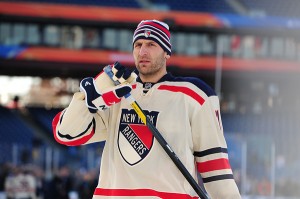 Unlikely hero Mike Rupp scored two goals for the winning Rangers and saluted the crowd Jaromir Jagr style after scoring his first goal in the second period. This was a key goal because it was just seconds after the Flyers scored to make it 2-0 and it was a momentum swinger. Brad Richards added goal number 3 for the Rangers. Rupp was awarded with the Broadway hat given out in the locker room after the game.
The Flyers were hit with another downer on the day when star forward Jaromir Jagr had to leave the game due to swelling in his left leg. He attributed this to a spear he took in the club's previous game against the Pittsburgh Penguins and said it got worse today.
Jagr remained on the bench leaving many to wonder if he may return, but Jagr said he just "couldn't skate" and it was really bothering him after he split the defense on a play in the second period. In regards to remaining on the bench, Jagr didn't want to rule out trying it again later in the game, and was seen trying to skate a bit during TV timeouts around the bench, but it just wasn't comfortable. "I was hoping maybe power play, 5-on-3 or something like that," Jagr said. "But I just wanted to be with my teammates."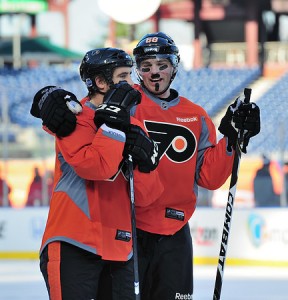 "The ice was different. It was great conditioning, no doubt about it. It was kind of cold, and when you have something wrong with your muscle, it's not going to help."
Regarding Rupp's salute celebration after his first goal, Jagr wasn't upset. "I was hoping somebody would score and we'd salute him back, but it didn't happen," stated Jagr. "It's fine with me, it's not my signature. I do it because I'm celebrating a goal. Maybe he does it too. Maybe he's celebrating like that. I don't know, he doesn't score many goals."
"I just couldn't skate hard. I didn't want to be there just to be there. I knew at that point I couldn't help my teammates."
Jagr again showed leadership by staying on the bench to support his team when he probably could have been in the hot tub receiving treatment on his leg. "Why not? It's not going to make it worse and I wanted to be with my teammates," Jagr said. "You never know maybe we'd get a shot 5-on-3. You don't have to skate that much 5-on-3."
Jagr implied he's hoping that this won't be a long term issue and he'll just be day-to-day.
Even with the loss, the Flyers had plenty of chances to tie the game. They had a power play with 5:12 left that was very disorganized with poor neutral zone play. And then, forward Danny Briere had a wide open net where the puck just bounced over his stick with 20 seconds left. He got just a piece to direct the puck toward the crease where it appeared the Rangers may have put their hand on the puck. In drama that is sure to please HBO fans, a penalty shot was awarded.
Flyers head coach Peter Laviolette could have chosen any player on the ice when the shot was awarded, but he went with Briere. "It comes down really to Danny and Claude," Laviolette said. "They're both guys that are regular in the shootout. I think Danny being a natural goal scorer maybe thrives in that area a little more."
Briere was upset that he wasn't able to send the game to overtime, as he admitted thinking about it the entire way in on Lundqvist.
"Coming in you try to read on where [Lundqvist] is at," Briere said. "I saw a little something five-hole, I tried to go there."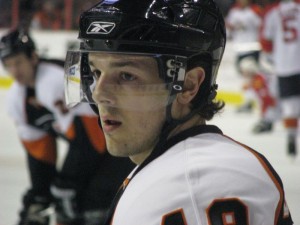 A disappointed Briere placed the blame on himself for not tying the game. "That's what I saw when I came in, unfortunately it wasn't the right call."
Peter Laviolette praised his team's effort through 40 minutes, but he wishes they would play a more consistent game all the way through.
"The first 40 minutes were what we wanted and what we were trying to accomplish on the ice," Laviolette said.
"Then the last [20 minutes] they got the quick one and they followed it up."
Laviolette implied that he didn't see a full 60 minute effort from his team tonight and thought they could have played a better third period. "We didn't play the third period like we played the first two."
While this one is sure to be a heartbreaker for the Flyers and their fans, the weekend was possibly the best Winter Classic weekend the NHL has ever had. While the Flyers did not get the win, the city of Philadelphia, the NHL, and most importantly, the game of hockey, did.