CSN Mid-Atlantic reporter Jill Sorensen published a series titled "12 Days of Capitals," featuring a gold mine of photos of Washington Capitals players and coaching staff from past and recent times. Players, coaches, and their families dug into photo albums and picked up quality nuggets. You could see players dressed in suspenders, bright pajamas, and seasonal sweaters alongside Santa, family, and friends.
Jingle Bells, Jingle Bells
On the first day, TJ Oshie and his wife Lauren sent in a video showcasing toddler TJ's vocal talent. Here, he is singing "Jingle Bells" working the suspenders and rocking a mullet.
That was followed up by head coach Barry Trotz and his devotion to family. A photo from Trotz's time in Nashville shows his wife Kim and children Shalan, Tyson, Tiana, and Nolan sitting on a Zamboni at center ice of Bridgestone Arena. Another Trotz photo portrays a younger Barry at the skating rink with his wife and newborn daughter on the ice – most likely – for the first time.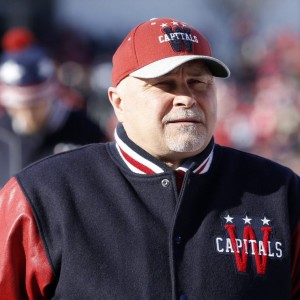 The third day saw younger versions of third liners Jay Beagle, Daniel Winnik, and Tom Wilson. In Beagle's photo, you see him sitting on Santa's lap amid fellow children. A much younger version of left wing Winnik has blonde hair and gentle blue pajamas. On the right side, the little Wilson shows off his "OshKosh B'Gosh" fish and bear shirt with jeans that had to be cuffed numerous times.
On the fourth day of Capitals, we see defensemen Matt Niskanen and Dmitry Orlov. Crawling toddler Niskanen tries to swipe a present, but gets caught in the act, Fast forward several years and Niskanen – being from Mt. Iron, MN – suits up in his Mt. Iron hockey uniform. Orlov grew up in Russia, showing off a bright yellow outfit with matching shirt and socks. In a different photo, Orlov dresses up in traditional wardrobe with a fake mustache.
Hair, Family, and Dogs
The fifth day of Capitals was the Marcus Johansson show. Johansson's photos display articulate and diverse facial expressions. In the first one, baby "MoJo" looks afraid of Santa Claus. Years later, Johansson is as happy as ever to dress up in the red jacket and pants.
Halfway through the "12 Days of Capitals," CSN posted a collection of photos. Brett Connolly rocks a diaper, dinosaur shirt, mullet, and a brand new pair of skates. Just below that picture, video coach Brett "Stretch" Leonhardt is seen excited about his new blocker and glove. Both pieces of equipment appear bigger than him. Justin Williams – known for going to the dirty areas on the ice and playing with some snarl – sent in a photo of him showing his son how to make a save.
The seventh day reviewed the haircut styles of little John Carlson, Karl Alzner, Oshie, Connolly, Beagle, Johansson, and Winnik. Most display bowl cuts, but Oshie and Connolly are seen with mullet flow on top their heads.
Mandy, Alzner's wife, provided photos chronicling Karl's life for the eighth day of Capitals. Karl grew up in Burnaby, British Columbia, Canada. The first couple photos depict little baby Karl in the stroller by Santa. Next, Karl is being goofy in front of the Christmas tree and last photos included Karl, Mandy, and their baby Stella. The family is covered in lights sporting matching pajamas.
Ninth day of Capitals introduced John Carlson as a brother, husband, and dog lover. There is the usual Santa photo of John with his brother along with one of John and his wife, Gina, and their dog with Santa. Gina sent in photos that show how much John, and his son Lucca, look alike as toddlers. Additionally, the couple sent in a photo of them holding up one of their dogs between them.
Extra! Extra! Read All About it!
An abundance of photos were handed in for the 10th day of "12 Days of Capitals" by Justin Williams, Tom Wilson, and Brett Connolly. We can see Williams playing lunch with his sister dressed in a shirt, necklace, and topping a hat. Below, Williams is flashing a smile alongside his son and dog and continues to smile in family photos.
Wilson sent in a great pair of photos that show family when he was a kid to now. In addition, he showcases the notorious ketchup bottle from HBO's 24/7 Winter Classic. Connolly's adorable chubby baby cheeks make their presence known further down the page followed by a picture with his fiancee and their puppy. Video coach Brett "Stretch" Leonhardt and his wife Logan delivered pictures of a youthful Stretch having fun with presents as well as photos of the compassionate couple. Taylor Chorney tops off the list, as his wife Haley sent in a photo of the two with son Turner, and a photo of Taylor as a toddler. Check out how much Turner looks like Taylor as a toddler.
Washington came out with "The Book of Christmas Past" for the 11th day of "12 Days of Capitals." The virtual book discourses fans' favorite pictures in one video for all Caps fans.
"12 Days of Capitals" ended with a special gift to seven-year-old Seth Parrish and his mother. As part of the team's Courage Caps campaign, the team invited Seth to skate with them at their practice facility. Seth's father, Sergeant Major Harry Parrish, passed away in a training exercise 32 days before Seth was born. A tearful Debbie Parrish, Seth's mother, explains how thankful she is to TAPS – Tragedy Assistance Program for Survivors – for everything the program has done for her family, discussed the heartbreaking impact of losing a husband, and noted how Seth is starting to register his father's absence.
This Christmas will surely be one to remember for a 7-year-old #Caps fan. https://t.co/tC7qGTWxkY pic.twitter.com/SS6XDHlej9

— NBC Sports Capitals (@NBCSCapitals) December 24, 2016
Thanks have to be given to CSN Mid-Atlantic for collecting photos and appreciation to the Washington Capitals' locker room for cooperating. Caps fans can now see Kodak moments from their favorite players' past.
Michael Mazzuca graduated from The University of Scranton with a degree in journalism and electronic media. Mike began writing for The Hockey Writers in December 2016. He has written for the AHL Wilkes-Barre/Scranton Penguins as well as the Rockland Boulders independent baseball team. Follow him on Twitter at @MazzucaMike.